Latest results from Harcourts' auctions in Auckland, Hamilton, Palmerston North, Wellington, Christchurch, Blenheim and Invercargill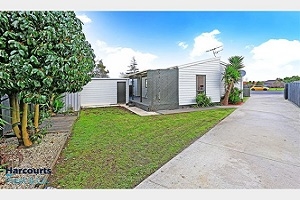 The cheapest Auckland home sold at auction by Harcourts last week was a newly redecorated, three bedroom house with a single garage (pictured) at Takanini in south Auckland that went for $519,000.
It was one of only three Auckland homes that sold for less than $600,000 at Harcourts' auctions last week, with two of them being in Takanini and one in Papatoetoe.
The most expensive auction sale at Harcourts' Auckland auctions was a house in Epsom that sold for $3.25 million, one of six Auckland homes that was sold at auction for more than $2 million by Harcourts' last week.
Harcourts also auctioned a substantial number of homes in Hamilton, where prices ranged from $413,000 for a house at Frankton to $1.2 million for a house at Matangi.
At Harcourts Christchurch auctions prices ranged from $281,000 for a Hornby property to $1.772 million for a house at Fendalton.
Full details of Harcourts latest auction results, with photos of all properties including those that didn't sell, are available on our Auction/Sales Results page. To access the page click on the Property tab just under the banner near the top of this page and select "Auction/Sales Results" from the drop down menu, or simply click on this link. The Auction/Sales Results page allows you to search for auctioned properties by location and/or by agency.
You can receive all of our property articles automatically by subscribing to our free email Property Newsletter. This will deliver all of our property-related articles, including auction results and interest rate updates, directly to your in-box 3-5 times a week. We don't share your details with third parties and you can unsubscribe at any time. To subscribe just click on this link, scroll down to "Property email newsletter"and enter your email address.