Farm prices were generally firmer over winter although there was a low number of dairy farm sales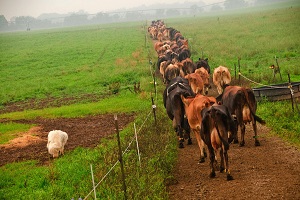 Farm prices, including those of dairy farms are on the rise, according to the latest figures from the Real Estate Institute of New Zealand.
The REINZ All Farm Price Index, which adjusts for differences in the size, location and types of farms sold, was up 3.8% in the three months to August compared to the same period last year, while the REINZ Dairy Farm Price Index was up 6% compared to a year earlier.
"To the relief of all involved in the dairy industry, the increases in the recent Global Dairy Trade Auctions are a welcome indication of initial price recovery for dairy produce," REINZ rural spokesman Brian Peacocke said.
However the REINZ cautioned that the low number of dairy farm sales over winter, with just 14 sales recorded in the three months to August compared to 21 in the same period of last year, could distort the figures.
Overall there were 393 farms of all types sold in the three months ended August, compared to 387 in the same period last year.
"A shortage of snow and continuing dry conditions along eastern districts of the South Island, which are likely to impact on water reserves, is causing concern throughout those areas reliant upon irrigation schemes," Peacocke said.
"The current level of interest rates continues to provide opportunities for well structured enterprises in the rural sector and in the majority of instances, reports indicate the banks continue to provide support for farming operations demonstrating the ability to respond positively to difficult trading conditions."
The REINZ expected sales activity for dairy farms to remain constrained until the level of values in the new season was evident, however reasonable sales activity in finishing farms was continuing while sales of grazing properties was steady.
However there was reduced sales activity for horticultural properties and forestry blocks.