Unprecedented net migration has little effect on monetary policy as younger people arrive, but macro-prudential tools may help if it feeds through to higher house prices, RBNZ says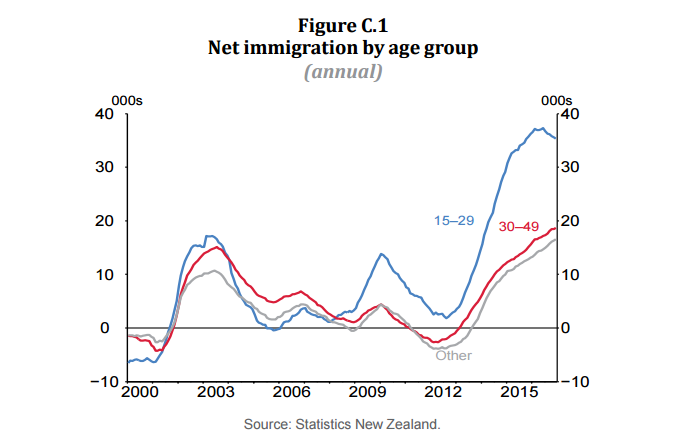 New Zealand's record high net migration is having little effect on the Reserve Bank's monetary policy stance as younger migrants arrive than in a previous boom in the early-2000s, Reserve Bank Governor Graeme Wheeler says.
And if the composition remains the same in coming years – more students and single work permit holders than before – this should not make much of a difference to monetary policy, Assistant Governor John McDermott added during a press conference on the RBNZ's February Monetary Policy Statement.
However, the Bank may have to dig into its macro-prudential toolbox if migration feeds through to housing pressure in the future, Wheeler said. Tools like tightening bank capital requirements and loan-to-value ratios could all be wheeled out to help contain any pressures from a migration boom, he said.
The RBNZ openly admits that it, like many forecasters, struggles with net migration. While it can be pretty confident on picking potential departures (due to differences between the NZ and Australian labour markets), the inward migration side of the ledger is difficult to forecast, Wheeler said.
New Zealand's inward net migration last year, adding over 60,000 to the working age population, was "unprecedented," McDermott said. However, research suggests it has not fed through to inflationary pressure in the current cycle, whereas in 2001 a higher proportion of returning families saw migration feed very quickly though to inflation and house prices, Wheeler said.
'DTIs can be very helpful if managed well'
The RBNZ is ready if pressure does show through, Wheeler said, highlighting the central bank's 'macro-prudential toolbox' used to help shore up the stability of New Zealand's financial system.
The comment led to the inevitable questions from journalists about Wednesday's announcement by Finance Minister Steven Joyce to require the RBNZ to conduct a full cost benefit analysis on a new tool the Reserve Bank has been hanging out for – the ability to regulate debt-to-income ratios for home buyers:
Is the bank disappointed at the decision? What if the NZ housing market takes off again and you're left needing the DTI tool?
Wheeler maintained that even if the ability to regulate DTIs was in the toolbox, the Bank would not "necessarily" use it at present.
The RBNZ would prefer having DTI ratios at its disposal now though, Wheeler said. However, "the government has been clear that it wants a consultation on that. We're happy to do that work." In fact, the RBNZ would always have consulted on it, but this time the government has asked for it up front.
The RBNZ has already carried out a good deal of research on the matter, collecting a trove of data from New Zealand banks on debt-to-income ratios, Wheeler said.
"A lot of countries have used DTIs – they can be very helpful if managed well." But, there are always unintended consequences, he added. Finance Minister Joyce yesterday highlighted concerns of how the tool could affect first-home buyers.
Whether locals will be in competition with new, younger migrants is yet to be seen. But the Reserve Bank is keeping a close eye on the make-up of who is arriving.