Amy Adams defends National's Auckland housing policy as critics say numbers fall far short of city's shortage and question infrastructure capacity to handle population growth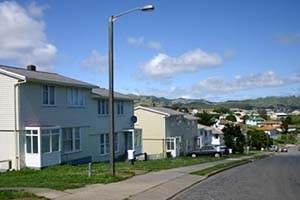 Reaction to National's Auckland housing announcement flowed thick and fast from political opponents pointing to housing shortfall figures, and industry bodies concerned about whether the building programme would be matched by infrastructure growth.
Labour, the Greens and New Zealand First attacked the announcement as a cynical move in an election year, arguing the numbers would go nowhere near to addressing Auckland's housing shortage.
Meanwhile, Infrastructure New Zealand stood out with its questions about whether Auckland infrastructure could be expanded to cope with the effective building of a new city between the size of Palmerston North and Dunedin.
The government Minister responsible for the building plans, Amy Adams, on Tuesday defended the numbers, saying they represented a fully costed programme that was able to be delivered in the face of construction industry and infrastructure constraints. The government could only go as fast as planning and zoning procedures allowed, she said.
"The balance we've got to, is the right blend for now, and also…is what we're confident of being able to capably deliver over that time period." There was still some extra space for development on further Crown land, she said.
The figures:
Adams on Tuesday announced a headline 34,000 new homes would be built on Crown land in Auckland over the next ten years.
The net increase in housing on Crown land will be slightly below 27,000, as 8,300 state houses will first be demolished to make way for the new builds.
To cover those demolished state homes, the plan will see 13,500 social housing units built. That leaves 20,600 other units to be sold after being built. Some will be in the 'affordable' category priced below $650,000 with covenants on who can buy them and how they might be on-sold, and others at 'market price' with fewer restrictions.
But even a number of those houses are already in the pipeline through social housing plans and the Tamaki and Hobsonville developments. The bulk of "new places" will be 11,500 social houses and 12,800 'affordable' and 'market' houses.
There was also an interesting development on the front of how many houses are able to be built on Crown land in Auckland.
In February, Prime Minister Bill English said the stock of 27,000 could be expanded to 69,000 – or slightly more – due to the new Auckland Unitary Plan. By Tuesday, Amy Adams was telling media that this was a "theoretical" limit, and the number had also dropped to 60,000.
Infrastructure concerns
Infrastructure New Zealand said the headline news of 34,000 extra homes over ten years should be applauded. However, CEO Stephen Selwood said "a step change in infrastructure funding and investment will be required to ensure Auckland networks can accommodate this growth."
"Auckland is in immediate need of housing and today's announcement is a serious commitment to addressing prolonged under supply. Last year only around 7,000 homes were built in the region, so an extra 3,500 per annum over the next decade is substantial," Selwood said.
"The construction of 13,500 social housing units where 8,300 currently stand represents a major increase in housing for those in chronic need. The other 20,000 the Government intends to build will be targeted at the more affordable end of the spectrum, which has for many years been under-supplied," he said.
While this was good news, Auckland's infrastructure networks would not be able to accommodate this development by continuing business as usual.
"A 34,500 home development is a city of 100,000 people – that's somewhere between a Palmerston North and a Dunedin. A vast service network underpins this much housing; Palmerston North City alone has over 550km of roads, 1,000km of water pipes and 30 schools," Selwood said.
"The Government estimates that 34,500 homes is equivalent to three and a half houses on every street in Auckland. Typically, that means an additional seven cars in every street. Already Auckland's transport networks are bursting at the seams and all projections are that congestion will get much worse."
It was not clear how the Auckland Council will meet its growth obligations, he said. "A 2015 study by the Centre for International Economics on the cost of residential infrastructure estimated that a new home built on redeveloped land costs the Auckland Council on average $30,000. This figure excludes big city-shaping investments like the City Rail Link.
"The Government's announcement today adds a $1 billion bill to a council which is already at the limit of what it can borrow. If new development triggers the need for regional scale infrastructure like light rail or a new busway, the cost to the Auckland Council will easily be two, three or four times this figure."
'Election year fudge'
The Labour Party said National's "last minute announcement" won't do enough to stem Auckland's housing woes. The Government had long rubbished the idea of building houses, Andrew Little said. "Time and again it's failed to deliver any significant increase in housing supply."
"Amy Adams has fudged the figures. How many of these houses will actually be affordable? What does 'affordable' mean? How will that give hope to first home buyers when speculators can buy these houses too?"
"It's just more smoke and mirrors from a Government that's failed miserably. It's a mish-mash of old and new housing programmes. Many of these houses have already been announced," Little said. "Auckland currently has a shortfall of 40,000 houses and growing. This plan won't address the shortfall, let alone build the extra houses needed to keep up with demand.
"National has had its chance. It's time for a fresh approach. Labour will build 50,000 houses in Auckland people can afford to buy and we'll increase the supply of state houses; we'll crack down on speculators; and we'll invest in warm, dry homes," Little said.
'Too little too late'
The Green Party said the announcement was too little too late. Co-leader James Shaw also jumped on the fact that the announcement only allowed for half the building that the government had said was possible on Crown land in Auckland, after the council passed its recent Unitary Plan.
"Auckland is already 40,000 homes short and needs 15,000 more a year just to keep up with population growth. National's new policy to build an additional 26,000 homes over the next decade just isn't enough to fix the problem," Shaw said.
"It's taken until election year for National to figure out that they can build houses, but this is only about half what the Unitary Plan allows Housing New Zealand to build if the government was more ambitious," he said.
"National has missed an opportunity to really prioritise getting every Aucklander into a warm, dry home of their own," Shaw said. The headline figure was nowhere near that required.
"The Greens in Government will build tens of thousands more homes than National, and we'll make many of them available for low income families to purchase over time with a rent-to-buy programme," Shaw said.
"The homes we build will actually be affordable, not National's definition of affordable which actually isn't for most people."
'The election bells chime'
New Zealand First leader Winston Peters argued Auckland required at least 140,000 homes within the next 10 years.
"So demolishing 8300 houses, only 40 years old, and building 34,000 over 10 years is simply not taking the demand for housing in Auckland seriously," he said.
"The former PM was gloating before being elected nearly a decade ago that there was a housing crisis. Why did he and his colleagues, including the current PM, then fall asleep. Now they are planning for the next decade. Give the people a break.
"National has had nine years to build desperately needed homes, and hasn't. The best they can do is bring out a plan for the next 10 years," Peters said.
"Now out of its slumber as the election bells chime, National is coming up with too little, and it's way too late for the people of New Zealand."
Answer to infrastructure shortfall
Infrastructure NZ's Selwood provided some "obvious steps" to addressing Auckland's infrastructure challenge:
Prioritise housing development next to train and busway stations
Invest in traffic light optimisation and intelligent traffic management systems
Rapidly develop park and ride facilities
Streamline planning consents for power, water, telecommunications and social infrastructure that support the developments
Recycle capital tied up in existing assets into new infrastructure
Enable urban development agencies to rezone, acquire and aggregate land and use the increased value to fund infrastructure
Expand private investment in infrastructure through PPPs and large scale development opportunities
Introduce road pricing sooner rather than later to both manage demand and generate revenue to pay for transport infrastructure