Mayoral Taskforce on Auckland Housing Supply identifies increasing bank financing constraints on developers and buyers as 'an important emerging issue'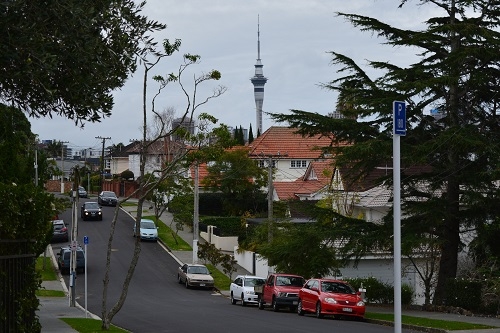 An Auckland Mayoral Taskforce looking at ways to boost the currently inadequate levels of housing supply in the region has identified increasing bank financing constraints on developers and buyers as "an important emerging issue".
The Taskforce, including representatives from the public and private sectors, was set up by Mayor Phil Goff early this year with terms of reference asking it to identify barriers and constraints to building new homes in Auckland at a speed and scale needed to meet the demand caused by population growth.
The wide-ranging findings by the Taskforce include a five-year indicative timeframe for investigation, trialling and implementing various measures, but there's no clear indication of any specific mandate to carry out the recommendations.
In its report issued on Monday, the Taskforce says the indicative implementation programme "will require further refinement following deliberations between Auckland Council, central government and private sector partners".
"Once a programme is finalised, the council should report quarterly on progress." 
On the issue of bank finance for developers and buyers, the report says this is likely to become more constrained due to new banking regulations.
"In the absence of alternative sources of finance this may create a structure barrier to home building even in a context of a shortfall."
The report notes that Australian-owned banks operating in New Zealand must operate within limits set by the Australian Prudential Regulation Authority (APRA) for lending to commercial property developers, which includes bank loans to developers of residential apartment and terrace housing projects.
"APRA recently issued a warning about growing risks in property development. New Zealand banks are understood to have lent close to their limit for commercial property development."
The report said a November 2016 Reserve Bank (RBNZ) survey showed that commercial borrowers expected a significant tightening of lending standards in early 2017 (see graph below).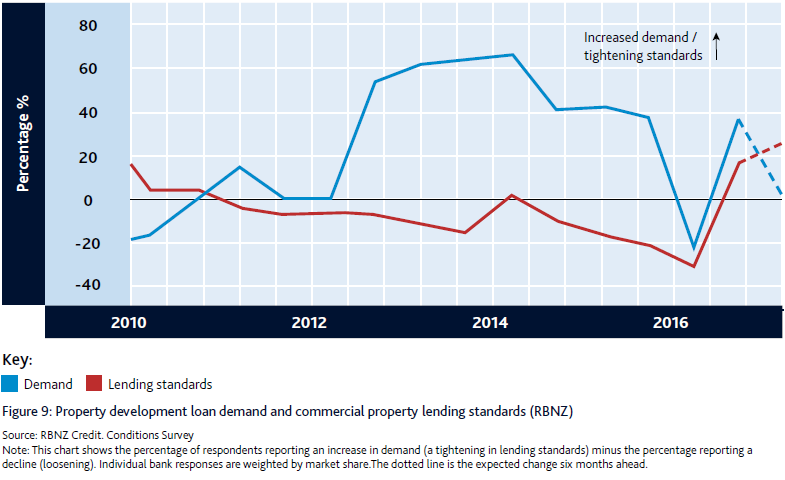 "This may be heightened by a current RBNZ review of bank capital requirements and recent International Monetary Fund recommendations for higher bank capital requirements."
The report suggests "strategic Intervention" on the issue by investigating the potential for unintended consequences for residential development from new bank regulations (which are intended to manage risks for financial stability but may affect the availability and cost of finance), and identify whether there is a need for a public or private response.
The suggested course of action is that Auckland Council will "invite Treasury to progress a review, with input from the Reserve Bank, development and financial sectors". No specific timeline is given for this.
The report also identifies the cost of building homes in Auckland as a significant issue.
It says in order for Auckland to supply more homes, it must be financially viable for developers to build them, which means that sale prices must cover the costs of development. Consequently, in order to sustainably supply more housing, there must either be:
• An increase in the financial rewards from developing – which is undesirable as it means further increasing housing prices in the near term; or
• Lower barriers to development and reduction of the cost to deliver new housing.
"The Taskforce gathered several case studies of development costs in Auckland to understand potential barriers and opportunities for intervention (See table below.)
"They show that current development economics are challenging: there are barriers at all stages, including a lack of scale economies in construction, meaning that system-wide improvements are needed instead of a search for a single 'silver bullet' solution."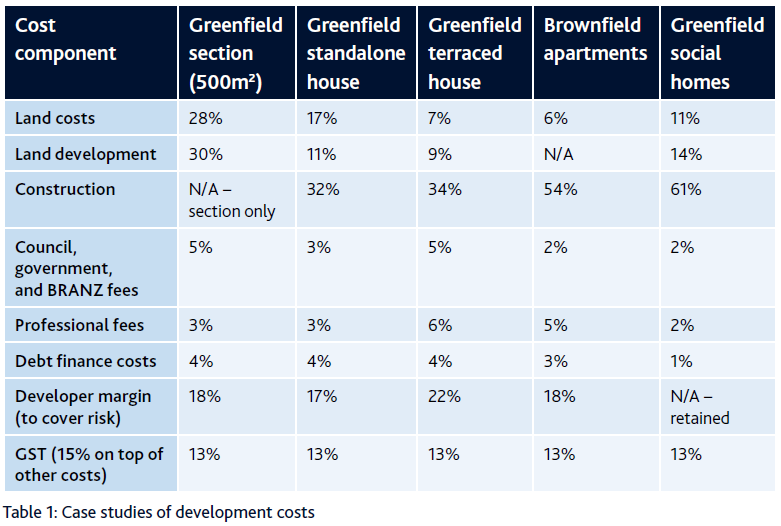 The report highlights that construction costs are the largest single cost item for all dwelling types, followed by land and land development costs. For brownfield sites, land costs tend to be higher than land development costs, as sites are already serviced, while for greenfield sites land development costs are similar in magnitude to land purchase costs.
"Taskforce members reported that land and construction costs can rise rapidly in boom periods, making development riskier and creating incentives to hold land rather than develop."
The report says a range of fees and charges make up the balance of development costs. Financing costs can account for up to 4% of total costs and may be increased due to delays in obtaining planning approval. Furthermore, banks require a minimum developer margin to account for risks in development, which may rise when development is seen as riskier.
"Action is needed in a range of areas to enable more homes to be built at a more affordable price," the report says.
It says the barriers to scaling up housing supply are different for different types of dwellings. Standalone houses and medium-density terraced homes and apartments are all affected by build costs, the availability of development finance, and perceived uncertainty about future demand. However, the key barrier to scaling up supply of standalone houses is the availability of serviced land, while trust and confidence among buyers and the ability to efficiently obtain consent to develop are important for medium-density housing.
The Taskforce has therefore identified three key areas where further work is needed, including collaboration between Auckland Council (and its wider 'family' of organisations such as Auckland Transport and Watercare), central government, and the development sector, in order to build more in Auckland:
• Remove impediments to the construction sector developing at scale, including identifying investors who can build through the dips to lift construction in the peaks
• Unlock the availability of land with appropriate zoning and infrastructure, at the right price, to enable more development, faster
• Deliver efficient and certain planning, consenting, and risk management to reduce costs, enable innovation in construction and delivery, and create communities with quality built and urban form outcomes.
Within each category, a mix of 'tactical' interventions that can be done soon are identified, without significant legislative or policy change, as well as 'systemic' interventions that may take longer to deliver but which have the potential to have a large and long-term impact on housing supply outcomes.
"An important message is that delivering tactical interventions without addressing systemic challenges will not fully address Auckland's housing supply challenges. Tactical changes can help to buy time to enable deeper policy changes, but they are not a substitute for more fundamental change in a market that has not built enough homes for several decades."
This is the media release issued by Goff:
Taskforce Report recommends major changes to housing

The Auckland Mayoral Housing Taskforce today released its report to the Mayor, outlining major changes needed to address the city's serious housing shortage.

The Taskforce was set up by Mayor Phil Goff early this year with a Terms of Reference asking it to identify barriers and constraints to building new homes in Auckland at a speed and scale needed to meet the demand caused by population growth.

The Taskforce membership brought together developers, builders, bankers, economists, architects and central and local government officials.

Mayor Phil Goff welcomed the Report.

"This Report sets out strategic changes needed to address Auckland's housing crisis.

"It is important for central and local government and the industry to analyse and respond to the Report's recommendations.  Auckland has become unaffordable for first home buyers and renters.

"Unless we address these problems, housing shortage and unaffordability in Auckland will not only continue to cause serious social pressures, but will also hold back Auckland's and New Zealand's economic growth," he said.

The Report makes recommendations in three key areas:

·         developing at scale which includes building through the dips;

·         unlocking the availability of land with appropriate zoning and infrastructure; and

·         enabling efficiency and innovation in consenting and risk management.

"Firstly, the Report says that unless we can provide greater continuity and certainty in building work, the industry will not scale up sufficiently and we will continue to build fewer houses than needed."

It recommends a deliberate policy to build through the economic dips.

"In a small country like New Zealand, central government has in the past played a key role in this and today still needs to," the Mayor said.

"It also recommends ways to tackle skills shortages that create constraints and cost pressures.

"Secondly, the Report emphasises the constraints created by shortage of funding to invest in the infrastructure needed for development to occur.

"The Auckland Unitary Plan has freed up land by zoning it for development. However, for development to take place roading, water and community facilities need to be provided in order for the build to occur."

The Report addresses the role that the Housing Infrastructure Fund must play in allowing this to happen in Auckland and recommends the broadening of revenue sources for Council including road pricing and devolution of funds from central government.

"It promotes the potential to use other sources of funding such as targeted rates on those realising windfall profits from rezoning and new infrastructure so they contribute to the cost of that infrastructure.

"It raises concerns that changes in lending policies from banks and regulatory agencies could start to act as a drag on construction.

"Thirdly, the Report makes a series of recommendations on consenting and risk management to facilitate housing being put in place.

"It recommends a warranty and insurance scheme to give assurance to consumers and to allow Council to be more supportive of innovation in building methods.

"It calls for the Consenting Made Easy process being trialled by Council to be fully implemented, and also says the Building Code and other legislation such as the Unit Titles Act requires an update.

"Also noted in the Report is the advantage of innovation such as prefabrication to improve the speed and quality of construction and lowering costs.

"It points a way forward to better tackle the problem of housing shortage and affordability which Aucklanders and New Zealanders have signalled are major problems calling for new approaches.

"This Report reflects the consensus findings of a cross-section of individuals representing groups across the housing industry. It deserves the close attention of central and local government," Mayor Phil Goff said.
The Taskforce was comprised of representatives from Auckland Council, Auckland Transport, BNZ, Fletcher Construction, Institute of Architects, Master Builders, Ministry of Business Innovation and Employment, Ministry for the Environment, NZ Housing Foundation, Ockham Residential, Sapere Research Group, Sense Partners, Stevenson Group, Todd Property, The Treasury and Willis Bond & Co.
The report says the recommendations outlined will require a concerted effort by Auckland Council, central government, and many industry players over the coming months and years if they are to make an impact on the barriers and problems identified by the Taskforce to delivering a more sustainable and robust house building outcome for Auckland.
"A range of activities and programmes will need to be pursued in order to begin to address some of the practical as well as more systemic problems that have been identified."
The report has identified indicative timeframes for:
• Investigating recommendations and designing policy responses
• Trialling recommendations to boost development and refine policies
• Scaling up and/or implementing recommendations to achieve consistent housing development at scale.