Research by Auckland's leading real estate firm reveals big shift in living preferences for those renting accommodation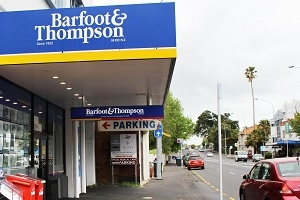 The old ideal of a three-bedroom house as perfect both for an investment property and for a place to rent is being shaken up.
Auckland's leading real estate firm Barfoot & Thompson has undertaken some serious number crunching on the Auckland rental housing market and reached some interesting conclusions. Basically, the market, and tastes, have changed a lot.
Barfoots undertook an analysis of bonds lodged with the Tenancy Tribunal between 1997 and the 31st of March 2017*. The analysis accounted for 744,216 rental transactions during the almost 20-year period.
The conclusion from the research is that Auckland's rental market housing stock, which once was almost half made up of standard three-bedroom homes as rentals, has changed drastically over the past 20 years.
Going back 20 years, in the first quarter of 1997, some 46% of all bonds lodged were for three-bedroom homes. But by the first quarter of 2017, this figure had shrunk by nearly a quarter to just 35% of all bonds being for three-bedroom homes.
Barfoots director Kiri Barfoot says the research indicates that the three-bedroom bungalow or villa we tend to picture as the standard rental is quickly waning.
"When we look at what is being rented, the home type, size, and number of bedrooms has changed markedly over a period of just 20 years.
"...Tenancies are now spread across properties with any number of bedrooms, with the biggest change being for properties with the fewest and most number of bedrooms."
Kiri Barfoot says that between 1997 and 2017, the proportion of one-bedroom property tenancies increased by 85%, with a rise from just 13% of the total to now representing nearly a a quarter of all properties let within the Auckland region.
During the same period the proportion of proportion of four/five plus-bedroom property tenancies increased dramatically from just 4% to 12%.
"Auckland's housing needs have changed," Barfoot says.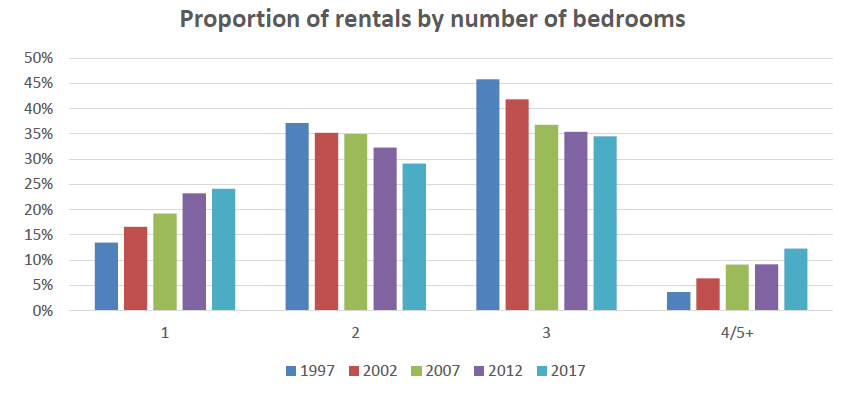 "The drivers of this have been changing family structures, increasing international immigration and multiculturalism, and evolving attitudes to lifestyles and expectations among Auckland's population.
"Combined with this shift in what renters need and want, the housing stock itself has been evolving. This is evident in new developments, such as the Antipodean in the CBD, with a range of different sized homes being integrated into the plans.
"Another interesting trend we noticed in the data is that it's only recently that the proportion of one-bedroom and four or five-plus bedroom properties being rented increased. The number of bedrooms had been fairly stable before that. Our data also shows a large increase in properties with more than four bedrooms compared with 5 years ago."
The data also revealed a decline in the total number of bonds lodged across the city. Comparing the same three-month periods, 8840 bonds were lodged in 1997, compared with 6605 in 2017.
"Fewer bonds lodged doesn't mean fewer people are renting, as a bond is only lodged with new rental agreements. In fact, the opposite is true. As Auckland's population grows, more people are renting.
"Our data shows people are staying in rentals for longer and therefore even with more people renting, bonds aren't being lodged as frequently. Under Barfoot & Thompson property management, the average tenancy is around two years, having increased from about 18 months over the last few years."