New figures from Statistics NZ suggest only about 90% of new homes consented in Auckland actually get built, which means the housing crisis could be much worse than feared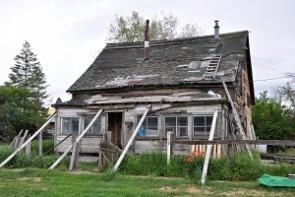 Building and Construction Minister Nick Smith put a fine spin on some new housing numbers that came out this week.
This was in response to some experimental data released by Statistics NZ, which attempts to plug an important gap in housing market data by estimating how many dwellings consented each year actually get built.
According to Statistic NZ's estimates, it's around 97%, which if correct, would mean just 3% of the homes consented don't get built.
Smith was quick to use the figures to sling some mud at his political opponents, issuing a press release headed; "Another opposition housing myth busted."
"Opposition parties have been running a campaign claiming building consents are an unreliable measure of the number of homes being built," the release said.
"They have claimed that the numbers are flummery, that there is a yawning gap between consents and buildings completed."
Smith said the new figures disproved those claims.
On the face of it, what Smith said is correct, at least at the national level.
Unfortunately neither the Statistics NZ's or Smith's release made any mention of what the trend is in Auckland, which is where most of the housing pressures are.
However Statistics NZ did supply the raw numbers showing the number of homes consented and its estimate of the number of homes completed in each region, going back to 1998.
Interest.co.nz has analysed those figures and what they suggest is that the number of homes consented in Auckland that actually get built is somewhere around 90%, with the most recent figures suggesting something just under that number.
And it has bobbed up and down around 90% for the last five years.
Statistics NZ has stressed that its dwelling completion numbers are still experimental.
"This data should not be considered final and we advise against using it in decision making. This is a work in progress and likely to change as the methodology is refined and other input data sources considered," Statistics NZ said in its initial report on the new figures.
However if the Auckland figures do prove to be correct once the work on the new data series is complete, they will paint a grim picture for the Auckland housing market because most estimates of Auckland's housing shortage are based on the number of consents issued in the region.
If the number of homes that are actually built is only around 90% of what is consented, then the housing crisis Auckland is facing is likely to be more severe than most estimates have suggested.
Although Smith's release did not mention the Auckland figures, it did make another rather startling claim.
"The confirmation that building consent figures are a reliable measure of new home completions reinforces the progress the Government's housing programme is achieving," Smith said in his release.
"Our housing policy has successfully grown new home construction for the past six years, from 13,000 to 30,000 a year, in what is the longest and strongest residential construction boom on record."
According to Statistics NZ, 30,645 new dwelling consents were issued in the 12 months to May this year, but that is hardly a record.
More consents were issued in the 12 months to May 1973, 1974, 1975, 1976 and 2004, with the record being the 12 months to May 1974 when 39,636 new dwelling consents were issued, which was 29% higher than the 30,645 consents issued in the 12 months to May this year.
And what about Smith's claim that the last six years have been "the longest and strongest residential construction boom on record."
Smith is again correct, but only if you measure the boom by the cost of homes being built.
But in terms of the number of homes being built, the last six years are far from a record.
According to Statistics NZ, 140,652 new dwelling consents were issued in six years to the end of May.
That compares to 165,615 in the six years to May 2008, and 192,681 in the six years to May 1977.
So we still have some way to go before Smith will be able to claim that the number of homes being consented and built is the longest and strongest on record.
Here's what Nick Smith said: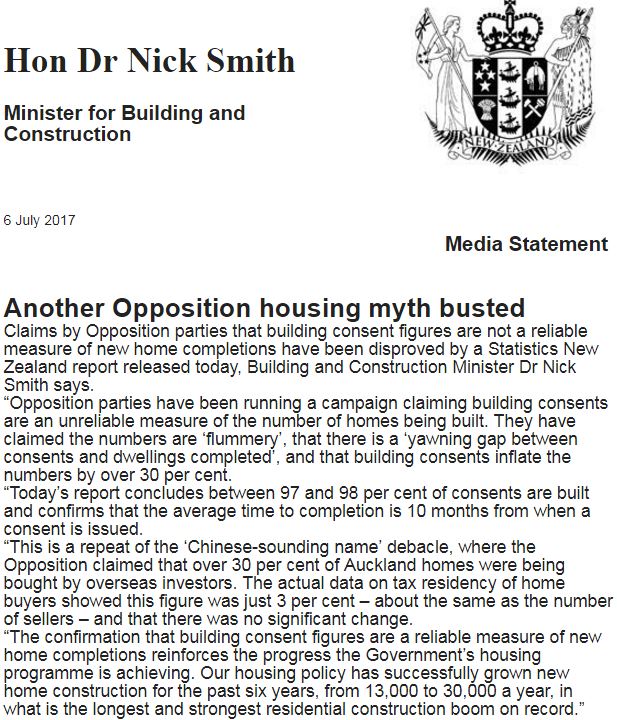 And here's what Labour's Phil Twyford said:

National's failure to fix the housing shortage has been starkly illustrated by new statistics, says Labour Housing spokesperson Phil Twyford.
 Statistics New Zealand has released a new statistical series today, showing the number of houses actually built, rather than just building consent data.
 "Auckland's population growth under National has been similar to growth under the previous Labour Government – 220,000 people. The difference is that under National just 44,000 houses have been built, compared to 78,000 under Labour.
 "When compared to population data this release confirms a housing shortfall of over 30,000 homes has built up under this Government.
 "In the last year only 8,600 houses were built in Auckland, barely half of what was needed to keep up with population growth. No wonder Auckland Council projects the city's housing shortage will rise to 50,000 houses in a few years.
 "That's the story of the housing crisis: National has simply failed to get enough houses built. National's housing shortage caused house prices to rocket and turned our homes into gambling chips for overseas speculators.
 "The lack of housing has caused rents to balloon, increased overcrowding, and forced more and more families to live in cars and garages.
 "After nine years, it's time to fix National's mistakes. Labour's fresh plan for housing will build affordable houses and sell them to first home buyers at cost, while banning overseas speculators, and shutting down the tax loophole that speculators exploit," says Phil Twyford.