Housing market continues its roller coaster ride with prices up and sales volumes down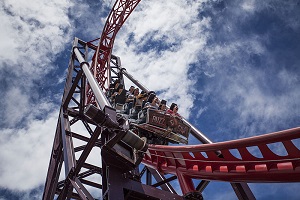 The housing market roller coaster continues with the number of homes being sold remaining well down on last year, but median prices rising slightly in August.
The Real Estate Institute of NZ said the number of homes sold in August was down compared to the same time last year in every region of the country, something that has only occurred three times in the last seven years.
"Overall, the number of properties sold across the country fell by 20% during August, a reduction of 1472 properties when compared to the same time last year," REINZ said.
"This is equivalent to 47 less properties being sold each day in August 2017 when compared to August 2016."
The biggest reductions were in Southland -37.3%, Northland -29.4%, Taranaki -25.9%, Waikato -25% and Auckland -21.5% (see chart below).
However the REINZ's national median selling price rose slightly to $530,000 in August, up from $525,000 in July and up 8.2% compared to a year ago, but it was still below the  peak of $542,500 reached in March.
In the critical Auckland market the median price rose $10,000 to $840,000 in August from $830,000 in July.
But that is still well down from its peak of $905,000 reached in March and below the August 2016 median of $850,000, suggesting that at best, prices have flattened in Auckland.
In the Waikato the median price dropped to $480,000 in August from $489,000 in July. In the Bay of Plenty the median rose to $538,000 compared to $490,000 in July, but remained below its June peak of $557,500.
In the Wellington region the median rose by $10,000 to $500,000, but remained below its April peak of $540,100. In Canterbury it rose to $427,000 in August from $420,000 in July, but remained below its March peak of $450,000.
The REINZ's House Price Index, which accounts for differences in the composition of sales, showed Auckland prices were  down 2.9% in August compared to a year earlier, while prices in the rest of the country, exlcuding Auckland, were still up 7% compared to a year ago.
It is also taking longer to sell properties, with the median number of days required to sell up to 37 in August compared to 30 in August last year.
There has also been a big decline in auction sales, with 799 properties being sold at auction in August, down 55% compared to August last year.
In Auckland the number of auction sales was down by 61% compared to a year ago.
Here is the REINZ's full regional report for August:
REINZ Monthly Property Report - August 2017.pdf