Overall sales clearance rate of 29% of Barfoot & Thompson's auctions last week on 180 residential properties marketed for sale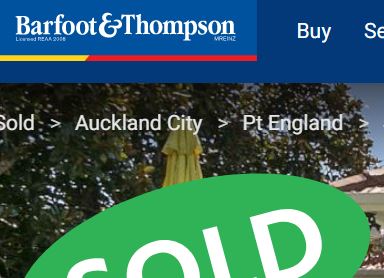 Activity remained remarkably steady in Barfoot & Thompson's auction rooms last week, with the real estate agency marketing 180 residential properties for sale by auction and achieving sales on 29% of them.
That compares with 194 properties marketed for sale by auction the previous week (19-25 November). The sales rate was exactly the same in both weeks.
The big auction held at Manukau, where most of the properties offered were from south and east Auckland, was once again the star performer with an overall sales rate of 37%, while sales were surprisingly light at the on-site auctions with a sales rate of just 18%.
The North Shore had the biggest auction with 44 properties but the sales rate was just 27%.
Details of the individual properties and the selling prices and rating valuations of most of those that sold are available on our Residential Auction Results page.
Barfoot & Thompson Auction Results 26 November - 2 December 2018

| | | | | | |
| --- | --- | --- | --- | --- | --- |
| Date | Venue | Sold | Not sold | Total | % Sold |
| 19-25 November | On-site | 2 | 9 | 11 | 18% |
| 27 November | Manukau | 15 | 26 | 41 | 37% |
| 27 November | B&T, Shortland St, CBD. | 2 | 5 | 7 | 29% |
| 28 November | B&T, Shortland St, CBD. | 10 | 27 | 37 | 27% |
| 28 November | Whangarei | 2 | 6 | 8 | 25% |
| 28 November | Pukekohe | 2 | 4 | 6 | 33% |
| 29 November | North Shore | 12 | 32 | 44 | 27% |
| 29 November | B&T, Shortland St, CBD. | 4 | 11 | 15 | 27% |
| 30 November | B&T, Shortland St, CBD. | 3 | 8 | 11 | 27% |
| Total | All venues | 52 | 128 | 180 | 29% |