Why five months into the 2019 financial year none of the $90 million Treasury had set aside for KiwiBuild had been touched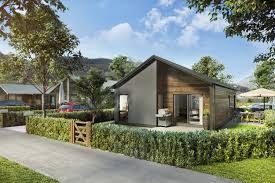 The former head of KiwiBuild may have been wasting taxpayers' money by an "employment issue" keeping him out of the office for a couple of months in the lead up to him resigning on Friday.
But slow going kicking KiwiBuild into gear means the policy as such isn't currently costing taxpayers.
Treasury had forecast that $90 million would be spent on KiwiBuild in the 2018/19 financial year (ended June 2019).
However, the latest Crown accounts released last week show that none of this was spent in the first five months of the year.
This is largely due to the fact private developers are the ones currently building KiwiBuild houses, not the Government.
In other words, the Government is underwriting private development through its Buying off the Plans scheme. It's telling developers that if their KiwiBuild houses don't sell for a set price, it'll pay the difference or buy the houses.
When the Government in May invited developers to participate in the scheme, it expected 80% of the 1000 KiwiBuild houses it aimed to see built in the 2019 financial year would result from the Buying off the Plans scheme.
It saw the scheme accounting for 50% of builds in 2020 and 40% in 2021.
But to date, only 33 KiwiBuild houses have been completed. Seventy-seven are being built and 4047 have been contracted to be built.
So, while the Government hasn't been spending up a storm buying land and building houses itself – yet – the Buying off the Plans scheme hasn't gained enough scale to up the chances of it costing the Government.
The entire KiwiBuild programme, which aims to see 100,000 houses built over 10 years, is expected to cost $2.1 billion.
Asked by interest.co.nz why none of the $90 million allocated towards KiwiBuild in the 2019 financial year had been spent in the first five months of the year, Treasury sort of alluded to the above explanation.  
It also pointed out that being a new programme, it's difficult to specifically forecast when costs will fall on the Crown. Here's Treasury's response:
"At early stages of the KiwiBuild programme significant forecasting assumptions were required around the source and phasing of funding.
"As there was no history to inform the forecasts the Half Year Economic and Fiscal Update forecast reflected the Government's best estimate of the KiwiBuild spend at that time.
"Due to the long life cycle of KiwiBuild operations a number of developments currently remain in progress and will not have any expenditure (if any) incurred until they are completed.
"As the KiwiBuild programme matures, its forecast spending profile will continue to be refined and it is expected that further funding will be drawn down out of the KiwiBuild appropriation."
See this page for a more detailed update on KiwiBuild's progress.