Apartment buildings with remediation and seismic strength issues didn't deter investors who were prepared to take a punt at the latest apartment auctions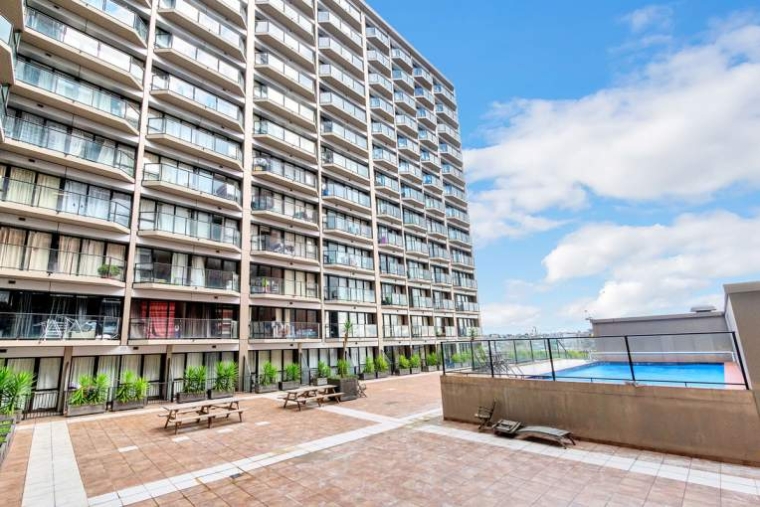 Residential property auctions are continuing to slowly build in Auckland as the market heads towards March, which is usually the busiest month of the year for property sales.
Early indications are that the number of properties going to auction could be a bit down on last year although the sales rate appears to be about the same.
In the week from February 3 to February 9 Auckland's largest agency, Barfoot & Thompson, marketed 60 properties for auction and achieved sales on 19 of them, giving a 32% clearance rate.
The rest were mostly passed in for sale by negotiation, while a few had their auctions cancelled or postponed.
And there was some interesting bidding at the latest Auckland apartment auctions.
At the City Sales auction on February 13, three apartments were offered, two of which were facing remediation issues and the third was an apartment in a new development that's yet to be finished.
First up was a two bedroom unit in the City Gardens building on Albert Street, which is facing remediation work, which was followed by a three bedroom unit in the Imperial Gardens complex on Hobson St, which also has remediation issues.
Buildings that have remediation issues can be a minefield for inexperienced players, but there can be surprisingly good interest in them from experienced investors prepared to take a punt that the value of the building once remediation is completed will be more than they were willing to pay plus the costs of the repairs.
It's not usually such a happy story for the vendors though.
Both of these units attracted multiple bids with the City Gardens apartment selling under the hammer for $282,000.
According to QV.co.nz it had been purchased for $230,000 in 2006 and had a current (2017) rating valuation of $330,000.
The Imperial gardens unit also attracted multiple bids but was passed in at $175,000 and was sold later that day in private negotiations.
The final unit at City Sales was a ground floor studio opening to a central courtyard in the Union & Co complex currently under construction on Union St.
The building is due to be finished in the next few weeks at which time titles will be issued and owners will take possession of their units.
The marketing material suggested there may have been some urgency to the sale, stating; "This has to be sold!"
However the only bid for it came from the auctioneer on behalf of the vendor and with no one else prepared to raise their hand, it was passed in.
At Ray White City Apartments four apartments were on offer, including one in the Altitude building on Kingston St which is facing potential seismic strength issues.
There were multiple bidders for the property although they were cautious on price and it was passed in for sale by negotiation.
The other three were more regular apartments that could have appealed to owner-occupiers or investors and all attracted bids. But just one of the three sold under the hammer.
The results of these and other auctions monitored by interest.co.nz are available on our Residential Auction Results page.
You can receive all of our property articles automatically by subscribing to our free email Property Newsletter. This will deliver all of our property-related articles, including auction results and interest rate updates, directly to your in-box 3-5 times a week. We don't share your details with third parties and you can unsubscribe at any time. To subscribe just click on this link, scroll down to "Property email newsletter" and enter your email address.