Public Policy
/
analysis
Over a fifty year sweep of our economic history we track the share employees win of all economic activity. It is similar to the world's largest economy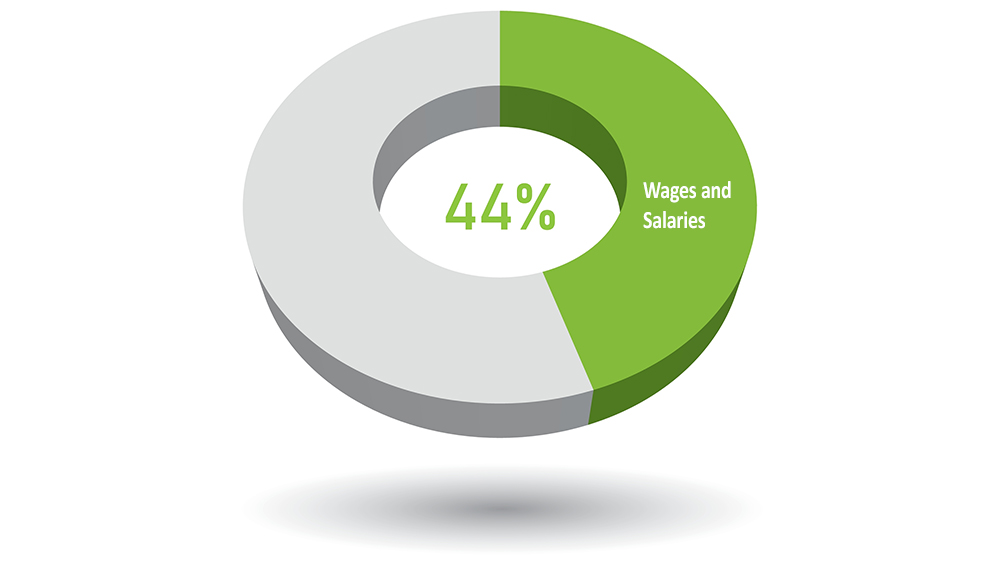 In late September after the very strong Q2-2021 GDP data was released, we noted that this showed a rising share of on economic activity was being won by employees. Overall, at least.
That data showed it up to 44% and its highest since the 2009/2010 years when it reached 45%. But it 'started' in 2002 at 40%, 2002 being when the Stats NZ data release went back to.
We observed that this data countered the popular misconception that workers aren't winning an increased share of national income, or were losing it. Al least for the last twenty years, that just isn't true.
With the appreciated assistance of the good folks at Statistics NZ, we have accessed this same record all the way back to 1971, a fifty year track record.
That helps us understand the context of the 2021 44% share much better.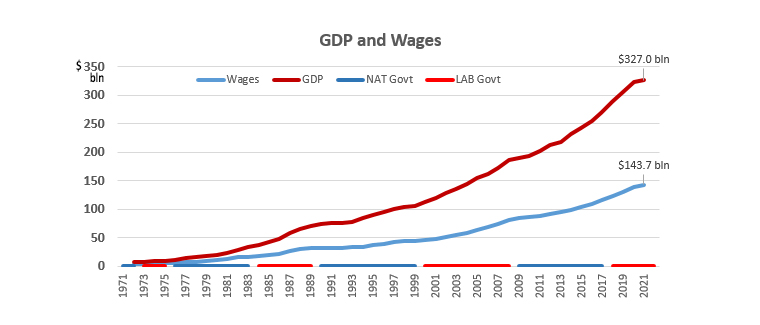 Alongside this data we have plotted the periods when various Governments were in power to see if there is any correlation.
Up to 1984 when the New Zealand economy was released from its centrally-planned straightjacket, GDP was actually very low. Since the inception of the modern economy, politicians controlled every aspect of the economy, protecting it from foreign forces who were assumed to have a malign influence on the locals, and assumed that New Zealanders were not capable of adapting or thriving in an open society. This drove very low economic activity, all centered around the agricultural roots.
Urban wage earners were 'protected' via strong unionism organised in giant state-owned employing  groups (Post Office, Railways, construction, etc.), and they won an outsized share of the national income via these centalised and wildly inefficient institutions.
It was so inefficient, I recall having to queue at the Reserve Bank for permission to get some foreign currency for a magazine subscription.
But at least workers had [an unnaturally] large share of the meagre income the country earned.
After this straightjacket was released in 1984, through the necessity of virtual insolvency and near-bankruptcy, the economic pie started to expand, and rather rapidly. But workers weren't the early beneficiaries as those inefficient institutions and work rules were unwound. There was a lot of self-interested complaining, along with plenty of collateral damage to lives, careers, and businesses. Those 'reforms' were messy, and a second set needed to be invoked in the early 1990s, also leading to further disruption.
But that set the stage for a quite rapid expansion of the economic pie.
Various Governments talked about how the benefits of all this reform would flow to the voters, and over these fifty years it has become clear that both political stripes grew the pie, but the Labour Governments seem to have been the impetus for a greater share going to wages. These periods also featured declining productivity, and declining  investment in productivity improvement, so a swing between the two different priorities has been needed to balance the 'growth' out. Sadly, the net result has been a slippage in our relative position internationally.
In 2021, almost 45% of the economic activity of the country is being won by workers. In 2022 it will likely be higher.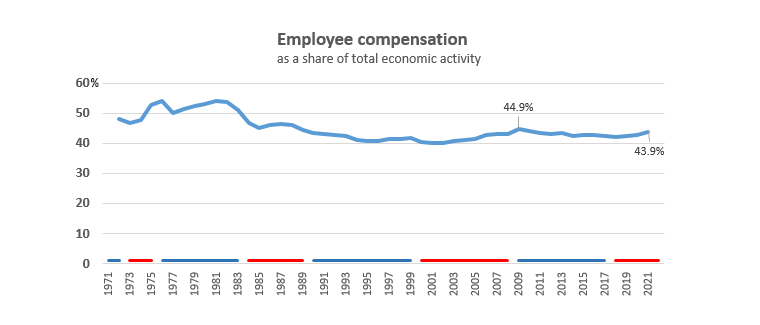 Interestingly, that is about the same as is won by American workers. The difference is that their economy is significantly larger on a per capita basis, so the compensation per person is so much higher there.
A smaller pie than potential is a significant handicap. It means those in poverty can have fewer resources diverted to aid them - just because there are fewer resources available nationally.