Public Policy
/
analysis
Government planning NZ's first ever comprehensive freight and supply chain strategy against the backdrop of climate change mitigation efforts & COVID-19 disruption
[updated]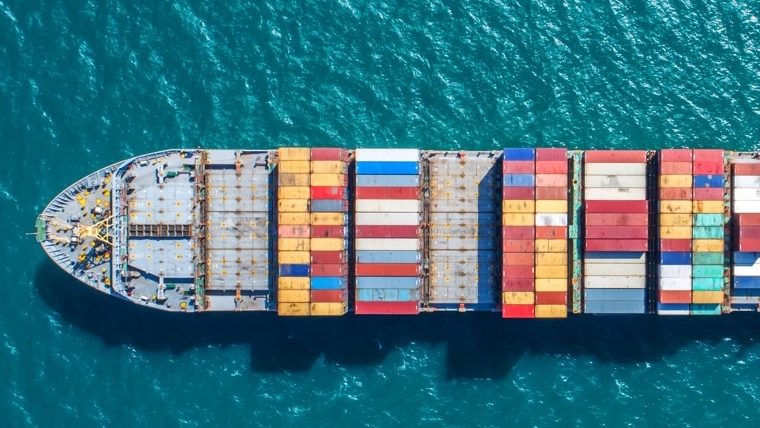 By Gareth Vaughan
Mitigating climate change, the possible development of a circular economy, greater use of data and technology, a need for investment, freight costs remaining higher than they were pre-pandemic, greater government involvement, and more industrial land being required for manufacturing and/or warehousing are among the issues flagged in a government issues paper on New Zealand's first ever comprehensive freight and supply chain strategy.
Getting the ball rolling, the Ministry of Transport's New Zealand freight & supply chain issues paper outlines just how significant the challenges ahead are if NZ's to play a fully committed role in international efforts to combat climate change. It also highlights long-term impacts on the supply chain stemming from the COVID-19 pandemic.
In issuing the paper Transport Minister Michael Wood points out the supply chain's performance affects every New Zealander.
"The movement of goods to, from and around our country is essential for our society and economy to function and flourish and impacts our quality of life," Wood says.
The paper itself nicely summarises how significant the supply chain is.
"Almost everything we have, or need to live our lives and operate our society and economy, is brought to us via this system. It is a complex and dynamic web of links and nodes involving multiple modes of transport, infrastructure networks, logistics nodes such as warehouses and cold stores, and agents including producers, freight forwarders, distributors, container yard operators, transport operators, and many more. Supply chains involve far more than transport. Of the five key supply chain management aspects – the plan or strategy, the sourcing of raw materials or required services, manufacturing, delivery and logistics, and the return of defective or unwanted products – the delivery and logistics task is the key focus of this issues paper."
Wood says COVID-19 showed how major international disruptions to supply chains can disrupt NZ businesses, limit the availability of key goods and services and increase the price of everyday goods and services.
"We are taking action to future proof our supply chain, limiting the impact of the next global shock on our businesses across the country."
"The strategy will help tackle the underlying challenges of our freight and supply chains, future proofing the system against climate change, international shocks, population growth and urbanisation, technological advancements, and shifts in international geopolitics and trading patterns," says Wood.
A 30-year NZ freight and supply chain strategy
The paper itself points out that NZ has never before had a comprehensive freight and supply chain strategy. In his foreword Wood says the plan proposes an approach to develop a strategy for the next 30 years.
The Ministry of Transport proposes the strategy focus on four outcomes; low emissions, resilience, productivity and innovation, plus equity and safety. The paper notes "the urgency of climate change action" means work on freight decarbonisation needs to be progressed quickly.
"The Government's first emissions reduction plan, to be released in May 2022, will outline the immediate steps needed to enable decarbonisation from 2022 to 2025, including in the freight sector. The freight and supply chain strategy will need to look further to meeting the goal of net zero emissions by 2050."
"This will include meeting New Zealand's other climate change commitments, such as signing up to MARPOL Annex VI, on preventing air pollution from ships, and the international agreement that 30% of new heavy vehicles entering New Zealand will be zero emissions by 2030 and 100% by 2040," the paper says.
"The first National Adaptation Plan, which responds to the risks identified in the National Climate Change Risk Assessment and helps to prepare New Zealand for climate change impacts, will also be published this year."
It goes on to say the freight network will have to support changing industry needs driven by other government or industry-led economic strategies.
"These needs will include various sectors' ongoing industry transformation plans, or the development of a circular economy. The strategy will also draw on broader concepts of wellbeing and what contributes to it, as outlined in Te Manatū Waka, Ministry of Transport's Transport Outcomes Framework and the Treasury's Living Standards Framework," the paper says.
A circular economy is one that involves designing products for longevity, keeping products and materials in circulation as long as possible, including shared ownership or shared use, and recovering and regenerating materials at the end of a product's life.
'A drastic transformation' of how our supply chain operates
As part of the global effort to reduce emissions, NZ has committed to reduce its net emissions of all greenhouse gases, except biogenic methane, to zero by 2050. The paper says meeting these goals will require "a drastic transformation" of how our supply chain operates.
"This transformation will include the decarbonisation of all freight modes and the operations of the infrastructure that supports them such as ports and airports. If we do not reduce emissions from our freight and supply chain, it will pose significant economic risks with costs passed onto the consumer."
Among the risks cited if we don't meet our international pledges on climate change are:
• Exporters could face challenges with demands to reduce 'food miles' as consumers seek goods perceived to have lower emissions.
• Freight operators will be affected by rising fuel prices as the price of emissions increases.
• Freight operators may experience cost increases as international shipping is brought into other countries' carbon pricing schemes. And;
• NZ may become less desirable for international shipping companies that transition to low or zero emissions fuels and ships if we do not have supporting infrastructure.
The problem of a lack of data is highlighted, with this making it challenging to plan and assess how the supply chain is performing.
"Despite this we do have some indications that the system could be performing better. For example, Statistics New Zealand data shows that productivity in the freight sector has been declining over the last two decades. We need to find better ways to collect and share data and to measure and review the freight and supply chain system's performance."
The paper suggests a more strategic and coordinated approach to the freight and supply chain system is needed to deliver change of the magnitude and in the time required, and in a system where the government is just one of many agents.
"While the system is largely driven by private enterprises and will remain so, action and cooperation by participants across the supply chain will be hard for the market to achieve by itself. Investment in freight and supply chain infrastructure can have long lead times, high costs, and long lasting legacies."
"This means that investment requires clear and long-term planning from all parts of the sector, including the government. Tackling climate change and changing population dynamics will require near-term decisions in an environment of change and unpredictability. Better coordination across government and industry could help provide more certainty," the paper says.
The end of the line
It also points out NZ is at the end of international trade routes, with 99% of the country's imports and exports travelling via global shipping routes to reach consumers.
"This means our international trade could be disrupted if countries start to limit trade with higher emissions economies to meet decarbonisation targets. For example, New Zealand has attracted attention in the global debate about 'food miles' despite having relatively carbon-efficient food production systems. The recent announcement of a Free Trade Agreement with the UK generated heated responses from UK farmers about the impacts of importing food from the other side of the world."
In terms of climate change mitigation measures, heavy vehicles such as trucks are at the front of the queue.
"Heavy vehicles present only 3% of New Zealand's vehicle fleet, but deliver 93% of freight volume and contribute around 25% of total transport emissions. The emissions reduction plan will set targets for reducing freight sector emissions by 2035, and put the sector on a path to meeting New Zealand's net zero target by 2050."
"The Sustainable Biofuels Mandate will take effect from 2 April 2023, reducing the emissions intensity of fuels sold in New Zealand. The mandate will help to reduce these emissions, but we also need to accelerate the uptake of low and zero emissions heavy vehicles in New Zealand. Battery electric and hydrogen heavy vehicles have advanced considerably in the last decade," the paper says.
"We have already seen successful large scale commercialisation and deployment of heavy electric buses. Vehicle manufacturers [such as Volvo] are committing to large scale commercialisation of zero emissions trucks in the 40-ton GVM class in the next few years."
"At the 26th UN Climate Change Conference (COP26), New Zealand signed an international agreement to increase the proportion of zero emissions heavy vehicles entering the country. The Government pledged that these vehicles would make up 30% of new vehicle sales by 2030 and 100% by 2040. This target is ambitious, and combined with our other targets, tells manufacturers and suppliers that New Zealand is ready to take these vehicles," the paper says.
"Through the COP26 commitment we are working with a forum of international governments and manufacturers to share information and learn from other fast-moving countries on the best way to meet these targets. To prepare for this, we need to understand what low emissions heavy vehicle infrastructure will be required, and build that into our long-term planning. These kinds of infrastructure have significant costs and the government and the private sector will need to consider how they will be funded."
Moving freight to rail and coastal shipping
The paper also touts an opportunity to move some products from road transport to lower emissions modes such as rail and coastal shipping. It notes the Climate Change Commission recommends NZ move significantly more freight by rail and coastal shipping to achieve decarbonisation objectives.
However, the inaugural Rail Network Investment Programme, stemming from the NZ Rail Plan, targets increasing rail mode share modestly, from 12% of total freight task in 2020 to 14% by 2030. Nonetheless the paper suggests this would reduce traffic congestion, road maintenance costs, air pollution and safety risks from road vehicles especially trucks. And it says modelling by EY suggests coastal shipping provides an externality benefit, or the positive effect an activity imposes on unrelated third parties, of up to $306.4 million per annum when compared to the roading alternative.
"It will take time and substantial investment to improve New Zealand's rail and coastal shipping capacity, and enable these modes to compete more effectively with road. Rail infrastructure has deteriorated over past decades due to a lack of long-term sustainable investment. To address this, over $6 billion has been committed to rail since 2017."
"The New Zealand Rail Plan outlines a 10-year vision to support increased investment in the rail network's resilience. A major component of this plan is a new long-term planning and funding framework for the heavy rail track network. As a first step, investment over the next decade is focused on restoring a resilient and reliable rail network. Further investment will be required to support growth in rail freight," the paper says.
In terms of technology, the paper suggests advancing technology trends could transform how we move freight. Areas of technology development relevant to freight and supply chains highlighted include artificial intelligence (AI), which could enable autonomous vehicles to become mainstream.
Meanwhile the paper says 3D printing, if scaled up sufficiently, could disrupt production processes and freight transport.
"Freight transport could involve moving 3D printing materials to produce complete products at localised sites, instead of moving parts from various locations to assembly centres. For now, 3D printing technologies remain limited to making parts which still require transport to assembly centres."
Low emissions vehicle technology including electric or hydrogen-powered heavy trucks, and container ships powered by carbon neutral methanol, are also mentioned.
"We are starting to see more manufacturers putting in dates for the commercialisation of these vehicles. Increased digitalisation of trade could significantly facilitate global supply chains," the paper says.
It also acknowledges data can be shared and stored securely with distributed ledger technology (DLT) or blockchain, improving the traceability and building trust among multiple parties. Although large-scale use of DLT in transportation is limited, shipping lines and port operators have launched DLT platforms such as TradeLens and Global Shipping Business Network to coordinate logistics chains.
How tourism volumes impact airfreight
There's an interesting link made between airfreight and tourism. Pre-pandemic 80% of NZ's airfreight was carried in the cargo holds of passenger aircraft. This was supported by 53% growth in international passenger movements between  2010 and 2019, enabling more airfreight to be carried at lower costs.
However, after COVID-19 hit, the border closed and flight volumes plummeted. The Government stepped in to provide funding for airlines to manage the gap between their operating costs and lower revenues. This saw airfreight capacity recover to 90% of pre-pandemic levels.
"In the immediate term, the recovery of airfreight capacity without government support is highly dependent on tourism resuming. But there is still uncertainty over the reopening of New Zealand borders due to public health concerns over COVID-19. Even after borders reopen, it may take time for passenger volumes to return despite some potential short-term gains from pent-up travel demand," the paper says.
Here it cites remote working practices reducing business travel, airlines being slow to bring aircraft back into service, and foreign airlines moving aircraft to other routes where countries have already resumed passenger travel.
"All of this suggests that airfreight capacity for New Zealand imports and exports will remain constrained in the near future. With the high global demand for airfreight, it is also less profitable for dedicated airfreighters to service New Zealand given our distance from major markets," the paper says.
"Airfreight rates are likely to remain at two to three times pre-pandemic levels. This is already impacting some of New Zealand's export industries, especially those with lower profit margins. There are also some uncertainties around New Zealand's airfreight capacity in the medium to longer term.
"The pandemic has provided an opportunity for New Zealand to 'reset' its tourism sector towards a high-value and sustainable model, but this may reduce passenger volumes and airfreight capacity. New aircraft models powered by low emissions energy sources like electricity and hydrogen could also reduce space for air cargo, as these sources require more space and weight allocation. That said, these technologies are currently still limited to small aircraft over short distances."
Just in-time model questioned
The impact of the pandemic on global supply chains, pushing up costs and slowing down the distribution of goods, means potential for a move away from a just in-time logistics model, and the embracing of a just in-case model.
Against this backdrop changes in land zoning to allow for greater housing densification may reduce the availability of land for storing freight.
"This could disrupt efforts to consolidate and optimise freight and logistics networks with distribution centres. Competition for land space may increase if businesses move away from a just in-time logistics model to hedge against supply chain disruptions. In this case, they would require more industrial land for domestic manufacturing, or warehousing to hold higher volumes of inventory," the paper says.
Fragmented and localised parts of the system, such as ports whose shareholders tend to be regionally focused, are highlighted. This division, the paper says, reduces the sector's ability to create change that benefits the national interest.
Additionally it points to "chronic labour shortages" in parts of the freight sector including truck drivers, port workers and seafarers. This require "more collaborative and longer-term planning" across employers, unions, and government to ensure the right conditions to build a sustainable labour force.
"There has been a relatively low level of government intervention in the operations of the freight and supply chain system. But there may be more that the government could do, in collaboration with the sector, to improve the system. This is because fundamental changes need to happen in the freight and supply chain system in order for New Zealand to achieve a low emission, climate-resilient economy, in a fair, equitable, and inclusive way that works for all New Zealanders. This will in turn require the action and cooperation of all participants across New Zealand's supply chains, which will be hard to achieve by the market on its own," the paper says.
"To achieve the proposed outcomes, the market will need to cooperate and coordinate, but this will be hard for the market to achieve by itself. The high costs and long timeframes of investment in an environment of uncertainty require longer term planning from all players in the sector, including the government."
"The Ministry of Transport is implementing a new Generational Investment Approach. This approach will take a 30 to 50-year view of investment choices," the paper says.
Higher freight rates likely here to stay
"Upward pressure" is seen remaining on sea freight rates, as well as the already mentioned airfreight rates.
"A global oversupply of shipping capacity after the 2008 Global Financial Crisis had kept sea freight rates to New Zealand low, with international freight costs making up about 4.2% of the value of imports in 2019."
Disruptions to global supply chains triggered by the pandemic have hit NZ's freight and supply chain system in various ways including:
• Reducing the frequency, reliability and capacity of shipping services to NZ;
• Escalating freight rates and surcharges, with sea freight costs increasing to 6% of the value of imports in the first nine months of 2021. And;
• Empty container supplies being stuck in the wrong places.
"New Zealand's trade volumes held up relatively well despite the disruptions – export and import values rose 5.5% and 7.2% in the first 11 months of 2021 compared to the same period in 2019. However, other impacts have been harder to quantify, such as those associated with forgone economic activity, falling or negative profit margins, and loss of business confidence to invest or loss of overseas market share."
Major changes in the freight and supply chain system's operating environment are expected, with some having been accelerated by the pandemic. A government interagency group has responded to pandemic-related supply chain disruptions, as part of the Government's Trade Recovery Strategy, the paper notes.
"However, these major changes are likely to sustain the upward pressure on freight rates, including through; the increased price of carbon leading to rising fuel prices, the need for more investment to adapt to and insure against climate change impacts, higher costs due to increased competition for land use, and the costs involved in responding to or hedging against more frequent supply chain disruptions."
"This means that the low rates New Zealand enjoyed and relied on for trade before the pandemic are no longer a certainty. New Zealand is likely to feel the impacts of higher freight rates much more than other countries given its geographical distance from major markets. Increases in transport related costs are also likely to be passed onto the consumer. Combined with inflation and the rising cost of living generally, this could have a disproportionate effect on vulnerable and low socio-economic communities."
Key statistics
The paper also details some key statistics. These include:
♦ Trucks, trains, ships, and planes move about 280 million tonnes of freight a year around NZ.
♦ 90% of construction products sold in New Zealand are either imported finished products or manufactured locally from at least some imported components.
"The construction sector has recently experienced the impacts of supply chain disruption with delays and price increases for building materials and products. The houses we live in are the foundation of our wellbeing and a focus on housing is a priority for the Government. Optimising the operation of New Zealand's freight and supply chain system can improve New Zealanders' wellbeing," the paper says.
♦ 99% of NZ's imports and exports travel along global shipping routes to reach consumers. The remaining 1%, generally made up of high-value, time-sensitive, or critical goods, travels via air – most of which is carried in the belly hold of passenger airplanes.
♦ Australia/NZ and Oceania comprise just 4% of total global container shipping capacity. 
♦ In 2019, the last year before COVID-19, NZ exported 28% of all goods by value to China, 15% to Australia and 9% to the US. It imported 20% from China and 12% from Australia.
Pandemic highlights the importance of supply chains
The paper says NZ has an opportunity to take a more strategic and systemic approach to freight and supply chains.
"It can improve its productivity and ability to respond to major changes happening here and abroad. Apart from highlighting vulnerabilities, the pandemic has raised the public profile of the freight and logistics sector, underlined the importance of supply chains, and demonstrated the value of having good freight data. It has also encouraged close cooperation and relationships across government and industry. This presents a good starting point to progress work on improving the system," the paper says.
The deadline for submissions on the paper is June 3. A draft strategy is expected to be sent to Wood in December, with further public consultation possible after that.
The diagrams below come from the issues paper.