Public Policy
/
analysis
A repeat of 1970s-style stagflation is unlikely but high inflation needs to end soon, Bank for International Settlements bulletin article argues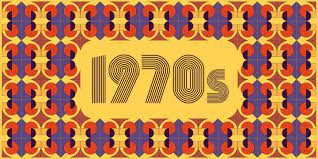 Despite commodity price rises coinciding with Russia's invasion of Ukraine, a repeat of 1970s-style stagflation is unlikely because of lower energy dependence and stronger monetary policy frameworks today, the Bank for International Settlements (BIS) argues.
Nonetheless a bulletin article from BIS, the central banks' bank, probing commodity market disruptions, growth and inflation, acknowledges the obvious. That is high and volatile commodity prices are disruptive, weighing on economic growth and adding to inflation. This places a premium on restoring low inflation quickly, before it becomes ingrained in household and corporate decisions.
"High and volatile commodity prices pose significant risks to the global economy. The effects will be felt on both inflation and growth, and will fall unevenly across countries, depending on whether they are exporters or importers of affected commodities and how higher prices affect household and corporate income. On net, higher commodity prices are likely to erode growth and lift inflation in the short term," the BIS article, authored by Deniz Igan, Emanuel Kohlscheen, Gabriela Nodari and Daniel Rees, says.
"Whether the world economy sees a repeat of the 1970s – when rising oil prices contributed to the most pronounced stagflationary episode of modern times – depends on how long the commodity market disruptions continue, and whether macroeconomic policy manages the fallout more successfully than in the past."
"At first glance, some uncomfortable parallels are evident. As in the 1970s, recent commodity price rises partly reflect lower available supply. These pressures could intensify if the reduced supply of fertiliser shrinks global crop yields and sanctions pinch the flow of energy commodities to global markets," the BIS says.
Stagflation occurs when there's weak economic growth, high unemployment and rising prices. This occurred in the 1970s when many developed economies experienced rapid inflation and high unemployment resulting from an oil shock. Here in New Zealand the official unemployment rate is 3.2%, the lowest since the Household Labour Force Survey began in 1986. The latest annual inflation figure, based on the consumers price index, is 6.9%. That's the highest it has been since 1990. The latest Gross Domestic Product (GDP) figure showed 3% growth in the December quarter.
Uncertain outlook
Russia's invasion of Ukraine on February 24 caused a surge in the prices of commodities such as oil, gas, food and metals. With the war continuing, the outlook remains uncertain.
"Rising commodity prices went hand in hand with the threat of major supply disruptions. Russia and Ukraine are significant in many commodity markets. Together, they account for over 10% of global wheat and oil production, and more than 20% of the world's natural gas. Russia also supplies metals used to manufacture aircraft, cars and computer chips. A shortage of these metals could lead to an intensification of bottlenecks. Already, the war has disrupted agricultural supply chains," the BIS says.
"Such disruptions could multiply, not least due to the destruction of crops and physical infrastructure. Meanwhile, additional sanctions on Russia could further crimp the supply of energy commodities, at least to some markets."
The BIS bulletin notes that by some measures this year's events look even more disruptive than those of the 1970s, with recent price increases affecting a wider range of commodities.
"Commodity price rises in the 1970s were concentrated in oil markets, whereas in recent months energy, agricultural, commodity and metals prices have all experienced strong gains. That said, oil price increases in the 1970s were much larger than the recent ones: in the 1973 crisis, oil prices more than doubled in the space of a week, while in the 1979 crisis they increased by a similar amount over a year."
"In contrast, oil prices are less than 50% above what they were at the start of 2022 and are lower in real terms than in the early 2010s," the BIS says.
"At the same time, there are reasons to think that recent commodity price increases could be less disruptive than those of the 1970s. The inflationary backdrop, in particular, is less threatening. The 1973 oil crisis followed several years of rising inflation. And inflation was very high in the years leading up to the 1979 crisis."
"Although global inflation has risen substantially over the past year, it was low for several years before that. As a result, high inflation is likely to be less ingrained in the minds of households and firms, which could limit the spillover of higher commodity prices," the BIS says.
The article also argues that economies are also less energy-dependent now than in the 1970s.
"The energy intensity of GDP – the amount of energy consumed relative to the total volume of goods and services produced – has fallen by around 40% since the late 1970s. The reduction has been most striking for oil, for which consumption per unit of GDP has more than halved. Some of this decline reflects a shift in energy use from oil to other fuels, such as gas. But even for these fuels, total consumption per unit of GDP has declined."
"As a result, higher energy prices matter less for growth than in the past. Policy frameworks are also more robust. The 1970s oil crises followed the collapse of the Bretton Woods system. In many countries, monetary policy targets and reaction functions were ill-defined. Today, most central banks have more coherent policy frameworks, allowing them to successfully navigate several large commodity price spikes since the 1970s," the BIS says.
"That said, credibility ultimately depends on central bank actions and could be eroded if central banks allow high inflation to persist for too long. Even if less disruptive than the 1970s oil crises, recent commodity price increases could still have significant implications for output and inflation. These, in turn, will depend on why commodity prices rose, and on whether a country exports or imports the commodities involved."
Importers versus exporters
Igan, Kohlscheen, Nodari and Rees estimate a 10% rise in oil prices driven by lower global oil supply reduces GDP for the average advanced economy by about 0.5% after two years. In contrast, a 10% oil price rise unrelated to changes in oil supply or aggregate demand would lower GDP by less than 0.2%.
Overall they suggest commodity price increases since the start of 2022 could reduce GDP in major advanced economies by about 0.7 percentage points by the end of 2023. But of course the effects of higher commodity prices differ between commodity importers and exporters.
"In general, for pure price changes, higher commodity prices lead to a modest rise in output in commodity exporters and a larger decline in output in commodity importers. Reductions in commodity supply, on the other hand, are contractionary for both sets of countries," the BIS says.
"An examination of the expenditure and income flows sheds light on the transmission of commodity price movements. In commodity importers, higher commodity prices are unambiguously negative for both households and firms. Real wages and profits decline, consistent with lower economic activity and higher inflation. Meanwhile, consumption and investment both fall."
"The patterns for commodity exporters are quite different. Higher commodity prices typically boost profits and, in turn, investment. But wage income falls on average while consumption hardly responds," the article says.
And, as expected, the article's authors say their work shows higher commodity prices are inflationary.
"We find that a 10% oil price rise lifts year-on-year inflation after 12 months by 0.2 percentage points on average across importers and exporters. Agricultural commodity price rises are twice as inflationary – a 10% increase raises inflation by over 0.4 percentage points. By contrast, the response of headline inflation to oil supply shocks is statistically insignificant, possibly due to the disinflationary effects of lower GDP growth."
"At face value, our results suggest that recent commodity price gains could raise inflation in a typical advanced economy by over 1 percentage point in 2022. Of course, actual outcomes could differ from this central estimate both because of uncertainty surrounding the estimates and because of factors not captured in the empirical framework," the authors say.
"For example, the inflationary impact could be smaller if lower commodity supply reduces economic growth. Alternatively, the boost to inflation could be larger if commodity market disruptions, in the context of already strained supply chains, were to tighten bottlenecks in key production inputs."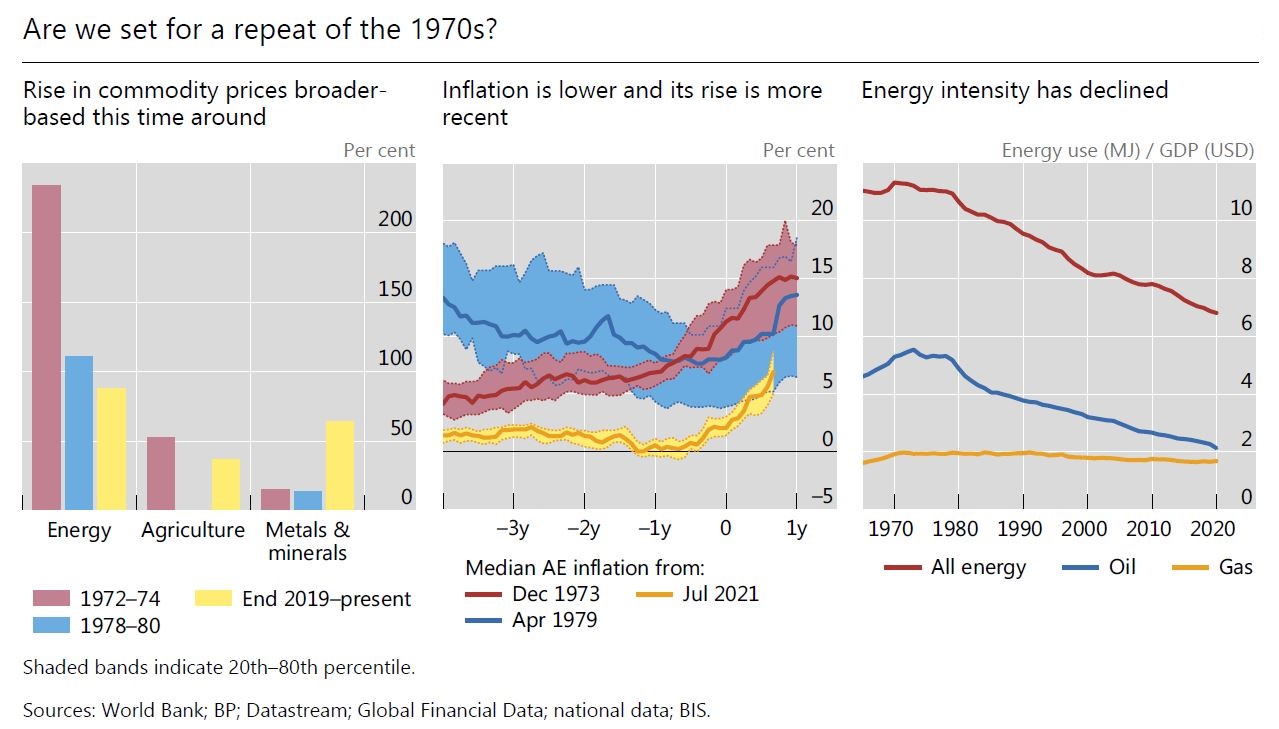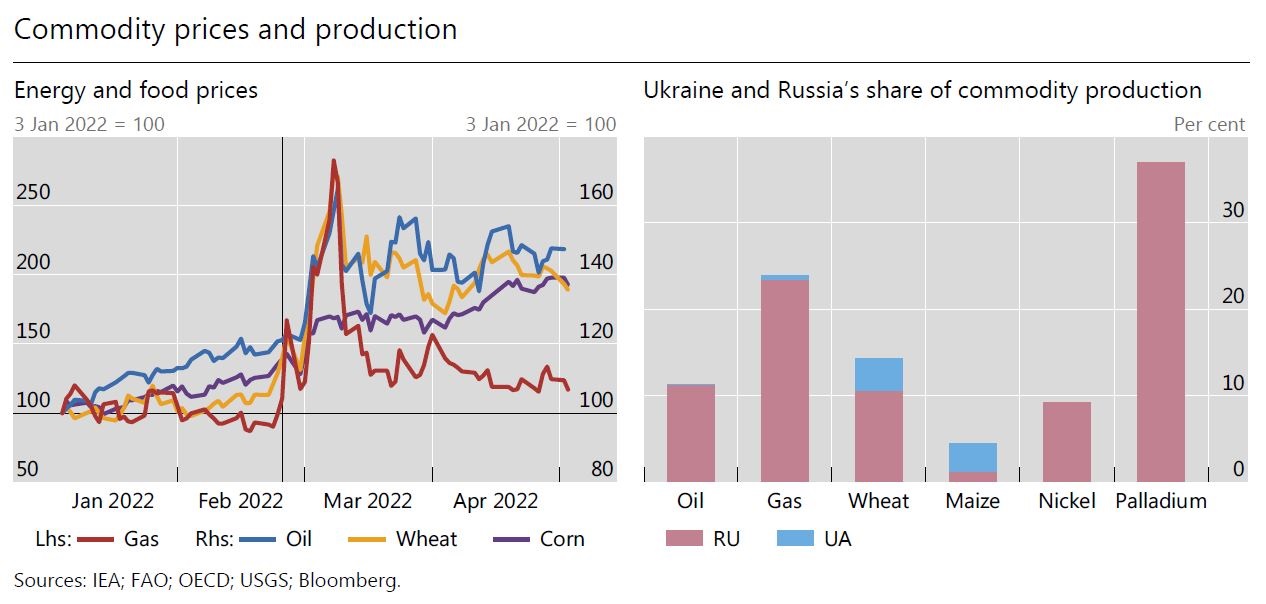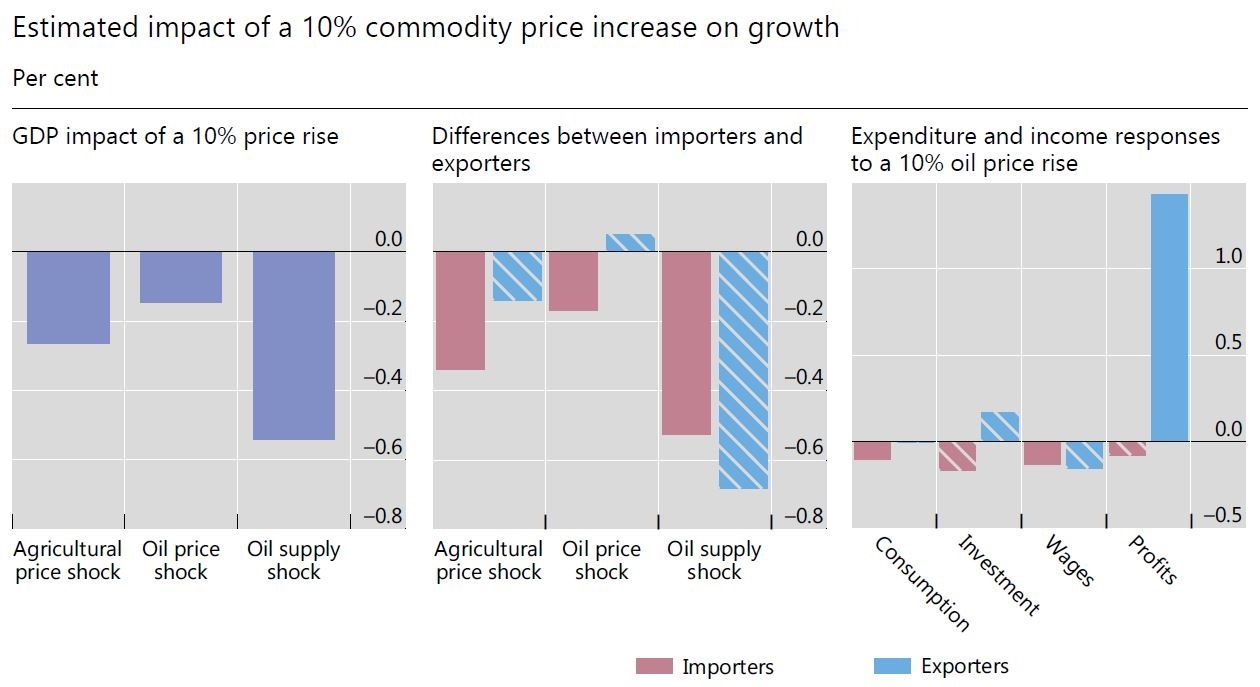 *This article was first published in our email for paying subscribers. See here for more details and how to subscribe.