Keith Woodford says crippling carbon liabilities attaching to land that is carbon farmed will be all that is left after foreign investors harvest the first cycle gains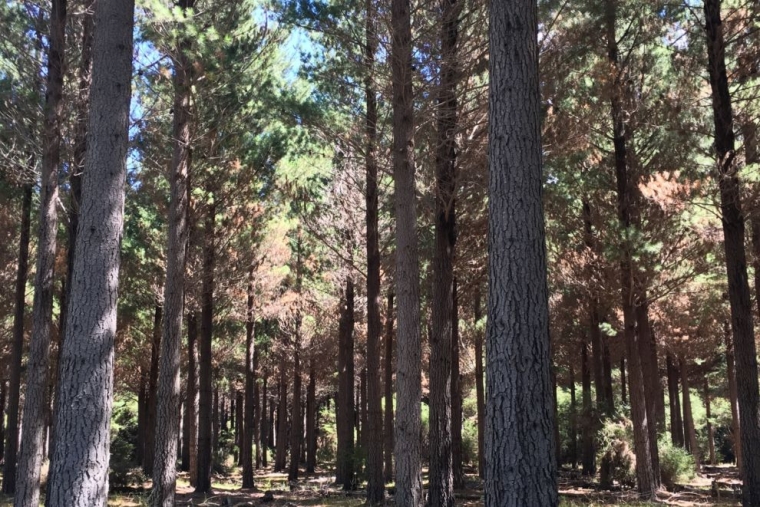 New Zealand's Zero Carbon Bill is based on the assumption that carbon farming through forestry provides a climate-change solution, at least until the arrival of new technologies that allow New Zealand to move away from fossil fuels.
In contrast, Environment Commissioner Simon Upton has suggested that using forestry for carbon-dioxide offsets is not the away to go. He contends these should only be used to offset the shorter-lived agricultural gases.
The Government does not agree with Commissioner Upton for reasons that can be readily appreciated. Without carbon sinks provided by new forests, there are no big tools in the kitbag to get anywhere near zero carbon.  
Accordingly, carbon farming of forests is going to remain of fundamental importance for as long as the Government is aiming to reduce net emissions of carbon dioxide. Some of the consequences have not been foreseen.
New Zealand already relies on forestry to reduce its net emissions of carbon dioxide. In 2017, forest sequestration of carbon dioxide was assessed at 24 million tonnes compared to gross emissions elsewhere in the economy of around 40 million tonnes. Note, here I am focusing just on carbon dioxide and not the other greenhouse gases. For a discussion on the specifics of short-lived methane go here.
The starting point for carbon farming is to recognise that credits can only be claimed for one rotation of trees, typically around 28 years under New Zealand conditions for radiata pine, or longer for slower growing natives.
At the end of the first rotation, the carbon credits that have been claimed throughout the growth cycle are a liability attached to the land title.  This means that the land can in all likelihood never be used for any other purpose than carbon forestry. This is because the carbon unit liabilities associated with the previous carbon credits would have to be repaid based on current value thereof.  
Whether or not it is actually worthwhile harvesting the trees at maturity time will depend on the value of sequestered carbon at that time relative to log prices, combined with specific rules relating to repayment of the carbon liability.
Until recently, carbon credits were seen as a nice little cash-flow earner during the growth cycle but the main game was still the harvest value of the logs. That is now all changing.
The key reason is that the value of carbon within the NZ Emission Trading Scheme has been increasing rapidly. In 2014 the price was well under NZ$5 per tonne. Right now, it is between $24 and $25 per tonne.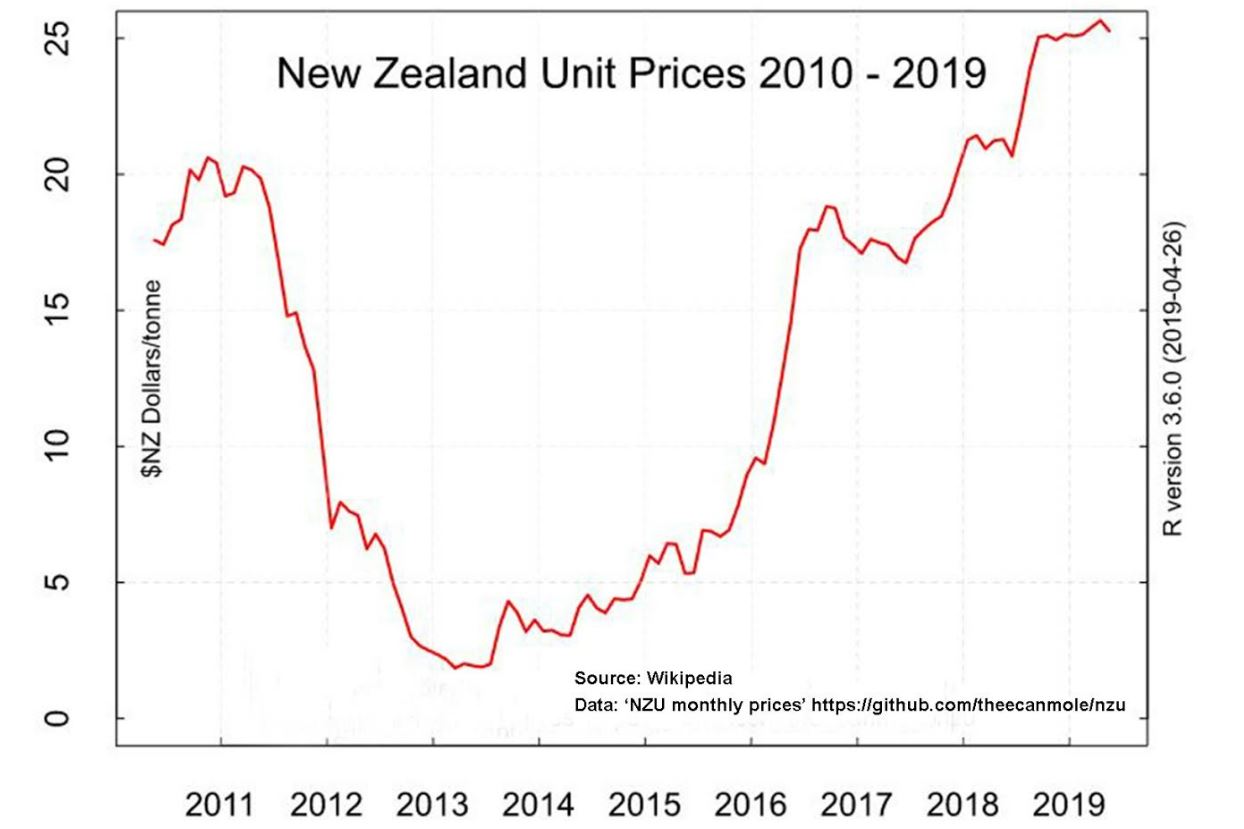 Under current legislation, there is a carbon price cap of NZ$25 per tonne, but there is a very good likelihood of this being removed within the next three years – that is the current Government plan. The price of carbon would then be likely to rise in line with rising international prices
The carbon price could in time go to $100 or even higher. Even if it only goes to $40 per tonne, or even less, then the forests may never be harvested. The EU price is already over $40.
Most of New Zealand's forests have foreign owners. With current policy settings for ownership of forestry land, this foreign ownership will increase further. Here is the reason why.
For big foreign entities, the notion of having within their portfolios some New Zealand forests for carbon farming looks very attractive.  As part of a balanced portfolio, any risks can be managed. In relation to the low returns on equities that can be earned elsewhere in the global economy, the returns look truly stunning.
An overseas entity can buy the land, plant it in trees, receive some Government subsidies, and then sit back and take the stream of income from carbon credits over the next 28 years. And then write off the original investment in the same way that a spent mine is written off.
If I were advising any such foreign entities, then that is exactly what I would be saying to them. Governments have set the rules, and now here is the opportunity to play the game. 
Of course, it does not require me to tell them that. Their own advisers are telling them, and the game is now on.
At the end of the 28 years, the land can simply sit there, with its unharvested forest, with large carbon liabilities attached to it, and providing no further income to either New Zealand or anyone else. From the investor's perspective that is fine – it has served its purpose and been a great investment.
The option of harvesting the forest might still be considered, but in the context of a bonus. In any case, given that many new carbon forests, as a cost saving measure, will not be thinned or pruned, the harvest value may well be limited.
From New Zealand's perspective, this does not seem quite so flash. In effect, New Zealand has had an initial benefit from the inward flow of funds to purchase the land, and then has spent the next 28 years paying the foreign owners for the forestry carbon credits to balance off its own emissions elsewhere in the economy.
As for future generations of New Zealanders, they will have some green trees to look at, but the land itself can no longer be used for anything because of the crippling carbon liabilities attached to the land title.
In debates about foreign ownership of farmland, it is sometimes claimed that the foreign owner cannot export the land. It is still here earning an export income for New Zealand. But in the case of carbon forestry, the foreign owner can effectively capture in one rotation the economic benefits in perpetuity.
Another key insight is the recognition that the equilibrium price of carbon needed to ensure that emitters change their behaviour is much bigger than the price required to make carbon forestry profitable. For example, at a carbon cost of say $100 per tonne, a motorist purchasing 1000 litre of petrol per annum would still see their costs only rising by about $5 per week and hence make minimal behaviour changes. That same price of carbon could see a liability attached to a hectare of mature forests of between $60,000 and $90,000.
So, what is the solution?
The first step it to remove the OIA exemption that allows foreign entities an automatic right to buy New Zealand farms as long as they put it into forestry.  There needs to be a brake put on.
The second step is to place limits on the price paid for forestry carbon credits. That would mean keeping a cap on the selling price to the Government by forest owners for carbon credits, but could also mean the Government then selling those credits to emitters elsewhere in the economy at a higher price. That could be a nice Government earner.
The third step would be to pause and take a deep breath.  Let's quietly work through the hidden consequences and the solutions.
Now, all of this is going to be controversial. Given the conflicting interests of the various parties, it can be no other way.
---
*Keith Woodford was Professor of Farm Management and Agribusiness at Lincoln University for 15 years through to 2015. He is now Principal Consultant at AgriFood Systems Ltd. His articles are archived at http://keithwoodford.wordpress.com. You can contact him directly here.