Guy Trafford has a look at where the world's fresh water is situated and how New Zealand is placed. He decides water is our competitive advantage for the future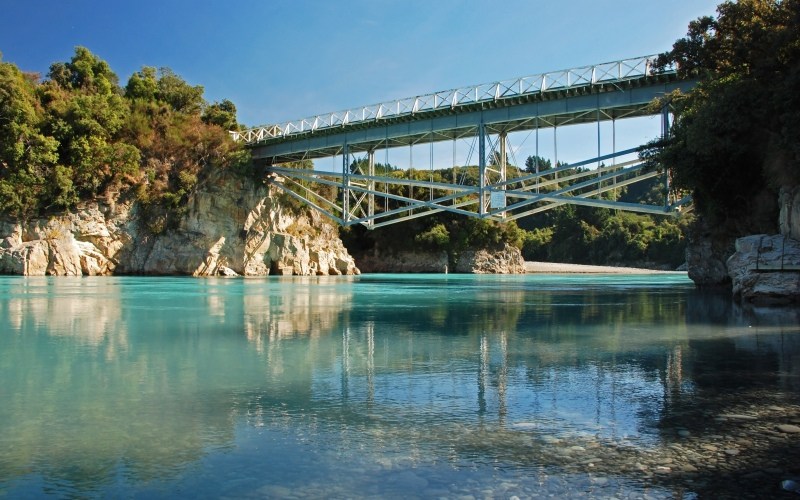 The Government is bringing in new guidelines for providing fresh water access by the end of the year and wants them implemented by mid-2020. For a change the focus does not appear to be on agriculture but is looking at preventing sewerage leaking into and onto waterways, lakes and beaches.
Although given that the drive was at least in part motivated by what happened in Havelock North in 2016 when approximately 5,000 people became ill from contaminated water with sheep faeces being the likely cause, it is likely reducing faecal runoffs from farms will have a part to play.
In New Zealand (contaminations aside) we have an abundance of fresh water and while the quality has been questioned of late, we do by and large take the availability of it for granted. We are one of the few lucky countries who can take water for granted.
Although the planet is largely covered with water with oceans covering approximately 71% of earths surface area, little of it is in a drinkable state. In fact, around 97.4% of total water is in the oceans or in a saline state, leaving 2.6% as fresh. However, much of this is in the form of glaciers and ice caps, in fact over two thirds is, leaving a total of 1.2% of water remaining. It gets even further reduced when the permafrost and ground ice (not glacial) is taken into account and reduces the 1.2% by a further two thirds down to 0.4% of total water.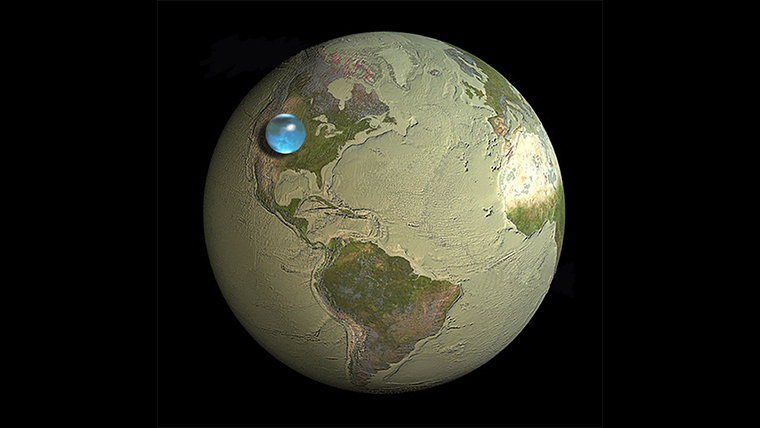 The blue sphere represents all of Earth's water, and its diameter (distance across) is about 1380 kms (the distance from Auckland to Oamaru). It would have a volume of about 1,386,000,000 cubic kilometers (km3). The sphere includes all the water in the oceans, ice caps, lakes, and rivers, as well as groundwater, atmospheric water, and even the water in you, your dog, and your tomato plant. Source: USGS/Perlman/Woods Hole Oceanograpgic Institution
The only real upside is that much of this is renewable in the form of rain and snow etc, that is except for the fresh water stored in the ancient aquifers which are being rapidly depleted. Happily, this does not apply to New Zealand where the aquifers have a relatively quick recharge rate.
The High Plain aquifer in the USA which includes the Ogallala aquifer has dropped by over 30 metres since records began with no real end sight. While much of this is used for agricultural irrigation much is also required to meet the growing population's needs. The Ogallala supplies approximately 30% of the ground water used for irrigation in the US and it is estimated it will take 6,000 years to recharge it. At the moment farmers are moving away from 'water hungry' crops to ones which require lesser amounts, but generally with lower yields.
A major environmental disaster is what has happened to the Aral Sea (actually a lake) which through water being diverted and overused which has dried up a huge proportion of the lake. It was the fourth largest lake in the world and through the depletion of it water dropped to 10% of its original size. Kazakhstan is leading a programme to try and at least partially restore the lake and fish have been found again there. At one point 2 million hectares were being irrigated either from lake water or water normally flowing into the lake. This area is now greatly reduced.
So, where does this leave New Zealand? Public pressure and common sense dictate that 'we' need to be careful about what and how we use our water. But New Zealand is also very fortunately in that it has some very beneficial advantages over other countries when it comes to water. One of them is the fact that we have no land borders with other countries. This means that what water we get we keep (or could) without having to worry about the political ramifications of the down stream effects and likewise we don't have to worry about the upstream impacts upon rivers etc from other countries. The Mekong River, for instance, flows through six countries and the Nile is influenced by 11.
When looking at freshwater availability (water derived from internal river flows and groundwater from rainfall) New Zealand is ranked as 11th from 180 countries with 72.5 thousand cubic metres per head of capita. This is nearly half of what it used to be in the early 1960's but the change appears to be driven by the increased population rather than less water.
New Zealand is also in the fortunate position in that being a maritime nation our weather patterns are more regular in bringing moisture from the ocean in the form of rain it is just what direction it comes from that is the difficult part to predict. However, most climatologists are in agreement that with climate change westerlies will become even more predominant dropping rainfall onto the major ranges and alps.
In the meantime, the major countries we trade to are experiencing more unreliable weather patterns, increasing heat and growing populations. All of which are contributing to additional demands on available fresh water for drinking and for agriculture. China for instance has gone from 4.2 thousand cubic metres per capita to 2 thousand by 2014. Even the UK which while not reducing hugely only has about the same as China per head of capita.
Source: World Bank 2016.
What all this means, that while Australia has always considered itself "the lucky country" in fact it is New Zealand which really can lay claim to that title as not only do we have water we also have the climate to magnify our water into a competitive advantage, be it as a source for agriculture or as a means to showcase the environment and ecological values and recreation.
While, much of the domestic debate around water is focused on overuse by agriculture and the impact on water quality, in reality only 2%-3% of the available water in New Zealand is extracted for irrigation.
The debate should be on the how it is used rather than the if it is used.
Other countries natural resources tend to be mined and are totally non-renewable. New Zealand's biggest natural resource and our greatest competitive advantage is our access to fresh water, which is totally renewable, benign and potentially very profitable. If we manage it correctly.