Guy Trafford wonders whether the SMP price will top WMP at some point; it has done in the past. And he reviews the Report into winter grazing practices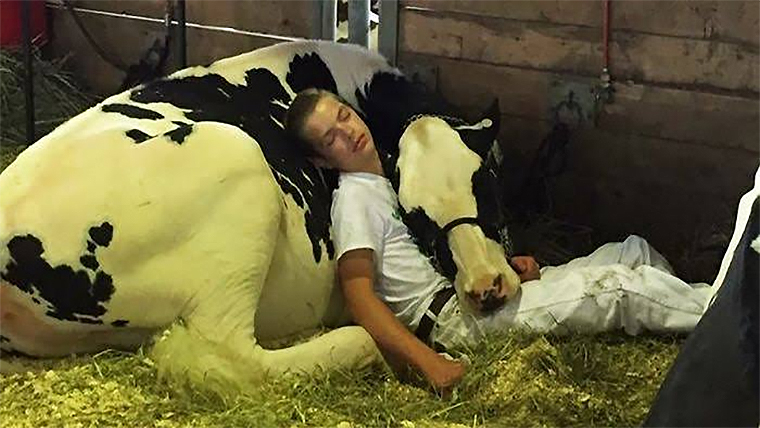 The price relationship between Whole Milk Powder and Skim Milk Powder is getting interesting. As a relative newcomer to covering dairy prices, I assumed that WMP would always be more in demand and therefore more valuable than SMP. So, it was with a little surprise that I noticed recently the price difference between the two has been closing significantly.
April last year the price per tonne (US$) favoured WMP by up to $1,400 whereas now the difference has reduced to US$304 per tonne. However, the anomaly appears to be the high difference as when looking back at data there have been times, such as 2014 and beyond, when SMP has actually achieved higher prices than WMP.
An interesting chart (in my view) is the one below produced by Australian Bureau of Agricultural Resource Economics and Sciences (ABARES) showing the relationship between the major dairy products traded internationally.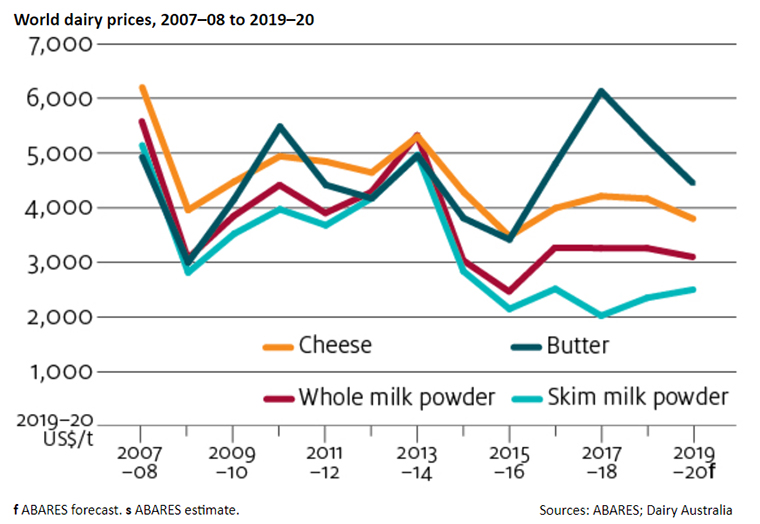 It clearly shows that the recent trends have been going away from the relatively tight norms of pre-2015.
However, as I noticed, they are coming back together again. I don't think there is anything to be concerned about over this, unless you have been relying upon butter as your mainstay, as the price volatility existed regardless of prices and products have tended to move in common with each other - at least up until recently.
Current trends are that SMP will continue to close in on WMP. Judging by this graph in the past both products have tracked similar lines so SMP is currently bucking this trend on the back of additional Chinese demand and the fact that the EU have sold off  (as of June 2018) all their stockpiled SMP gathered up under their price intervention scheme.
Looking at what ABARES are forecasting for the season ahead, they are not quite as bullish as commentators on this side of the Tasman. They predict all dairy products to come back with butter having the biggest fall at -13.5% and only SMP improving in value at +8.8% . However, the predicted drops are mitigated at the farm gate by an expected reduction in the value of the Aussie dollar.
On their production front, the continuing Australian drought is having a massive impact, with cow culling rates for last season up 31% in Victoria (the major dairy region) and unlike New Zealand water there comes at a market price. In the last 12 months or so water has doubled in price getting up to AU$600 per million litres in the Murray-Darling Basin. Currently reserves are adequate and the water situation was worse in the "Millennium Drought" of 2007-2009, although the current drought has not finished yet despite some rain in early November. The 34 month period from January 2017 to October 2019 has been the driest on record for the Murray-Darling Basin.
Compounding the news about climate is the updated CO2 levels in the atmosphere, which despite all the rhetoric from governments about reducing outputs, have continued to climb and are at levels last seen 3-millions years ago (apparently) when temperatures were 2-3 degrees warmer and sea levels up to 20 metres higher.
Next week is a meeting Madrid for COP 25 (Intergovernmental Climate Change conference) when no doubt yet more new targets will be set. New Zealand will likely not be influenced any further by the latest figures as it has policies in place, they just need time to bed in. An outcome from next week's meeting could be "what penalties are imposed upon countries that are still continuing to exceed targets". The USA and Australia immediately come to mind. However, any resolution around something that may have a 'sting in its tail' is unlikely to gain any traction.
Winter grazing practices
The "Task Force" set up to investigate winter grazing practices has made its first report to MPI Minister Damien O'Connor. It had 11 main recommendations most of which have been accepted by farming leaders. However, one particular clause seems to have raised eyebrows and has received push back from all sectors. The taskforce calls for provisions such as animals being to lay comfortably on a soft dry surface, an ability to move animals to shelter/dry land in adverse weather.
Dr Jenny Jago from DairyNZ has questioned the sense of this in a pastoral system saying;
"Some of the recommendations made under the premise of 'always' and 'never' to take place is unrealistic in our pasture-based system.
"The report states farmers should always provide animals with a soft dry surface to lie on which, in an outdoor system subject to weather conditions, is simply not achievable even with the very best management. "A 'never' standard would apply if there was a little bit of rain or a lot of rain, which makes it impractical," she said.
 Recommendations to do further work on include:
• More work to understand and mitigate the long-term animal welfare consequences of intensive winter grazing practices
• Expand knowledge of barriers to adopting improved animal welfare practices
• More active surveillance to ensure animal welfare standards are being met
• The establishment of a pan-sector action group to implement the recommendations.
followed by the minister's desire to see "the establishment of an Action Group to begin implementing the recommendations so we can see some progress next winter and beyond".