Although the situation for those living in China largely depends upon where people live, the coronavirus is having a negative impact upon their agricultural production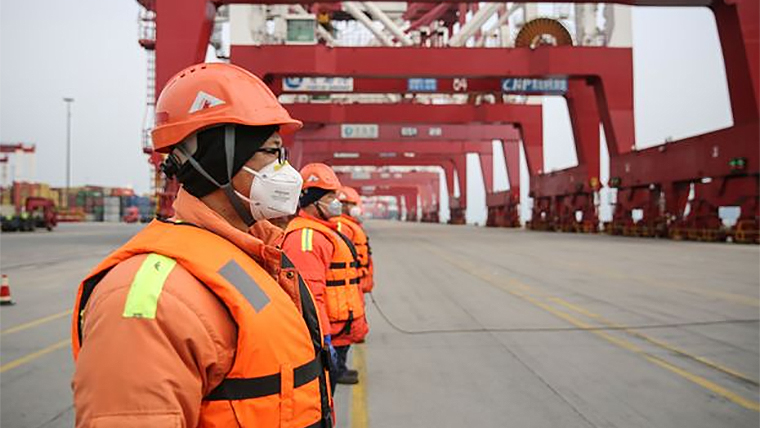 Some interesting facts are coming out of China about how the locals are coping living with the fear of coronavirus, as well as the restrictions put on them by the State. Outside of Hubei province (where the virus began and is most widespread) it sounds like some sort of normality is returning within fairly tight constraints.
According a survey by recruitment site Zhaopin.com over 70% of companies are planning to return to work by now, with the other 18% taking a more circumspect approach and adopting a "wait and see" tactic. 
The decisions to stay at home are basically voluntary for the vast majority of Chinese and the sector that has chosen to work from home tends to be the IT sector.
Online retail giant JD has released figures showing that despite the general downturn some foods are still being brought and in greater volumes than previously.
"Sales of rice, dairy products and other staple food products have soared 154 per cent year-on-year during this period, with rice and wheat products increasing at 5.4 and 4.7 times respectively. Consumption of cereals surged in late January as much as 15 times compared with the same day on the lunar calendar last year."
"Sales of pork increased tenfold, while sales of beef, mutton, poultry and eggs increased 400 per cent. Vegetable sales increased by nearly 450 per cent compared with the same period last year." 
This sounds promising for food exports to China. However, it appears the ports are still to get fully functional and transport within China is particularly affected with all travel severely constrained.
The restaurant trade has been heavily affected with most Chinese opting to stay at home and eat rather than socialise. The Western owned companies are reported to be slower re-opening and Subway for instance has got over 2000 outlets closed, and IKEA has all their stores closed.
Within the Hubei region things are far more rigidly controlled with resident only allowed 1 household member allowed to go out every second day to get food supplies.
Poultry farmers within Hubei have been mentioned as being particularly affected with a lack of available chicken food due to the travel restrictions meaning millions of chickens are at risk. Many farmers turned to chicken raising, both for eggs and meat production, as a result of the African swine fever decimating the pork industry. Now it appears large parts of the poultry industry are at risk.
Hubei province has around 348 million chickens at any one time and slaughters about 500 million birds a year making it the sixth largest poultry producing province in China.
Although China is experiencing an increasing deficit in animal proteins apart from dairy most of our beef and lambs, along with sea foods end up in food service, Rabobank in their latest update and this is likely to take longer than other food sectors to recover.
The key unknown is how long it is going to take coronavirus to run its course. SARS took around 8 months, so based upon that there is still a considerable time span to pass before this episode can be put behind us.
The only upside for food producers here is that China's domestic production is likely to be negatively impacted by the travel restrictions and will take time to re-establish their pre-virus productivity and of course impacted on by ASF. This may provide some short to medium term demand for imported animal proteins.
Unfortunately, with the dry weather affecting many Eastern and Northern regions in New Zealand many producers will not be in a position to take advantage of the inevitable spike in demand. Damien O'Connor the Agriculture Minister has declared an "adverse event" for Northland thereby freeing up funds to provide some support to affected people, and unless widespread rain comes soon other regions in both the North and South Island will also be 'declared'.
Will doing the right thing enable the State to take away property rights?
One of the affects of the coronavirus is that it has taken the focus off farmers and the environment, which seemed a major sport in 2019. However, that does not mean that things have not been happening. The Ministry for the Environment is consulting on a proposed National Policy Statement for Indigenous Biodiversity until 14 March 2020, and DairyNZ is encouraging farmers to make a submission.
The concern is that the many farmers who have made significant investments into the environment setting up wetlands and preserving native areas may get these areas classed as Significant Natural Areas (SNAs) of indigenous biodiversity by Councils and have restrictions placed upon them. Some farmers who don't have SNAs on their farms could also be affected by the proposals - for example if the farm borders an area of indigenous vegetation on a neighbouring farm or a National Park. 
DairyNZ is leading the consultation for farmers at this stage and is  providing more information at dairynz.co.nz/biodiversity. Presumably other non-dairying farmers are able to use this resource as well. Like many well-meaning regulations the devil will be in the detail and so farmers need to be aware of what is proposed here. To date not a lot of detail is forthcoming but it will be monitored.