Guy Trafford reviews the fast-changing situation around China's dairy demand and NZ's access and ability to supply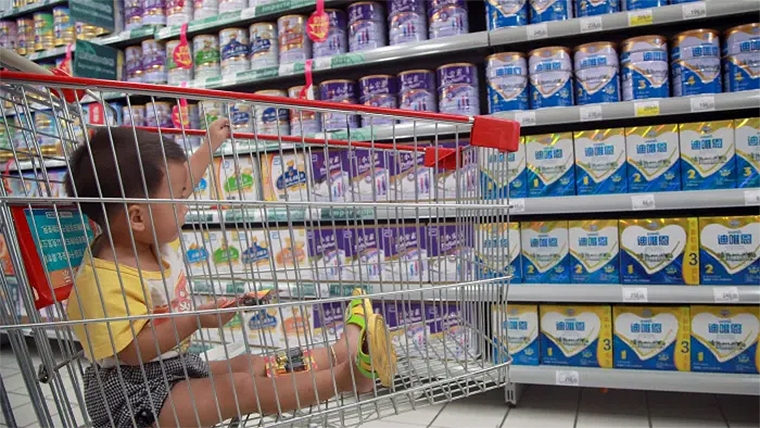 While in China the focus has been on the coronavirus, consumers have not forgotten the events of 12 years ago when the melamine scandal was revealed. Just to remind all, domestic infant formula was laced with melamine which proved to be toxic to infants. 300,000 children in China were poisoned after drinking infant milk formula that contained melamine, a chemical used in plastic. Six babies were killed by the toxic substance, which was used by 22 companies to artificially boost the protein levels that showed up in nutrition tests. Those found at (serious) fault and responsible receiving sentences ranging from long prison terms to death.
Not that this seems to have deterred others since from trying similar scams since.
One of the more infamous recent occurrences being the 2018 vaccine scandals when in a number of cases children's vaccines were found to expired or faulty. The melamine infant formula scandal was one of the major drivers to ramp up consumer demand for imported milk powder, infant formula in particular.
With only about 25% of Chinese mothers breast feeding the infant formula market is huge at an estimated US$32 billion by 2023. The share of consumers opting for imported infant formula is expected to drop, however, it still is predicted to remain close to the 50% by 2023.
It is this demand that is keeping milk powder prices relatively strong and why analyst believe that dairying will be one of the earlier sectors to bounce back once trade resumes to normal levels. This especially applies to those companies which can offer something extra, such as a2 with their marketing advantage.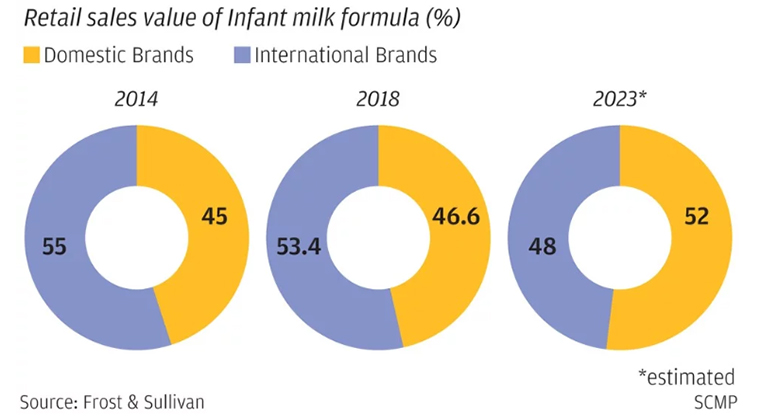 An interesting observation has been that the largest support for imported infant formula comes from the tier-1 cities where-as there is growing support in tier-2 cities for domestically produced formula. This is largely driven by ability, or lack of, to purchase the higher value imported product although there are domestic milk producing companies such as Feihe which controls their total value chain from milk production right through to the consumer which are receiving more local support. The Chinese government is trying to lift local supply to over 60% reducing reliance upon imported products. On current trends this is at least still 5 to 10 years away assuming nobody gets greedy.
It will be interesting to see what the latest updates in global milk production are when they come out in the next week or so. Up to the end of December things were looking reasonably positive with the exception being Australia which continued to be declining. However, since then everything has turned to custard. Australia's droughts turned into floods, New Zealand's dry period has turned into one of the driest seasons on record for the Northern parts of the country and the Northern Hemisphere has also been having extreme weather events. And, of course to cap it off we have the growing influence of the coronavirus impacting upon markets.
It seems a long time ago that 'we' were concerned about the potential of being squeezed in China through the seemingly thawing of relations between the US and China. That seems the least of our problems at the moment.
Happily, Fonterra have come out this week and reaffirmed that they are still sticking to their $7.00 - $7.60 forecast. They have a large percentage of production locked into contracts pre-coronavirus which provides assurance that the farm gate price is secure for the time being.
Cameron Bagrie, a well-known economic commentator, raised a few eyebrows with his comments at a recent Dairy Forum. He said that dairy farmers "must increase risk". He based his view on the principle of, if you're not going forward, you're going backwards. Saying; "Stop being so polite and drive the key changes in the things that you can control." To most farmers the one thing they can control is spending, at least to some degree, and most try use that as a means of mitigating end income. So, spend when times are good and retrench when they're not.
Bagrie is suggesting farmers need to adopt more technologies, make more "use of industry data and taking a risk on hiring an upstart young person". I may be doing him a disservice, but his views still seem to be based around driving production rather than looking at the added value component of dairy which still seems to be the elephant in the room. Being more efficient is always important but, Covid-19 aside, the gains into the future need to be focused on creating more value for our (New Zealand's) products by making people want to buy them, especially in the face of the new competing non-animal alternatives. This may involve more risk than the current model although I agree with Bagrie in regard to the 'business as usual model' contains more risk be it in a different time frame.
However, the conversation of the way forward for dairy is overdue and the more discussions that come forward the better the industry is able to get a handle on the possibilities that may be available.
Finally, if the climate warriors among you are looking for something to put a smile on their faces I came across this YouTube clip while watching Aljazeera and thought it worth highlighting.