a2 Milk Company has upgraded its trading outlook for the full year and is now implying operating earnings could be up as much as 35%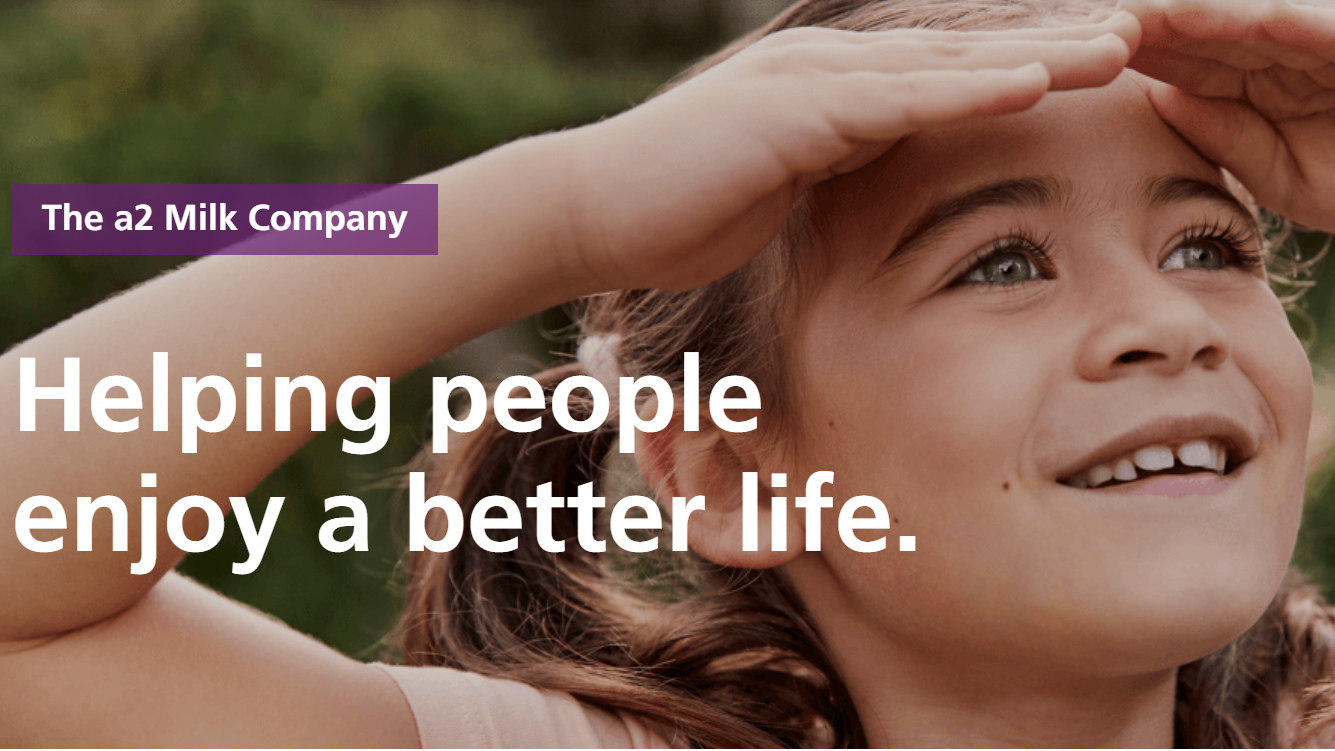 At times of crisis you look to leaders to deliver,... well, leadership - and maybe some good news to cheer people up.
And on Wednesday sharemarket darling the a2 Milk Company delivered in spades on its super-hyped name and produced a startling profit UPGRADE for the year to June 2020.
Based on the figures provided in the release by a2 it is now expecting that its operating earnings (earnings before interest, tax, depreciation and amortisation - ebitda) could be as much as $560 million, which would be a 35% improvement on the ebitda profit of $413.6 million in the year to June 2019.
The trading update from the company on Wednesday was a marked upgrade in expectations from the view the company stated less than two months ago when releasing half-year results to December 2019. These showed total revenue of $806.7 million, an increase of 31.6% , operating earnings of $263.2 million, an increase of 20.5% and net profit after tax of $184.9 million, an increase of 21.1%.
a2 chief executive Geoffrey Babidge said in the update on Wednesday that since the half-year results announcement the company had continued to experience strong revenue growth across all key regions, particularly in respect of infant nutrition products sold in China and Australia.
"We are now able to confirm that our revenue for the three months to 31 March 2020 (3Q20) was above expectations. This primarily reflected the impact of changes in consumer purchase behaviour arising from the Covid-19 situation and included an increase in pantry stocking of our products particularly via online and reseller channels. We are unable to estimate the timing and extent to which pantry stocking may unwind," Babidge said.
"In addition, our China segment revenue, transacted in US dollars, was favourably impacted by a significant depreciation of the New Zealand dollar to the US dollar in the quarter."
He said given the Covid-19 situation, the outlook for both revenue and earnings remained uncertain. Furthermore, significant uncertainty remains around the potential impact on supply chains and consumer demand in our core markets and the resulting financial impact on our performance for the balance of the financial year.
He then went on to say, however that overall for the full year the company anticipated ongoing revenue growth across its key regions supported by increased levels of marketing investment in China and the US as well as, to the extent practicable in the current circumstances, the ongoing development of a2's organisational capability to support the execution of its strategy.
"Notwithstanding this uncertainty, we anticipate revenue for [full year 2020] in the range of $1,700 million to $1,750 million." 
If the top figure was to be achieved that would be about a 34% improvement on the $1304.5 million revenue achieved by the company last year.
Babidge said the full year sales to operating earnings margin was now anticipated to be above that advised in February and in the range of 31% to 32%.
"This assumes that planned marketing activity for FY20 of $200 million, weighted to 2H20, will be fully expended prior to year-end."
(Explanation by the writer: If you take the top sales to operating earnings margin estimate of 32% and apply it to the top estimated sales figure of $1,750 million - that would give an estimated operating earnings (ebitda) figure of $650 million for the full year, compared with just $413.6 million a year ago)
Babidge said the profit margin in the second half of the year was expected to be higher than previously anticipated. primarily a result of:
• Higher revenue, and hence gross margin, from higher margin nutritional products, in part due to consumer pantry stocking in 3Q20 compared to expectations;
• Favourable impact arising from exchange rate movement in USD:NZD impacting on China segment revenue and earnings; and
• Lower than expected costs for travel, and other costs as a consequence of a delay in planned recruitment, due to Covid-19 restrictions.
"It is unlikely that these factors will be sustained as these unprecedented circumstances begin to unwind.
"Given the above, the board continues to consider it appropriate that the Company target an ebitda margin in the order of 30% in the medium-term. This assumes the market performance and mix of our products remains broadly consistent and the competitive environment evolves as anticipated. We will keep the balance between growth and investment under constant review."