Angus Kebbell discusses the strategic shifts irrigation allows to supply up-market consumers with safe pasture-based food options and how a North Canterbury region is working to target those markets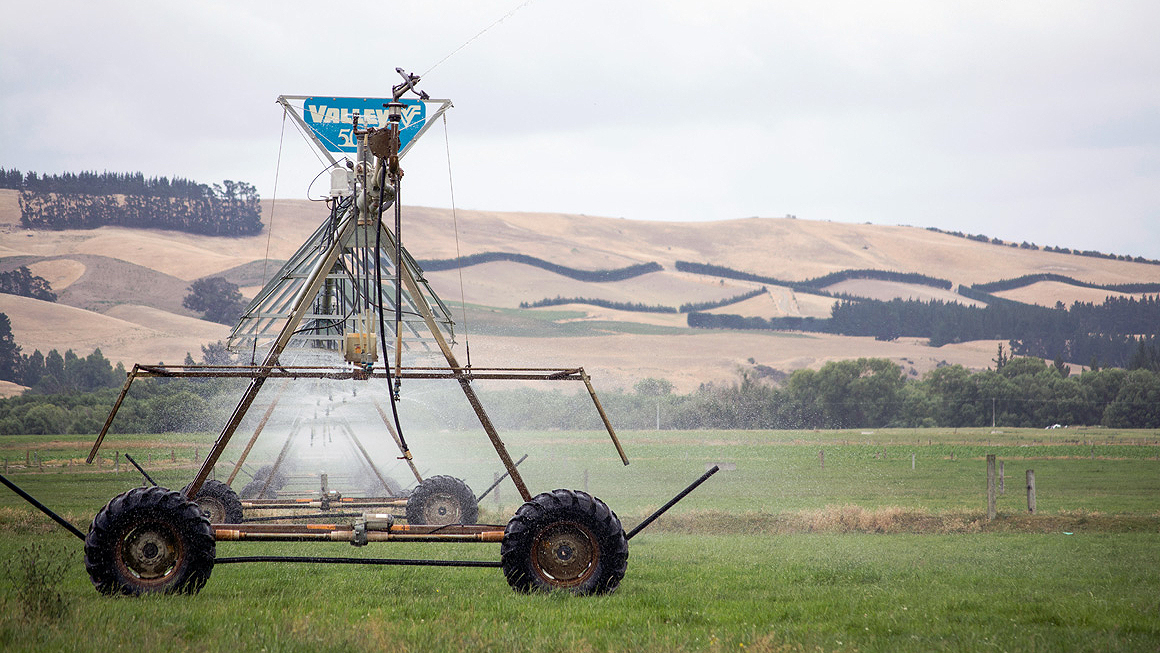 Over the past few weeks, we have been looking at farming post the Kaikoura Earthquake and how communities have rallied together and come out the other the end of such a devastating event.
We have been discussing the economic and social benefits, as well as the environmental implications, of irrigation.
This week the infrastructure and farmer benefits of irrigation are being discussed with both farmer Mark Zino, and Scott Hoare who is the Senior Project Manager for Inovo.
Hoare has been closely involved with project management of the Amuri Basin irrigation scheme which takes water from both the Waiau and Hurunui Rivers. It is a scheme that is extending the old Crown community open channel schemes, converting them into piped schemes.
It has been a long process of design, tendering, building and it is now rolling out its expanded operations to farmer shareholders in the 22,000 ha catchment. The conversion involved changing from an inefficient dyke scheme to and efficient piped scheme allowing targeted spray irrigation.
Zino farms near Hawarden in North Canterbury. He is a sheep and beef farmer with a deer operation consisting of breeding hinds and velveting stags.
His 1100 ha properties currently have 115 ha in irrigation in the 750 ha flat but dry section.
Irrigation will provide water at critical times of the year when it is needed, and provide options for land use changes such as horticulture and cropping.
Currently more than 70% of his income is from red meat, and the new options will allow him to reduce that through diversification.
Interestingly, he is similar to almost all new farmers taking the new Amuri water – none are doing it for dairy and a big reason is that the south-side soils are "too good" for that. Diversification options center around cereal cropping, but sheep and deer milking are options too, along with nuts.
Farmers like the options because they see more climatic change and cycles that are becoming longer, both ways, well outside the annual cycle farm businesses thrive in.
Using fresh water in conjunction with pasture farming for grazing animals is a strategic shift that meets high-end consumer demand for quality food from environmentally safe practices. It's a market farmers in this region are targeting.
Zino says there must be rules for all farmers to follow to ensure they are doing their bit to improve water quality and the environment.
---
Angus Kebbell is the Producer at Tailwind Media. We are hoping this will become a regular series.