There may be as much as a 20% cost saving using clover over nitrogen fertiliser, but animal welfare issues will need attention. And will the push for agritech really raise exports?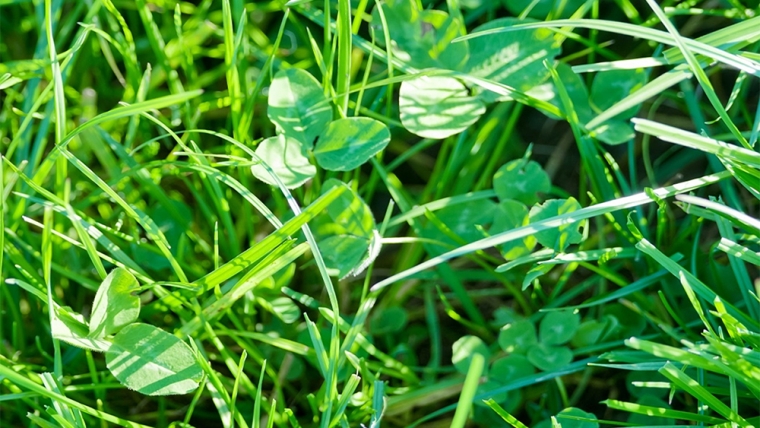 The recent limits on nitrogen, which requires a farming system to meet the new 190kg cap, have brought clover usage back into focus for dairy farmers.
Arguably sheep and beef farmers have always looked favourably on the benefits of clover in a mixed pasture sward. Largely this has been driven by economics, i.e. cost and livestock finishing benefits of having clover in the pasture sward.
The application of nitrogen does not come cheap and particularly on hill country getting the efficiencies required to justify it is more difficult than on flat country especially in climates with adequate rainfall or irrigation. Finishing blocks and post drought pasture management are where it is commonly used.
Dairy farming, however, is a different beast and levels of nitrogen applied are considerably greater with rates 400kgs of nitrogen per hectare not being uncommon. One of the additional benefits of nitrogen was reducing the incidence of bloat in cattle.  Dairy farming relatives recount being able to get Christmas Day back once they started applying nitrogen as the extra grass grown suppressed clover growth and clover was a major contributor to bloat.
It will be interesting to see how the new regulations treat the use of legumes with Lucerne also in the frame with clover. A  healthy pasture clover sward can 'fix' the equivalents of over 200kgs of nitrogen per hectare and for a lot less cost than the 'bag form.
A recent cost analysis paper put out by Germinal's New Zealand General Manager Sarah Gard suggests that New Zealand farmers can economically reduce their synthetic nitrogen use by switching to greater use of clover. "Our calculations show that the nitrogen inputs into a system with a nitrogen fertiliser application rate of 250kg per hectare per year, combined with a low clover sowing rate, would cost approximately $1580 per hectare during a five year period," says Gard. "By comparison, a system with a nitrogen application rate that meets the new 190kg cap and which has a higher clover sowing rate would have nitrogen costs closer to $1250 per hectare during the same five year period."
There is recognition that the animal welfare issues around bloat could become an issue hence the lower sowing rate to reduce the percentage of clover in the pasture sward.
According to the Agronomy Society of New Zealand, nitrogen losses are lower from farm systems that are more reliant on clover than applied fertiliser – reducing a farm's environmental impact. Presumably this will satisfy the regulators at least for some time to come.
The government is putting some money into the agricultural industry, in this case via the agritech sector.
An industry plan to transform and grow New Zealand's agritech sector was launched this week by Economic Development Minister Phil Twyford and Agriculture Minister Damien O'Connor.
The agritech sector is set to benefit from Government investment including:
$11.4 million direct investment in implementing the Agritech Industry Transformation Plan, announced in Budget 2020,
A share of $84 million of Sustainable Food & Fibre Futures funding brought forward to boost innovation to support the Fit for a Better World roadmap,
Ongoing support from the Government's agritech Taskforce and existing government programmes.
"We want to grow a cluster of large agritech firms that can take on the world, and build on New Zealand's agricultural strength," Phil Twyford said.
The support to the sector is a laudable goal and the benefits can be widespread as the diagram below taken from the 50 page document outlining the vision illustrates: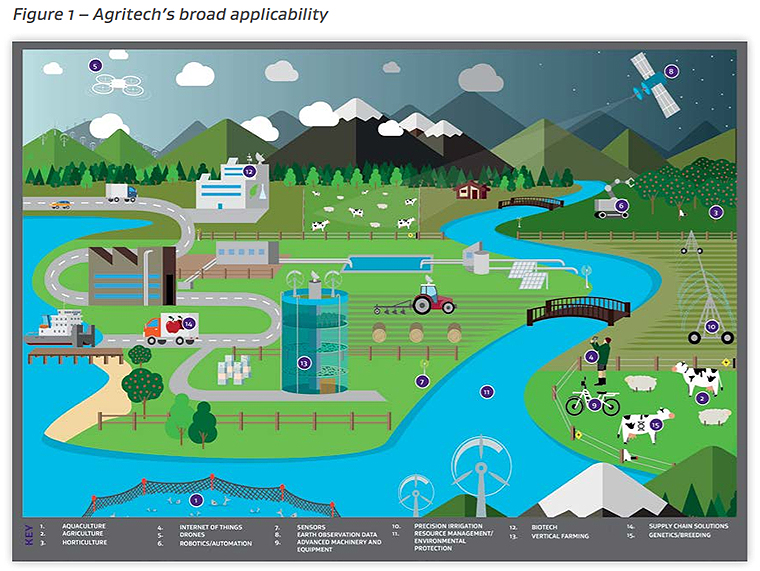 One of the problems I foresee, and I also cannot see any real solution to this is that the incorporation of technology into agribusiness systems is expensive and generally requires two immediate factors.
The first is profitability to be able to afford technologies and the second is scale to spread both the efficiencies and economic costs over. This unfortunately means that it can be difficult for many of the average 'family farms' to adopt many of what can be seen as labour saving and production increasing technologies. They may well pay for themselves over time but with limited cash flows smaller farms cannot afford to carry the cost for this period.
Another problem is many 'family farms' are staffed by elder persons who may not be as so inclined to adopt new technologies and also have less working time to reap the benefits. Given that it has been the 'family farm' that has carried the farming sectors through recessions by 'knuckling down', something corporate farms have more difficulty in doing (just look at LandCorp's books over time), and it has been done by largely not spending. I fear that many smaller farms will not see the benefits, and this may be another nail in their collective coffins as farms are driven to grow larger - a trend which has occurred over most farming systems over most countries. However, this is not a reason to support the agritech sector and enough in New Zealand will adopt and provide a base to hopefully increase exports where the greatest benefits to the agritech sector will come from.
Perhaps surprisingly, over the last 4 -5 years the value of agritech exports has barely shifted as shown in the below graph. Given the high involvement so many sectors have in New Zealand agriculture waking up this potential resource seems well over due.