Guy Trafford tracks the decline in the national sheep flock, noting it is getting down to the minimum level where New Zealand can be an efficient sheepmeat producer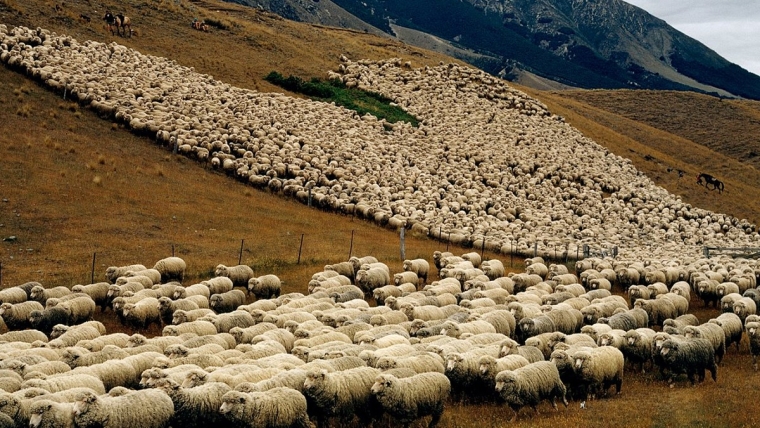 The results of the 2020 livestock survey were published recently by Beef and Lamb NZ (B&LNZ). Not surprisingly sheep numbers were down.
Some years ago I was contacted by a Southland newspaper to comment on falling sheep numbers in New Zealand which had then just fallen to 28 million. I made the comment that if we get to 25 million then the New Zealand sheep industry was going to have problems.
My feeling was that at that number New Zealand was going to lose some of the competitive advantage it has built up over many other nations through our efficiencies in areas such as transport, processing and farm servicing. That is, we would see a thinning down of livestock carrier companies, closing of stock and station stores in the rural centres, and of course, meat processing companies closing - all things that help farms operate at optimal performance.
This would lead to lower net returns flowing back to sheep farmers, which would then create even more losses in both farms and sheep numbers.
The latest numbers show the sheep flock at 26.2 million sheep down 2.3%. With prices for last season at record levels (up until the arrival of COVID-19) on the surface this might sound surprising. However, many on the east coast of both Islands' will not be surprised.
First was the widespread drought, worse on the North Island east coast but the South Island also experienced its fair share of discomfit. This was compounded for all farmers by the lockdown of the sale yards throughout most of the country.
The good news is that the breeding ewe numbers actually went up by 0.1% and it was the hogget flock (under 12 months of age) that took the hit dropping 8.1%. The reason hogget numbers fell was presumably for exactly the same reason we got rid of our ewe lambs when the sale yards (finally) opened. By May the ewes are getting close to profit ( i.e. lambing) and there was more demand from both lamb finishers and the works for hoggets' (or lambs as they still were then) as there had been an early and large kill of any male lambs due to the drought and cashing in on the high prices and there was a waiting list as long as your arm for ewes to go.
So many farmers, overstocked for the time of year and with a winter beginning, had to get rid of the easiest class to sell and ones that were not going to hurt cashflow in the short term (in fact they even may have improved it). 
Unfortunately, with a lack of young replacement stock in the system it is unlikely that sheep numbers will be making a bounce back for a year or two and we see a further fall next year as older ewes that may have been held onto this season (hence the small rise), go out at a greater rate than ewe hoggets' coming in.
Due to feed stress (and probably the absence of mated ewe hoggets') B&LNZ are predicting this season's lamb numbers are going to fall by nearly one million lambs, or 4.2%. Scanning results that have come in have shown a reduction of between 5% to 10% of the inlamb rate of ewes. So we're not at the 25 million mark yet but getting uncomfortably close. The 70 million at New Zealand's peak numbers in the 1970s is starting to seem a very long time ago.
A quick look at the NIWA soil moisture maps of March and June clearly shows the problem farmers were facing. Unfortunately, as the June map shows this year is heading towards yet another dry summer with this June being considerably drier than 2019 at the same time. The three progressive maps (historical, last year and 2020) show how each map has got steadily more dry.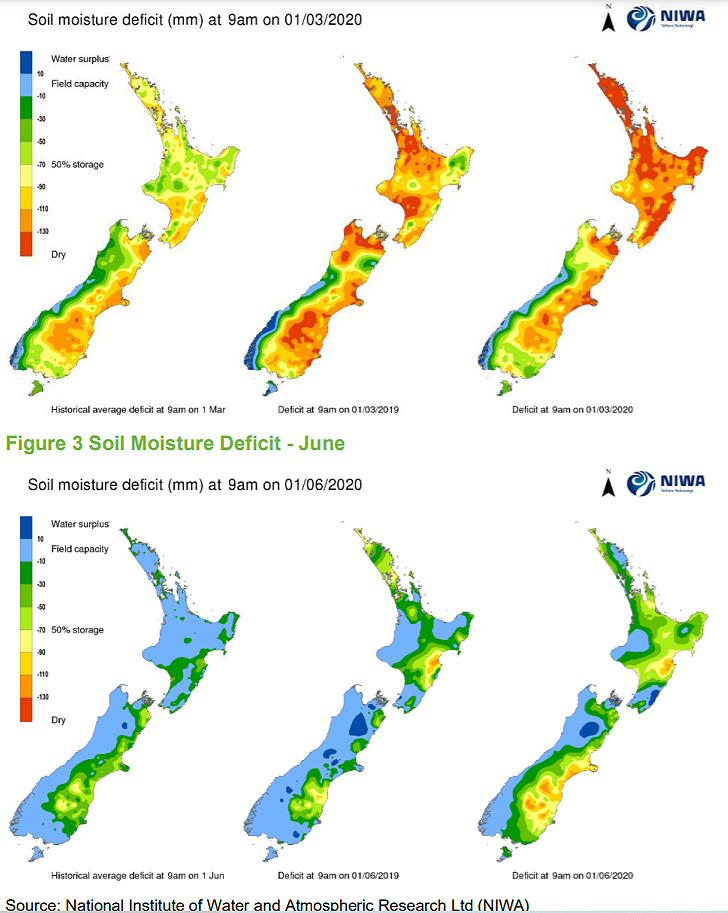 Australia has had a similar reduction (in percentage terms) to its sheep flock. It also had its high in the 1970's getting up to 180 million sheep. This year it dropped by -9% or seven million sheep to 63.7 million sheep. This is the lowest sheep numbers there have been in Australia since 1903 (the year of the devastating Federation Drought). At 100% lambing this is 8 million less lambs going onto the international market. So, it should have a positive influence on farmers returns all else ignored.
Australia's drop in numbers is also largely driven by the climate with many farmers having faced crippling drought. Rains have since come but too late for many sheep flocks.
Interestingly, perhaps, new data shows just 63,000 tonnes of wool came out of the nation's shearing sheds in the three months to the end of June, the smallest quarterly clip on record. Thirty years ago, the nation produced 280,000 tonnes for the same quarter. So at least the New Zealand merino clip should see some positive improvements when things settle down somewhat.
The picture for cattle is similar to sheep although total beef cattle numbers are up, be it slightly +0.1%, but breeding cow numbers are down, -6.7%. The decline of the beef cow herd shows the ever-increasing reliance on the dairy industry for finishing stock.
One benefit of the decline in sheep and breeding cow numbers will be a decline in GHG emissions. This will be further compounded by the lighter weights of the animals as GHG emissions are a factor of energy-in-equals-methane-and-N2O-out and in a drought, there is obviously a severe reduction in the supply of energy.