Guy Trafford compares New Zealand's drive to reduce agriculture emissions with other country efforts. They have done it passively by herd reduction; we have a tougher challenge despite our renewables focus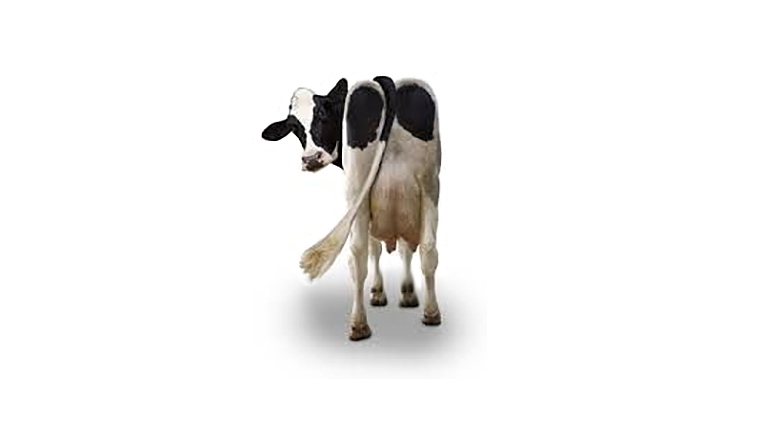 As most farmers are aware, much of the emphasis on greenhouse gas reduction in New Zealand has been focussed on agriculture and livestock farming in particular. This is for the obvious reason that at 48% agriculture makes up the biggest signal sector.
With the new year nearly upon us and the initial Paris Climate Agreement commitments kicking in, it is perhaps timely to see how New Zealand is doing, particularly agriculture and how agriculture rates against other countries.
No other country has made the same drive to lower agriculture emissions as New Zealand and for other countries the omission to make agriculture liable is driven largely by food security issues. Even the Paris Agreement mentions agriculture emission reduction should not come at the expense of food production.
Although no other country has pulled livestock into an ETS scheme, farmers have been asked to use best practise and do what they can to lower their GHG outputs and as the following graphs looking at Australia, the UK, USA and the EU show, there has been some positive progress. Certainly more than New Zealand agriculture has managed to achieve and with less governmental pressure applied.
A look at what New Zealand has committed to, and where we stand, shows that we have a steep challenge ahead, not just agriculture. The Government's recent declaration of a "Climate Emergency" and the associated commitment to convert the government service road fleet to electric is one of the first real tangible efforts to take on board some direct responsibility for emissions.
Between 1990 and 2018, emissions from the agriculture sector increased by 17.1%. The believed difference between New Zealand's agricultural emissions and the other countries studied is:
1. The change in livestock numbers. Most countries have decreased numbers overall but in New Zealand's case the reduction in sheep and beef cattle were more than replaced (in emission terms) by dairy cattle. (An 85.6% increase in the national dairy herd since 1990 and an increase in the application of synthetic nitrogen fertiliser of 670% since 1990. The populations of sheep, beef cattle and deer have decreased by 53%, 19% and 12.6%, respectively since 1990).  The other countries already had large sectors of industrialised cow dairy so the gains from them didn't occur - in fact some dairy herds have decreased.
2. Many countries agricultural sectors were big users of energy. This area improved in efficiency, and changed from being more carbon based to more renewable sources. New Zealand was never a heavy user and what it did use was already largely renewable.
Within New Zealand the only thing that agricultural can take some heart from is the fact in that ag has increased at a lesser rate than most the other sectors, with the biggest rises coming from energy (which includes transport).
Perhaps interestingly, despite energy being the greatest growth area in emissions (34.3% for energy versus 17.1% in ag and transport as a subset of energy 101%), agriculture still gets lumped in as to being alongside as a growth area for emissions. However, regardless of the seemingly bias in reporting most would agree that agriculture needs to reduce GHG's. Especially, if 'we' are to reduce net emissions by -5% of 1990 levels by 2020 and -11% by 2030 and meet the nearer term Paris Agreement reductions.
According to the Government: "New Zealand is projected to meet its unconditional 2020 emissions reduction target by using 108.0 million units from forestry activities and 14.6 million units carried over from the first commitment period (CP1)."
Given net emissions have risen by over +50% through the 1990-2016 period, I find this surprising, but if it can be done great. (see Fig 1.)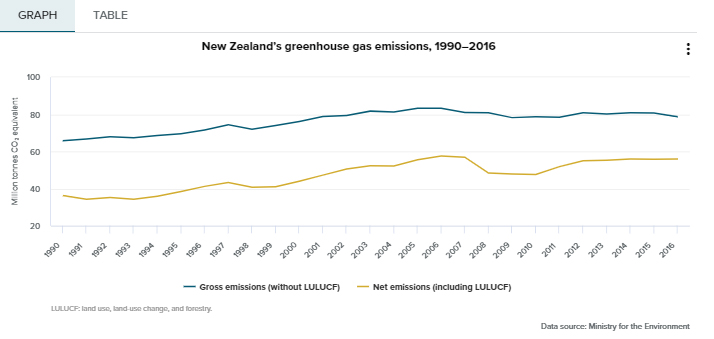 Fig 1. GHG over 26 year (1990-2016) period
As can be seen below, agriculture has grown but the big mover is energy. This is an area in most other countries that real gains were made, largely moving from coal fired power generation to renewable systems but also through newer cars and technological improvements.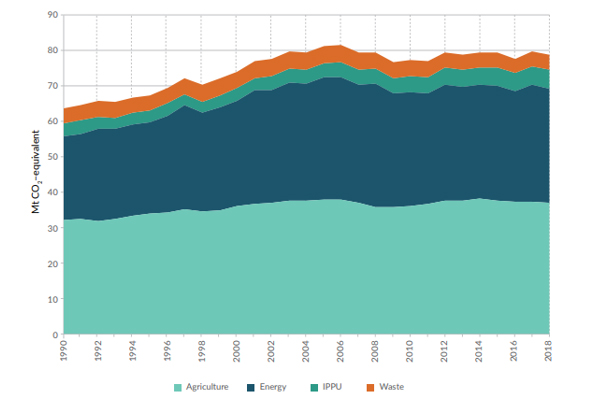 Fig 2. Major contributors to GHG emissions.
New Zealand looks bad on a per capita basis (Fig 3). However, if we reduced ag to say 10% to match other countries the picture would be vastly improved. But our standard of living would take a huge knock and something which also would presumably produce some GHG's would need to replace it.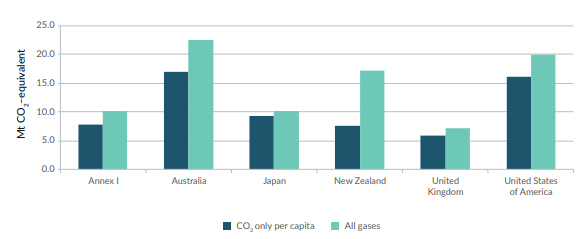 Fig 3. Per capita comparison.
Industry sectors began being liable for emissions progressively since 2008, however, the introduction of the ETS appears to have done little to date to reduce emissions. The best that could be said is that growth has slowed down.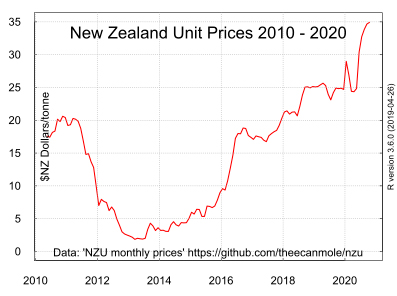 Fig 4. ETS price since 2010.
The UK
The UK has made large reductions both overall with a nearly -29% gross reductions in the last 10 years and with the agricultural sector dropping around -18%. Overall, this is one of the largest falls of any industrialised country.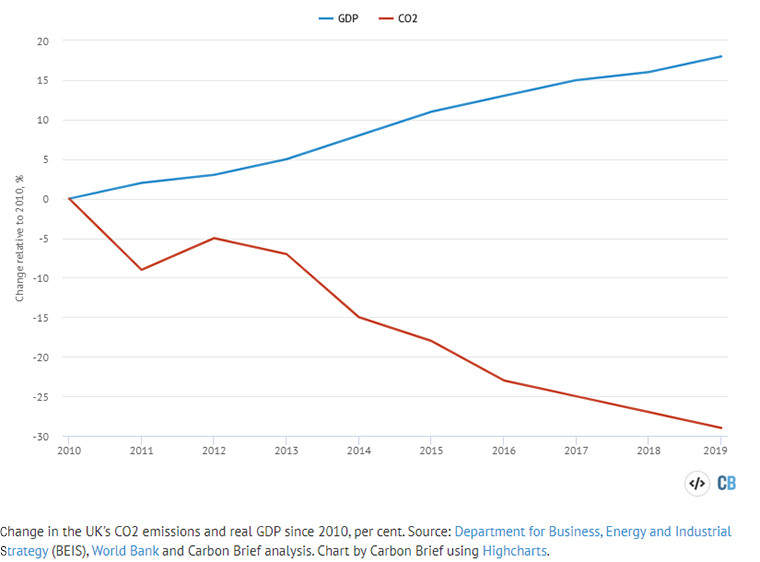 Fig 5 Gross GHG emissions in UK.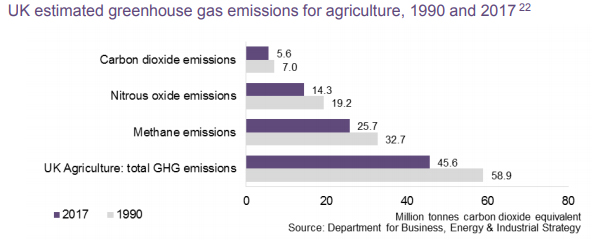 Fig 6. Agricultural sector by gas.
However, agriculture increased by +1% from 2016-2017 and accounts for 9% of total emissions and there has been little if any reduction since 2008. What reductions that did occur were largely due to falls in numbers of cattle and pigs. Agriculture in the UK aims to reduce agricultural emissions by 3 million tonnes (CO2e) between 2018-2022 (about 4.5%).
Fig 7. Agricultural sector by gas.
The EU
In the EU agriculture makes up about 12% of total GHG emission (2016 figures). (The UK was part of the EU for most if not all of the available data due to being in the "pre-Brexit" phase). There is no particular reduction target with more of an emphasis on education. Member states make up their own policies. There does seem to be more of an emphasis on the soils, both as a sink and also as a source of emissions if released through cultivation. Overall reductions are similar to the UK (although less overall) with falls both overall and in agriculture.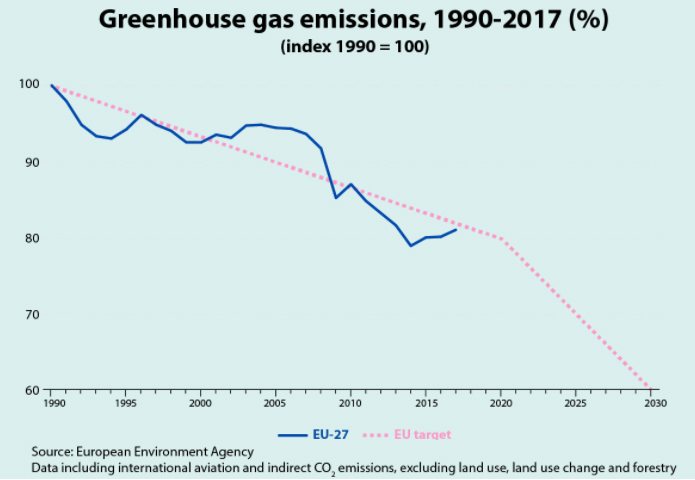 Fig 8. EU total emissions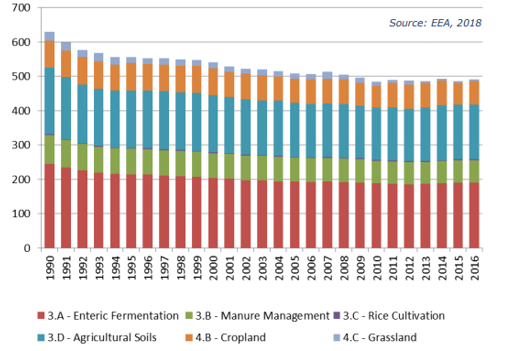 Fig 9. EU Agricultural emissions since 1990
In 2017, EU GHG emissions were down by 19% compared with 1990 levels, representing an absolute reduction of 935 million tonnes of CO2 equivalents, putting the EU on track to meet its 2020 target, which is to reduce GHG emissions by 20% by 2020 and by 40% by 2030 compared with 1990. Reductions in agriculture have slowed however.
Australia
In Australia agriculture makes up about 12.7% of total emissions although between year variations can be up to 5% of the total due to the influence of droughts vs good years. However, over time there has been a gradual decline with a drop of 4.7% since 1990 and agriculture as a percentage has reduced considerably. This is largely due to a drop in overall livestock numbers. Dairy cow numbers have dropped from a peak in 1990-2000 of 2.17 million to a provisional figure of 1.44 million in 2019.
Given this reduction, it is perhaps surprising there was not a greater drop in GHG's. In recent years with the USA pulling out of the Paris Climate Agreement and providing a 'foil' to countries not engaging in reduction policies, the Australian government has not done a lot to instigate any mitigation processes. Despite this, they say (Australia Government) they are now 14.3% below 2005 levels (the baseline year for the Paris Agreement) in the year to March 2020. There does seem to be some disagreement over the interpretation of the numbers with the Government using a per capita rate which puts a rosier complexion on the outputs.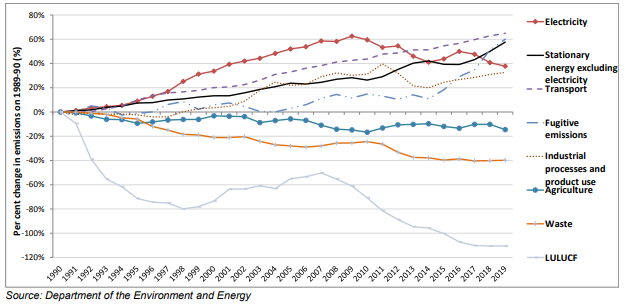 Fig 10. Australian emisions by sector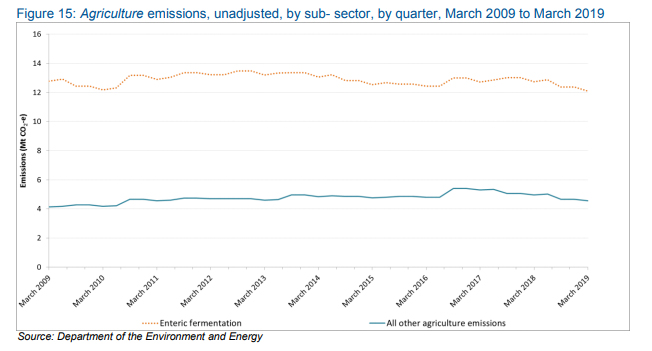 Fig 11. Overall Australian emissions.
The USA
American agricultural outputs are relatively flat and while at a national level little appears to be being done, at the state level quite a bit of activity has occurred. This is likely to ramp up further once Trump is out of the White House, although it will take time to bed in any new cultural changes.
The global view
Looking at the world's major polluters' China stands out head and shoulders ahead of the rest (although not by per capita). President Xi announced in September that China will achieve peak GHG's by 2030 (see Fig 14) so still some increases to come but hopefully at a slower rate.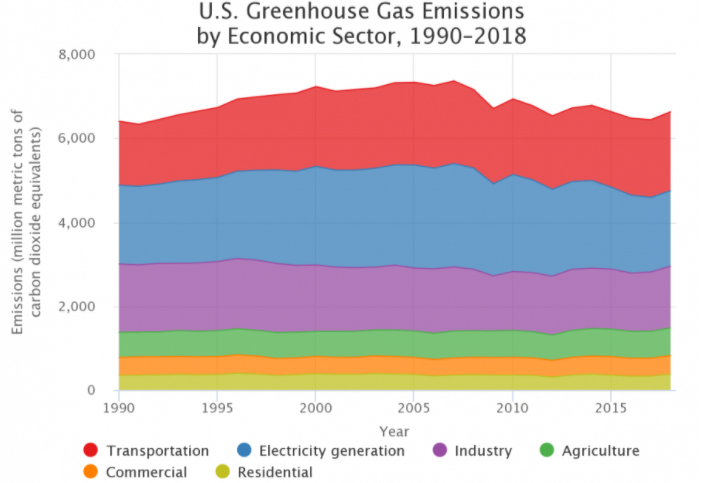 Fig 12. USA emissions by sector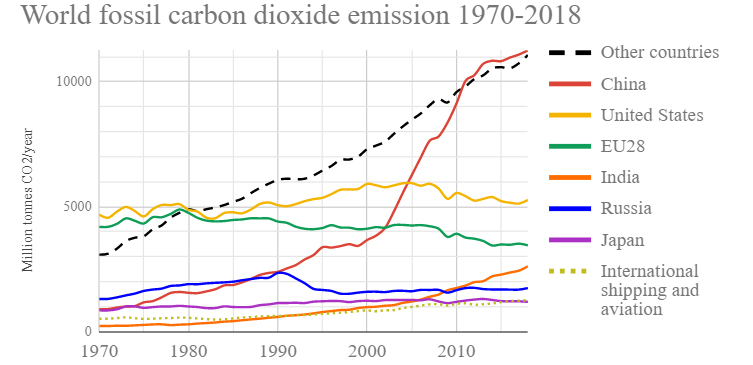 Fig 13. World emissions by country.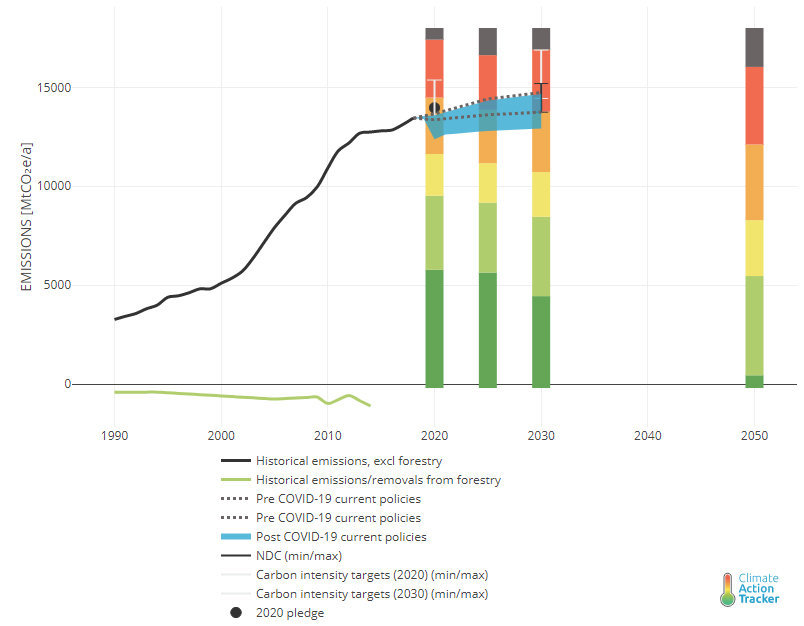 Fig 14. China's emissions and forecasts. (September 2020).
New Zealand's emissions only make up 0.17% of the world's total so whatever we do makes little difference. However, given most other countries are making positive steps, China and India excepted, New Zealand does need to be making more progress in its reductions.
This is not all about agriculture but as the largest emitting sector it certainly has a role to play and if some easier runs can be achieved (yet to be seen) it will move New Zealand ahead dramatically.
In the meantime, it is good to see the load start to be spread.
A final graph of interest is the makeup of the cost of fuel in New Zealand which has got the ETS included and provides some food for thought as to why transport appears unaffected by the ETS. Not much of an incentive here to switch to electric even with the rise in the cost of carbon.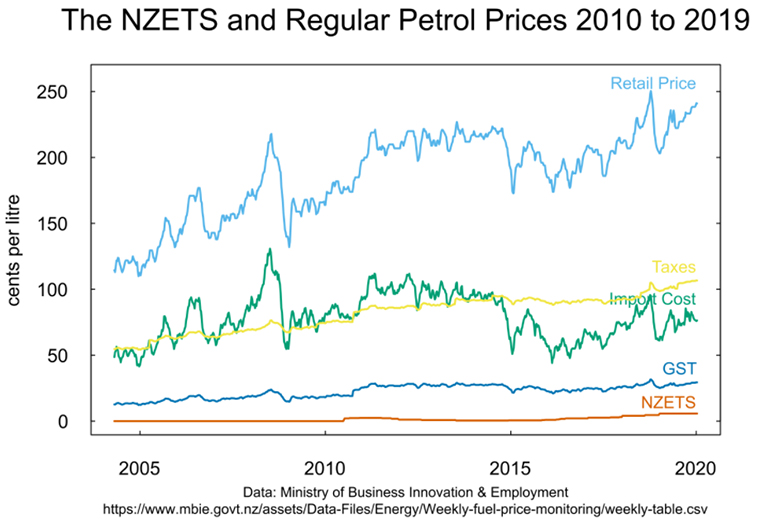 Fig 15. Make up of fuel costs