Angus Kebbell talks to Paul Rangiwahia about how his art is used to address wellbeing issues within the rural community. And the scale of NZ dairy industry's carbon footprint advantage is revealed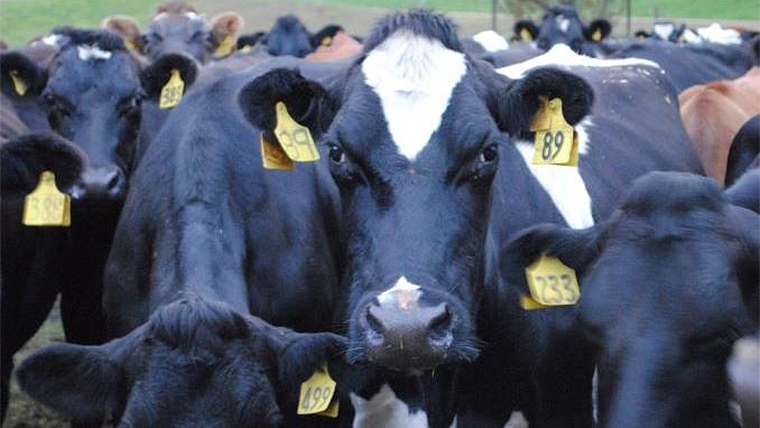 By Angus Kebbell
Today we talk first to Paul Rangiwahia who is an artist and wellbeing advocate, uses art to help break down the stigma around mental health, and to help normalise the ups and downs of life that we all experience.
His artwork a "mental WOF" and versions of his work are quickly becoming iconic art pieces. These works have been celebrated by the New Plymouth Council with the permanent installation in a prominent public space. The beauty of art is that it provides commonsense messages that help to get people thinking and talking about things that matter.
Paul has a unique approach to wellbeing that is well respected and gaining in-roads with many within the farming community. Here is the full interview.
Now a shot in the arm this week for our farming community and in particular our dairy farmers.
New research shows New Zealand dairy farmers have the world's lowest carbon footprint – at half the emissions of other international producers.
This work confirms New Zealand retains its strong position in low-emission dairy milk production, with an on-farm carbon footprint 46% below the average of the 18 countries studied.
It is benchmarking against 55% percent of global milk production, including all the major milk producing countries.
New Zealand is the most efficient producer at 0.74 kg of carbon dioxide equivalent per kg of fat and protein corrected milk – which is 46% less than the average of the countries studied. The average is 1.37 kg of carbon dioxide equivalent per kg of fat and protein corrected milk.
At 0.74 kg of carbon dioxide equivalent per kg of fat and protein corrected milk, New Zealand was followed by Uruguay at 0.85, Portugal at 0.86, Denmark at 0.9 and Sweden at 1. Peru clocks in as the highest emissions producer among the countries studied, at 3.29 kg of carbon dioxide equivalent per kg of fat and protein corrected milk. Peru is followed by Costa Rica at 2.96 and Kenya at 2.54.
The carbon footprint is measured in total greenhouse emissions per kg of product. The countries selected had published research that enabled a like-for-like comparison.
AgResearch scientists Andre Mazzetto and Stewart Ledgard led the research, following methodology in line with International Organisation for Standardisation standards.
Dr Mazzetto said it is always challenging to compare carbon footprinting studies, due to different methods in each scientific paper.
"Here, we reviewed international studies and recalculated their footprints in a systematic way, using methods accepted internationally to provide a fair and robust comparison between different countries," said Dr Mazzetto.
"Bearing in mind, countries may have different emission profiles and different ways of calculating their footprints for milk production, we believe we have reached the best possible comparison from the data available."
DairyNZ CEO Tim Mackle says, "Because we are already so efficient, there is no silver bullet to even greater efficiency. Significant investment in research and development is needed to find additional gains."
Kiwi farmers are world leaders in the production of sustainable, low-carbon milk. This is now underpinned by updated, robust scientific evidence that all New Zealanders should be proud of.
Listen to the podcast for the full interview with Paul Rangiwahia.
---
Angus Kebbell is the Producer at Tailwind Media. You can contact him here.