Guy Trafford points out what marketers have always known; consumers act quite differently inside a supermarket than what they claim to think outside it - even in Europe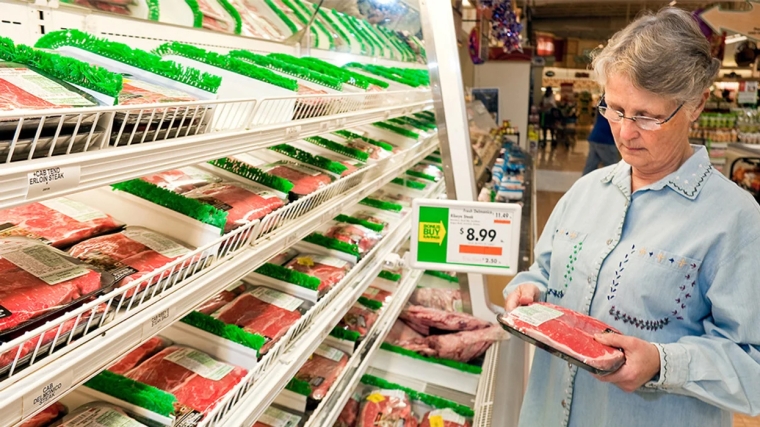 An interesting and positive trend coming through of late has been regarding the sustainable qualities of food being produced in New Zealand.
The way was led with DairyNZ's report showing how milk products produced in New Zealand have a lower carbon footprint than any of our major competitors. There was a recent profiling of a Bay of Plenty supplier of beef to the MacDonalds chain highlighting the progress they have made in making their farm system more sustainable and the latest addition was the coverage of the "regenerative wool growing" approach instigated by the merino users, notably The New Zealand Merino Company, Icebreaker, Allbirds and Smartwool.
All of these initiatives are being done to no doubt reassure consumers about the progress being made around sustainability of products and in New Zealand, perhaps more importantly, keeping the public onside in regard to having a "social license 'to farm. This was a term few were familiar with 10 maybe even 5 years ago but has now woven its way into the core of vernacular when thinking about land use and is a major driver of much of the legislation aimed at farmers.
Perhaps unfortunately, when it comes to European consumers at least, the focus on sustainability is somewhat wasted. A December 2020 study completed by European Commission into EU citizens expectations to food came up with results which may disappoint some of our marketers. As shown in the results graph below; taste, safety and cost stand out as the predominant features' consumers consider when purchasing food products. (I would presume wool products may show a similar trend in its field although only my impression). Impact upon the environment didn't appear until 9th out of 10 topics covered.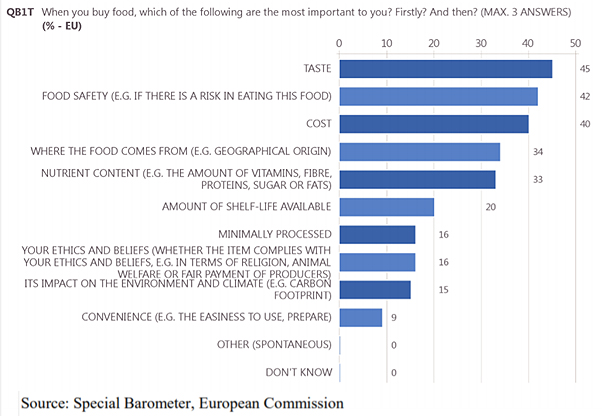 Sadly, for New Zealand producers, as we can show (as the earlier examples above helped show) that we are likely to be at least as good in an environmental sense to the majority of our competitors.
That the good work being done on farm is not necessarily being valued is not a reason to discontinue the drive to producing more sustainable products, but we need to acknowledge the results and make sure our marketing is directed to those who do place a value on those attributes.
The survey did not show the demographics of those who made up the survey and it may well be that the target audience to many of New Zealand products are not well reflected in the results. At least it would be nice to think so.
The survey did dig down to analyse what respondents considered to be the "most important characteristics of 'sustainable' food" and my take is they (the consumer) were more focussed on the 'sustainability' of the consumer rather than the natural world. Even when specifically looking at "the most important characteristics of sustainable food" environmental issues didn't get mentioned until 5 comments down.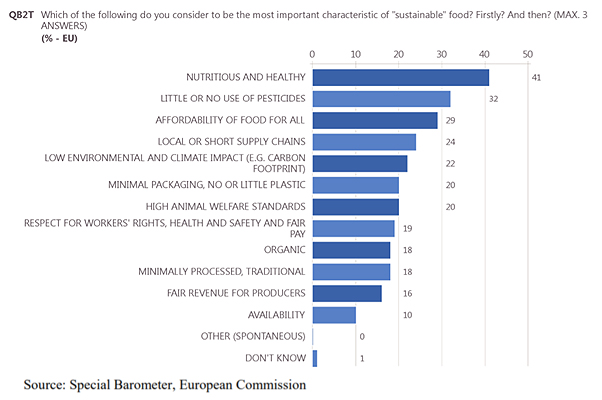 A positive slant maybe that consumers take the environmental 'stewardship' for granted. However, I suspect that is not the case and people just are not that interested.
An earlier survey (completed in 2019 and published in June 2020).  Showed that; price, lack of information and the challenge of identifying sustainable food options as well as their limited availability were the main perceived barriers to sustainable eating. Judging by the red meat companies branding New Zealand companies still are working hard to get the message through to consumers. But the battle will not be won in the short term.
Even within New Zealand one just has to look at the amount of cheap, shed-intensively raised pork that is imported into the country and chicken raised in similar techniques to realise that to consumers, price is a major driver. Although on both graphs food cost ranks third behind taste and safety, taste and safety are by and large taken for granted when food is purchased from a reputable retailer leaving cost as next major consideration on whether or not to purchase.
The message to producers could be, do not take consumers preference for granted just because we believe it has been produced in a green environment, for many that is well down the pecking order.