What is the right approach to reach environmental goals? Using incentives and subsidies, or using rules and disincentives? And where does food security fit in?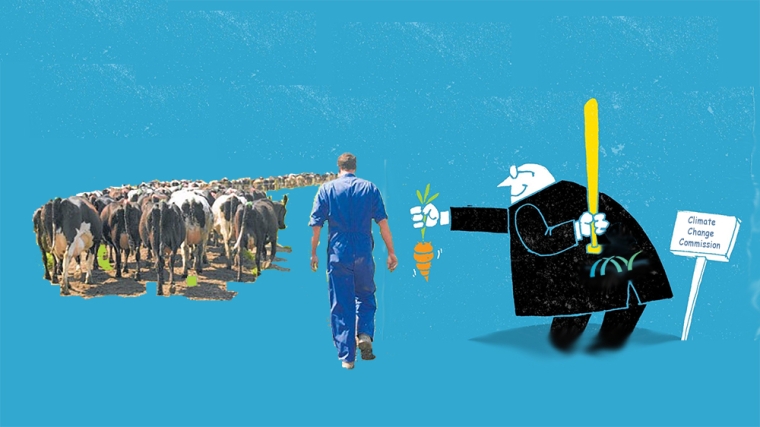 Towards the end of last year, the UK government rolled out a plan to take UK farmers away from subsidies and to move to more sustainably based systems. A reminder of this came last week when the UK PM, Boris Johnson, addressed the first UK National Farmers Union (NFU) conference since they left the EU.
Broadly, 75% of UK farmers say they are not viable without the subsidies they have been receiving from the EU under the Common Agricultural Policy.
The NFU say they see one of the greatest risks coming from overseas exports. Beef and grain were singled out as both of these industries export around 20% into Europe and there is uncertainty about future access and competition coming from countries able to produce products more cheaply. 
The UK government is smoothing the pathway away from the EU subsidies, which were due to expire in 2027 by introducing a range of incentives for going 'green'. This includes incentives for flood control, wildlife habitat protection and protecting trees and natural areas. These payments are also due to expire in 2028 when farmers are expected to be able to "running sustainable businesses and not have to rely on public subsidies".
Starting in 2021 farmers will progressively receive less and less in direct payments and get increasingly more in incentives for moving towards the 'greener and more sustainable future'.
By 2024 all payments will be the green incentives but from that point even they will begin to be phased out until all subsidies are gone by 2028.
While it appears to be a means to reduce farm productivity the scheme does have provisions to help farmers "invest in productivity measures" and "providing support to new entrants seeking to develop new land-based businesses, by creating lasting opportunities to access land, infrastructure and support".
In the past for the purposes of subsidies in the UK, all land holdings of a farming business were treated as a single holding. Under the new scheme all individual lots will be treated individually. When it comes to what farmers receive, farms of scale are getting their share pared back at a faster rate than smaller farms.
The larger the subsidy received the greater the percentage it is reduced by annually.
With the drive to help improve farm productivity and efficiency the UK still has its eye firmly on food security however it is taking a very socialist approach to letting everyone help pay for the environmental benefits.
Even the livestock are not missing out with additional help for livestock farmers with subsidised vet visits and assistance with animal welfare issues.
From New Zealand farmers' perspective it is a total flip of how government approaches agriculture with the UK providing a large dose of carrot and very little stick.
Greenhouse gas emissions are not mentioned in the document although there appears to be plenty of assistance to improve "slurry storage and disposal" (read manure) and farmers are provided assistance to plant trees, mainly it appears to improve habitat not  to sequester CO2.
It could be argued that the reverse philosophy is being applied in New Zealand with farmers being increasingly held liable for emissions (despite UNCCC saying food production should be kept out of any ETS) and farmers dissuaded from planting trees as they cannot claim any of the benefits from CH4 mitigation.
Ironically, a report has just come out in the ninth annual Global Food Security Index (GFSI) released by the Economist Intelligence Unit (EIU). Of the 113 countries monitored, including New Zealand, 49 have been shown to have become more vulnerable to losing production through the effects of climate change. These are not just developing countries but include countries like Australia, Norway and Sweden.
Despite the improvements with technologies climate change plus the impact of Covid-19 has meant global food security has decreased for the second year in a row and 2021 looking no better. Perhaps surprisingly for the third consecutive year, the North America region is leading the world in food security. Europe is a close second, accounting for eight of the top 10 countries.
New Zealand is sitting 13 equal overall on 77 out of 100 with Finland top on 85.3. New Zealand features well on affordability and food safety and quality but is weaker on availability and natural resources and resilience. Back in 2012 when the index began New Zealand was on 78.6 so a small drop has been experienced. Australia has gone from 72.8 to 71.3 and 31st on the index. No doubt droughts and floods have played their part here. While the western countries are generally performing the best, the biggest improvers have been the developing countries.
To date, a lack of food production is not a major global threat with politics and logistics far greater reasons for a lack of nutrition for deprived populations and the environment should not be traded off for productivity.
However, a little more balance in how improvements are paid for and who benefits could be more constructive than the current approach we use in new Zealand.