Guy Trafford points out that while we may have been safe during the pandemic, we are now underperforming economically and vulnerable to the economic nationalism the pandemic has spawned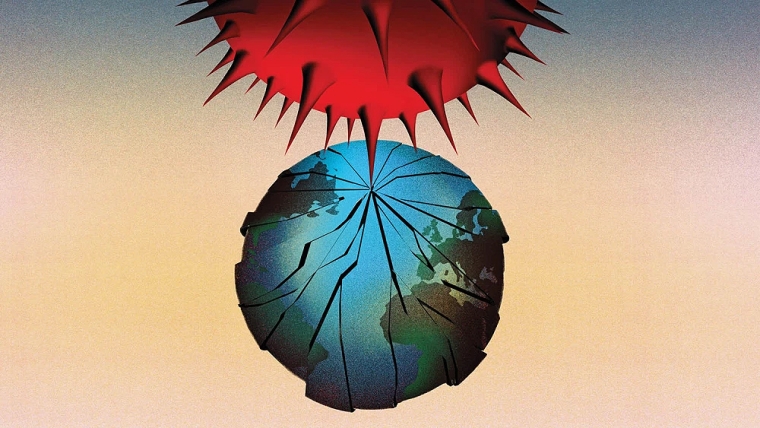 When we, along with much of the Western world, were in some form of COVID-19-driven lock-down last year there was a sense of anticipation that the globe might enter some form of new epoch of cooperation. Unfortunately, as the year progressed the optimism waned, and frustration replaced it as countries adopted more nationalistic policies and any form of international cooperation was thrown out the window.
This has largely been typified around the response of the developed countries attitudes to accessibility to COVID-19 vaccines which while understandable, when a nation has thousands of people still dying from the infection of course the politicians are going to put them first. And, if it is at the expense of countries less able to pay or organise themselves to access the vaccines, then so be it.
However, while this may explain the approach, it does not make it correct.
This nationalistic approach has also permeated international trade.
While New Zealand may be signed up to and pursuing Free Trade Agreements (FTAs') the reality appears to be that the previous cosmopolitanism / neoliberalism policies (i.e. policies that freed up trade and had blocks of nations being part of the same 'club' to their mutual benefit) are rapidly weakening with no sign in the foreseeable future of them being re-established.
The rot really set in when Trump began his "Make America Great Again" programme which while resonating with many in the US did nothing to foster international trade especially his undermining of the WTO and reluctance to join FTAs.
And China, despite all the rhetoric about the FTA we have with it, still picks and chooses what suits it. A couple of recent examples show it to be a fair-weather friend. The illicit growing of kiwifruit in China of varieties stolen from New Zealand, which at last count covered over 5,000 ha, can only operate with the tacit approval of the Chinese government. Likewise, the Chinese government involvement with the subsidising of New Zealand (and no doubt others) timber making it available to Chinese manufacturers to then export cheaply back to us (and others) thereby making it difficult for our manufacturers and mills to compete must also be against the spirit if not the wording of our FTA (and we wonder why our mills cannot compete).
The European Union is also showing serious signs of fracturing with politicians within individual countries adopting more nationalist policies. This will inevitably result in leaders shifting their countries politics to the right which unless there is a shift back will result nations increasingly going their own way.
All this points to a diluting of trade deals which will leave smaller countries like New Zealand vulnerable.
In the short to medium term New Zealand still looks as though economic growth will continue at positive levels. And while GDP measures are not the be-all of measuring the general health of a nation, they are still useful.
Below is a table of the major trading nations globally compiled by the International Monetary Fund (IMF) with our Treasury predictions of how they view New Zealand to be doing. The surprising thing to this observer is how average our predicted growth is when compared to most other nations. This is at time when we have been patting ourselves on the back about how well we have done compared to other countries. For our physical health we certainly have led the way with a few other countries in keeping our citizens safe. The importance of this has been paramount and way outstrips economic performance when gauging the success of a government ability to care for its people.
But perhaps we need to be a little more circumspect when viewing the future economically.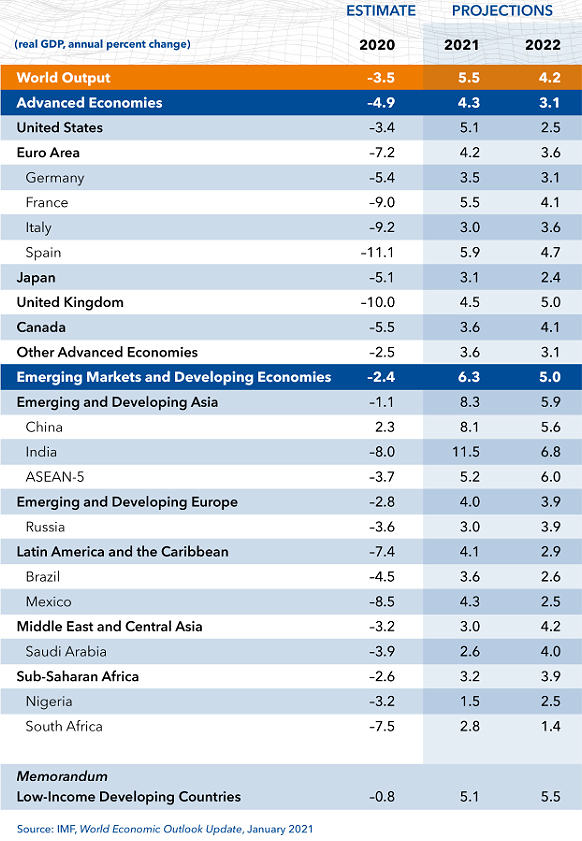 Source: NZ Treasury December 2020
New Zealand's lag is likely due to the lack of tourists coming through as like them or not tourists have certainly had a huge impact upon the countries economic health. Livestock farmers largely have been able to trade on oblivious to the head wind winds other sectors have endured. Horticulture in the primary sector standing out as one that has felt the impact of the COVID-19 virus with reduced labour allowed into the country.
So looking forward, if international treaties and protocals (such as the WTO) are no longer adhered to and China having an increasingly large influence on trade at the same time as the USA and EU diminish, unless there is another reset (and President Biden does not appear to be the one to do it) international relations and trade may get 'interesting'.
Apart from our trading 'partner' politics, there is still the virus and success or otherwise of vaccines to contend with and of course climate change has got plenty of cards to play along with how we deal with them.