Farmers will be focusing on the Budget, but the Budget may not focus on rural priorities. However the Government will be relying on rural export revenues to pay for its urban 'catching up' priorities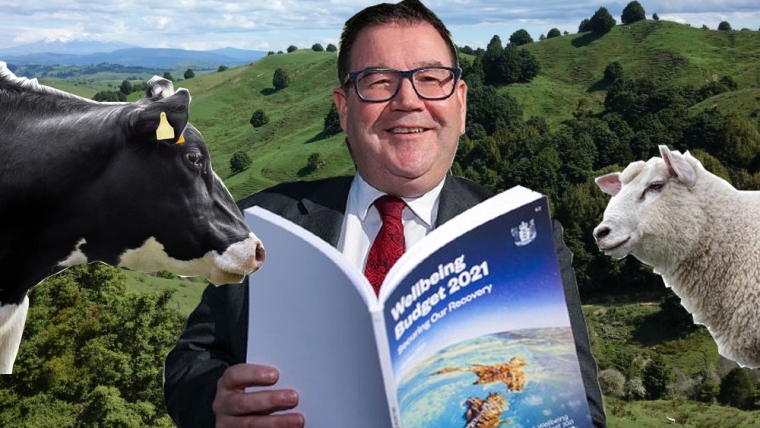 Unless something unexpected comes out of left field, the news this week is going to be dominated by the Budget on Thursday, May 20. Judging by the "Budget Policy Statement" published back in February when it come to the primary sector there are unlikely to be too many (if any surprises).
Most banks and economic commentators are picking a more fiscally restrained approach this year as we (hopefully) are starting to see some light at the end of the tunnel.
The fact that meat, dairy and horticultural having reasonably good seasons and are in fact in many cases back to where they were at mid-year 2019 for red meat and going back a lot further for dairy illustrates this.
As mentioned earlier this month venison was dragging the chain. However, after highlighting further falls in the venison schedule things have turned around and while prices are still far from being anything other than sick, they have improved. If anything, it indicates that restaurants and food service internationally is on the improve and is turning around the venison market. So, most farmers should be happy to keep to the shadows when it comes to the Budget as in recent years government policy has generally added more cost and stress when it comes to farming.
The COVID-19 responses, housing and poverty are likely to be the main focus of the Budget although the opportunity to do more around climate change may be taken. This year agriculture should be out of the frame and it may be transport's turn to be put under scrutiny. The reshaping of the national health programme shows the government is prepared to make far reaching changes. It also does not have New Zealand First to prevent it making the changes it wants to achieve, so no excuses now.
The call for a more constrained approach appears, at least before the Budget is revealed, to be quite a different approach to Australia's. With government gross debt already considerably higher than New Zealand's  as a percentage of GDP (see graph below), Australia is increasing borrowing, be it at a lower rate, and predicting to be approaching 50% in the medium term. This is driven by cash deficits being between -5% to -2.7% in the next 5 years and down to -1.3% "in the medium term". This is presumably about 10 years out.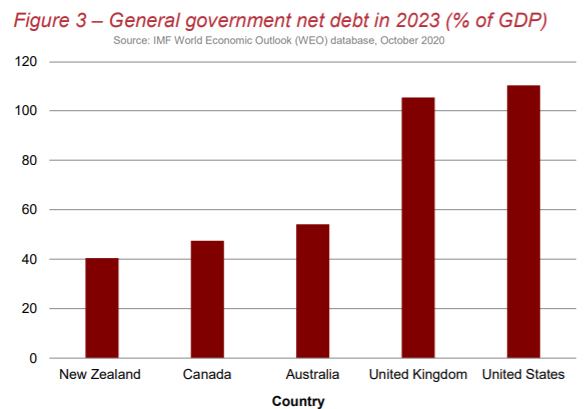 Among the measures the Australian government has taken are:
Reducing taxes for lower and mid -income earners
Providing incentives for businesses to invest and create jobs
Providing targeted assistance to tourism, aviation and other targeted industries.
As well as continuing to spend on infrastructure
The Australian primary sector did not receive any great specific attention but there was a commitment to help make water sources more resilient for irrigation to combat drought and provide rural communities with reliable water. The other major spend seems to be on bio-security controls on the border.
New Zealand tends to take the conservative route with budgets partly because of the nervousness governments have about disruptions to our export returns and the impact that potentially can have on the economy. However, the primary sector has shown that they have come through better than most, and as a result, New Zealand has weathered the COVID-19 storm better than most.
If, as it looks likely, New Zealand does adopt a more conservative approach than Australia and reduce spending considerably from last year to try and have a fiscally balanced budget it may come back to bite the Government. There are probably still at least 12 months of reduced retail spending within the economy and borders closed to much of the world. Plus plenty of public areas from housing to health to education that require further catching up. So, whether given these a fiscally neutral budget can be achieved seems doubtful without inflicting the risk of further hardships. A comparison with Australian against New Zealand in a couple of years could be revealing.
Livestock farmers must be feeling on the outer at the moment with the Minister of Primary Industries Damien O'Conner pouring could water on letting any further temporary labour in to provide staffing relief. This is despite horticulture, fishing, construction among other sectors that have had recognition that more temporary staffing is required. Dairying in particular will be feeling somewhat bruised given O'Conner comments that he didn't believe dairying had done enough to encourage Kiwi's to join the industry and therefore didn't deserve access to additional labour. This obviously implies that fishing etc. have.
On the topic of meat prices if anyone is prepared to provide interest.co.nz discreet access to weekly meat schedule updates I'm sure it would be appreciated by many. We would welcome a conversation.