OECD-FAO sees the world dairy herd expanding fast over the next ten years as emerging economies demand more fresh dairy products. But exporters will have less to offer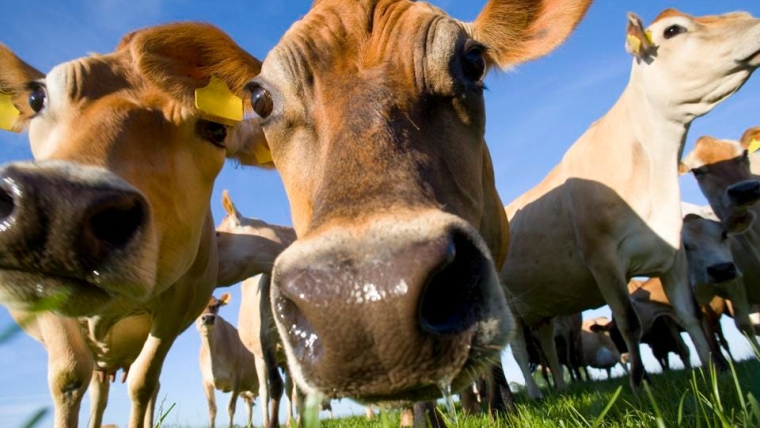 The following section from the OECD-FAO Agricultural Outlook 2021-2030 is posted here (page 50) to give some perspective to the global impact of the New Zealand dairy herd. This report was published today (Tuesday, July 6, 2021 NZT).
---
1.4.5 Dairy will be the fastest expanding livestock sector
Dairy is expected to be the fastest expanding livestock sector over the next decade, with global milk production projected to increase by 22%. Increased dairy production will be driven by expanding yields due to optimization of milk producing systems, improved animal health, better genetics and improved efficiencies in feeding, and expansions in the inventory of milking animals. The production increase will be largely supported by consumer demand for fresh dairy products in Asian countries. India and Pakistan are expected to account for more than 30% of global milk production by 2030. In these countries, milk is mainly produced by smallholders in extensive pastoral systems; thus, output growth will be mainly due to an increase in dairy herds (Figure 1.23). However, both countries are expected to see intensification of pasture use and as a result a limited expansion of pastureland.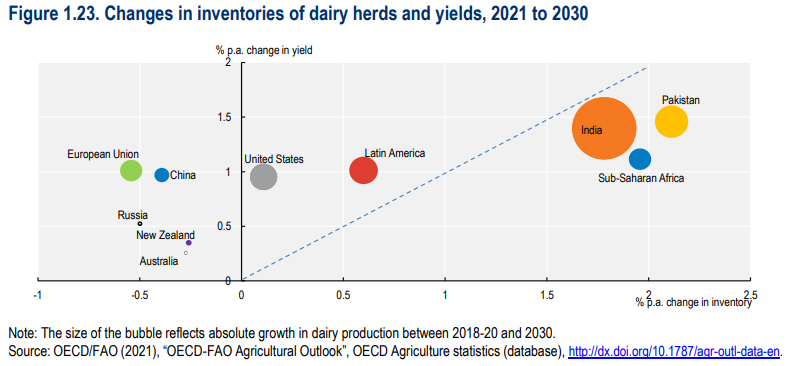 Milk production growth among key dairy exporters, such as the European Union, the United States and New Zealand, will be constrained by tighter environmental regulations. Herds are expected to decline in the European Union and New Zealand and to remain unchanged in the United States, but milk yields are expected to grow due to improved efficiency in feeding and in grass management. In Latin America, dairy production will be driven by strong domestic demand. Output growth will be supported by strong growth in milk yields (more than 1% p.a. increase over the coming decade) together with expansion in the dairy herd (Figure 1.23).
In Sub-Saharan Africa, dairy production depends on small ruminants which implies lower milk yields. Hence, while production growth in Sub-Saharan Africa will be marked (33%), output will remain at much lower levels compared to other regions because an important share of milking animals in this region consists of small ruminants (e.g. goats), which are characterized by lower milk yields than cows. Production growth in Sub-Saharan Africa will be mainly due to herd expansion (Figure 1.23).
About 60% of fresh milk is projected to be consumed in the form of minimally processed dairy products such as fresh pasteurised milk or yoghurt. The remaining 40% will be further processed into butter, cheese, skim milk powders or whole milk powders. Production growth of butter is expected to be as high as the one of raw milk, while production of all other processed dairy products is expected to grow at lower rates. Lower cheese production growth will be driven by slower growth in food demand in Europe and North America, whereas lower production of whole milk powder (WMP) will be due to reduced demand in Asian countries.