Guy Trafford explains how Fonterra and some other large exporters were saved from the worst of the freight stress by the Kotahi Logistics operation. He also shows that China's pig virus crisis is far from over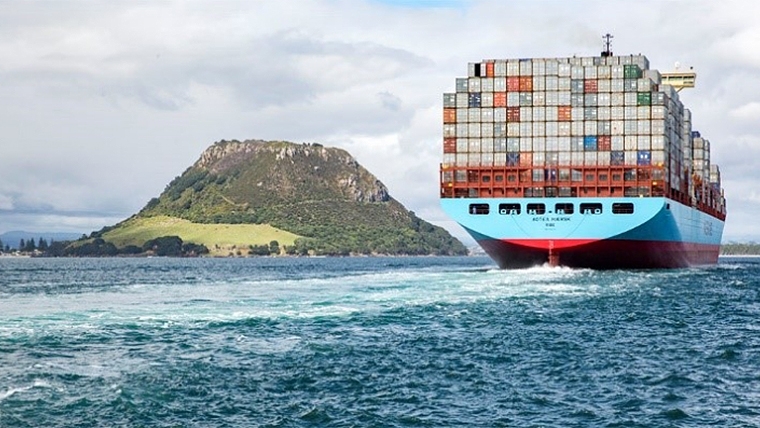 Despite the issues of global logistics imposed upon exporters by the Covid-19 pandemic, Fonterra has managed to maintain volumes exported.
Fonterra has given much of the credit to their jointly owned (with Silver Fern Farms) logistics company, Kotahi. Set up in 2011, the company embedded some security of supply chain movement by signing long term strategic commitments with the Danish owned Maersk logistics company and the Port of Tauranga.
While most exports have been leaving via Tauranga, additional shipping through the 'partnership' has been able to relieve some of the South Island pressure as well.
The Kotahi arrangements have been able to assist with other primary sector logistic problems as well as Fonterra's and Silver Fern Farms. Over the 12-month period from August 2020 to August 2021 a total of 2.59 million metric tonnes of Fonterra's dairy products has been shipped. This compares to the financial year ending 2019 2.6 million metric tonnes.
A perhaps interesting aside is roughly how much of this is product sold on the Global Dairy Trade. For the year ending August 2020 GDT took 688,164 metric tonnes and by June this year the GDT total was 622,468 metric tonnes and with 2 months of sales to be added the end result will be somewhere around the 730,000MT or 35% of the total MT exported. So, while GDT is an important component of Fonterra exports and very useful for 'price discovery', perhaps not the total volumes as could be expected.
Rabobank have also recently published their Top 20 list of Global Dairy Companies. There has been a change to the top with Lactalis pushing Nestle' aside to get to the top. Back in ninth place in 2000, Lactalis has made steady progress. Most of this is due, according to Rabobank, to a dedicated merger and acquisition strategy. They have a turnover of US$23bn but with another range of acquisitions pending in 2021 which have a combined turnover of US$2.5bn they will take some pulling in.
Source Rabobank. Based upon 2020 financials and M&A deals between Jan 1st 2021-June 30th 2021 not included.
The biggest upward movement has been achieved by Kraft Heinz going from 18th to 15th. However with Lactalis about to acquire the Natural Cheese Business off them it may result in KH dropping out of the top 20.
Fonterra have maintained their position at 5th although they have shown a 5.3% gain on the previous year (although the results do include the sales of "China Farms").
Rabobank notes the general trend of companies to move into the alternative dairy area. However, they also believe that dairy's nutrient density will keep it a dietary staple.
The move into dairy alternatives has begun to "blur" the definitions of what constitutes dairy and at some stage in the future a redefining will be required. They highlight that the future growth in consumer demand post 2030 will not come so much from increased children and a growing population but rather from changing demographics with the growth of the "Active Silvers". For example, China's under 4's will grow by 13m in the next decade but the over 50's growth will be 100m.
They see challenges ahead for the EU and New Zealand with limited room for growth largely due to sustainability constraints and a move into more added value strategies will be required and possibly a greater move into plant based alternatives. Rabobank see the growth in world production coming from the growth in the 'super dairies' with operations having herds of over 250,000 head. These are likely to occur in countries such as the USA, Russia and of course China.
Staying with China, the evidence that the China-Australia tiff is far from over is coming from the increase in both frozen beef sales and coal sales to China increasing from the US. The values of US frozen beef exports to China between April and July this year were between eight and 18 times higher than their corresponding months last year.
In the meantime, Australian exports have plummeted. Australia seems to be putting a brave face on quoting the reason being lower stock numbers available due to stock rebuilding after droughts, etc.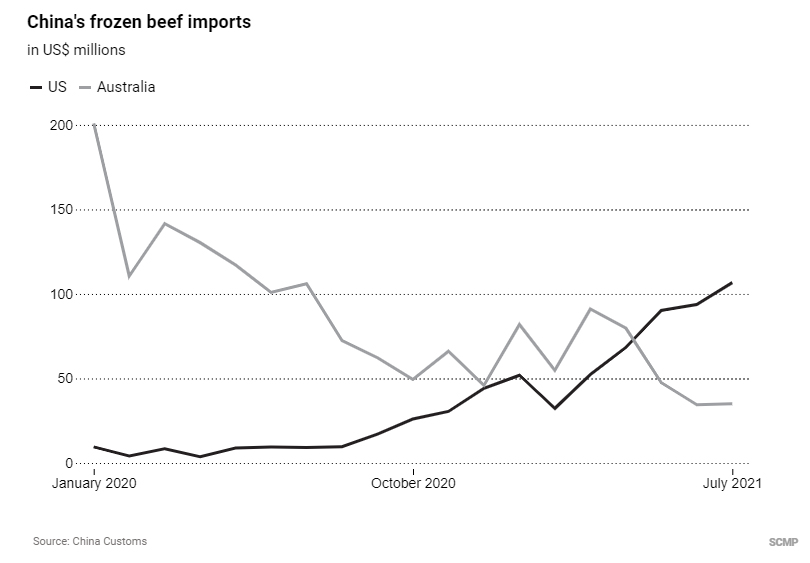 The African swine fever virus (ASF) that has decimated the pork industry in China is behaving very much like the Covid-19 virus and has re-emerged again in China. However, while the Chinese government has been able to control the virus among its human population the same cannot be said about the pork industry. Official sources are playing down the outbreak but "The Economist" says insiders are saying "its out of control".
Experts say that the chances of a vaccine being developed is at least 12 months away. No doubt the re-emergence of ASF will aid meat export demand from New Zealand.