Strong dairy prices are not translating into many dairy farm sales transactions, especially in Southland. Guy Trafford examines the reasons, and looks at the wider dairy trade picture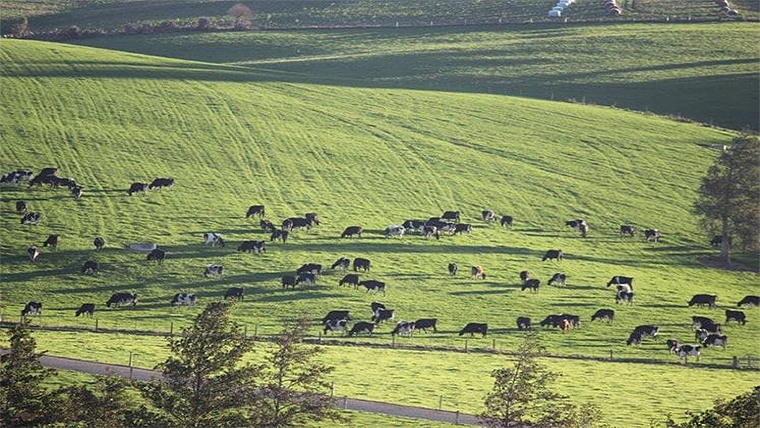 Southland diary farm
Colliers have just released their update of Southland dairy sales. Despite the continuing strong returns coming from dairy returns which are looking to continue into the future, sales are looking somewhat below par when it comes to price.
The complete graph below from the beginning of 2015 shows the full picture and the potential influence of occurrences along the way.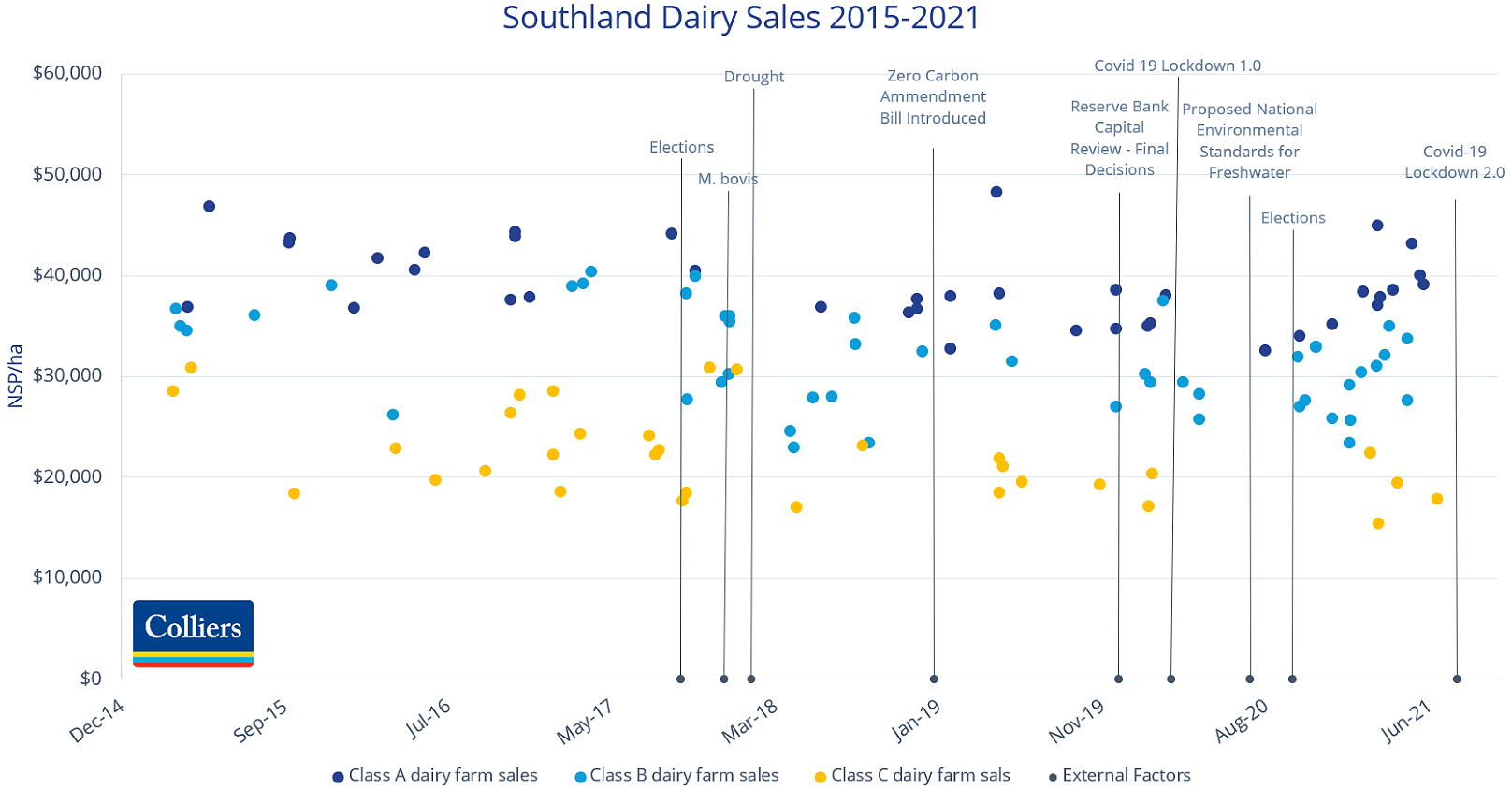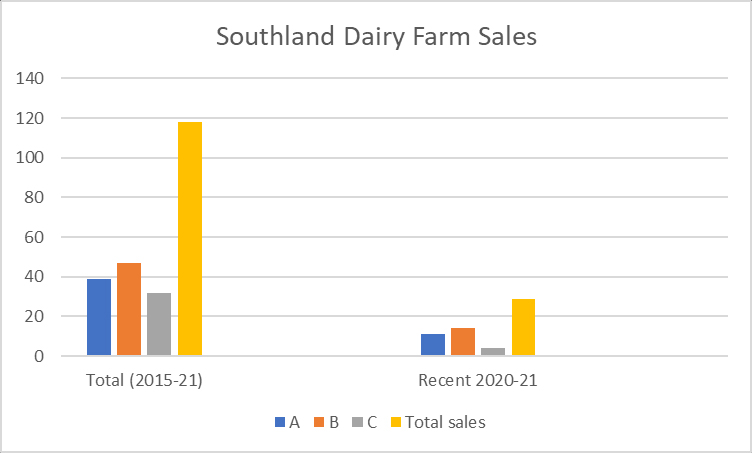 Land Class
Total (2015-21)
Recent 2020-21
A
39
33.1%
11
37.9%
B
47
39.8%
14
48.3%
C
32
27.1%
4
13.8%
Total sales
118
 
29
 
The table above shows that while prices are down especially in the C class land, on an annual basis the number of overall sales are up with 29 sales taking place in the last 12 months (approx.) compared to an annual sales number of 17 farms sold per annum over the total 7 years covered. The average price was approximately $31,200 per ha ranging from $18,000 up to $47,000.
Colliers comments regarding the sales are that the majority of purchases have taken place by local established farmers although "there has been renewed interest and movement by corporate farming groups, out of region investors and equity partnerships".
The number of farms on the 'books' is currently low which may be a factor of the good returns being forecasted. As a comparison, Canterbury on limited sales (6 from August 2020 to February 2021) averaged $44,200 per ha. The Canterbury prices are similar to the previous year ($45,700).
Olam on the rise here
Staying with dairying, after earlier pulling its shareholding out of Open Country (New Zealand's second largest dairy processing company) Olam International (Singapore based company) announced last week that it intends to set up a new processing plant at Tokoroa, complete with its own suppliers. It aims to be commissioned in Spring 2023.
As a major player in the international food industry it is hard to imagine that Olam will be content to be a minor bit player.
This then begs the question, where will the new suppliers come from? Given that the days of dairy expansion are over it will mean that either Fonterra or Open Country (or both) can expect to lose some of their current supply to the company. Presumably Olam have confidence they can woo suppliers over to their side as otherwise it could be a very risky investment.
A quick online search reveals that while Olam has received several awards for positive business practices they are also embroiled in a case with Mighty Earth an environmental lobby group who are accusing Olam of clearing valuable forest land in Gabon and putting in into palm oil plantations. The case is under investigation by the Forest Stewardship Council (FSC). Olam agreed not to clear any more forest since 2017 while the claims are under investigation. To be fair to the company they do seem to be actively engaged in trying to mitigate any problems. Currently Olam has dairy holdings in Russia and of course manages New Zealand Farm Systems in Uruguay, the graveyard of a lot of New Zealand money and energy.
Trade deal games
Finally, the decision by China to officially apply to join the CPTPP coming just hours before the news of the AUKUS deal may be just a coincidence but perhaps China had received a sniff and is seeking to take some of the air out of the UK and Australian deal (and the US). While here the focus has been on the Australian aspirations, further afield more of the focus appears to be on the UK trying to reassert its position after leaving the EU.
New Zealand's position of being "agnostic" hopefully will mean we can side-step being drawn into any controversy.
Although already with Chinese Commerce Minister Wang Wentao on Thursday filing a written request for CPTPP accession with New Zealand's Minister for Trade and Export Growth Damien O'Connor, acting as CPTPP depositary, our name is in the conversation. While most kiwis' will feel uncomfortable with Australia's decision to go nuclear, China must take a major part of the blame for the provocation they have applied to Australia and other countries that have stood in her path.
Whether China will get its application to join the CPTPP over line is not guaranteed especially with the human rights controversies that beset it.
The CPTPP has quite stringent rules regarding Labour, and Transparency and Anti-Corruption among a host of the requirements. Australia, as an existing member are certain to not roll out the welcome mat. New Zealand already with a FTA with China will not be greatly affected one way or the other if China are able to join. India, on the other hand would be a far bigger prize.