Allan Barber finds that 'regenerative agriculture' could be the framework that wins the premium to be earned from a trusted reputation for livestock farming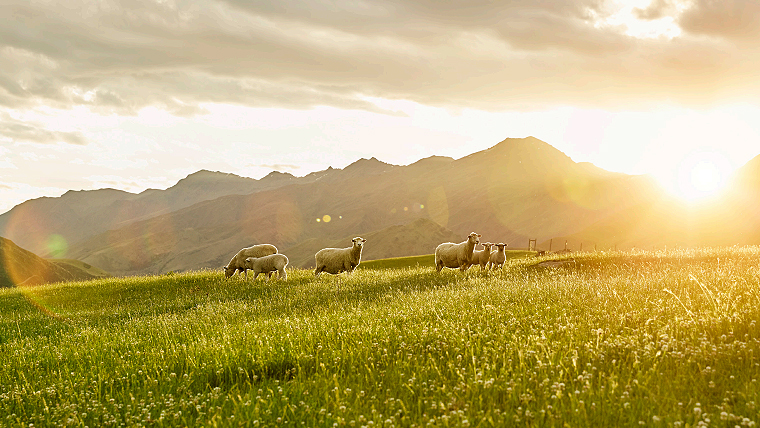 The term regenerative agriculture has been around for some time, but it seems to have gathered huge momentum in the past year, to the point where a number of farmers probably see the concept as a conspiracy theory, designed to turn standard farming practice on its head. This group thinks regenerative farming means no tilling, no fertiliser, essentially akin to organic farming with all its extra costs and certification standards.
B+LNZ's GM Market Development Nick Beeby says the research was specifically designed to assess consumer attitudes to the regenerative concept and believes the findings offer New Zealand a great basis for comparing and contrasting our farming methods with those of other producing countries, providing the ideal platform to tell our story. Regenerative has fast become the acceptable form of farming because it represents sustainable practice in the face of climate change. According to Eat Lancet and the United Nations Food System Summit, regenerative agriculture is the acceptable future face of livestock production.
The practical nature of regenerative farming actually stands in stark contrast to organics which are seen as restrictive and prescriptive, more concerned with specifying the standards for permitted inputs. Regenerative agriculture is very much farmer led, concerned with outputs. But there is a danger major retailers and manufacturers jumping on the regenerative bandwagon, making claims for their products' sustainability credentials, could end up being seen as virtue signalling and 'greenwashing'.
New Zealand's grass fed livestock regime puts us in prime position to claim the regenerative halo position way out in front of more industrialised agricultural producers, especially the United States where the regenerative concept has the greatest influence. Our sustainability credentials are underpinned by the He Waka Eke Noa climate change partnership and, more specifically in the case of the red meat sector, by the farm assurance programmes NZFAP and NZFAP Plus. These will ultimately ensure all sheep and beef farms can measure inputs and outputs and farm to an agreed set of standards which will form the basis of regenerative farming the New Zealand way.
While NZFAP Plus aligns with certain regulations, it is a voluntary standard that has been developed to support access to international markets. It is very much market-driven because consumers want to know where their food comes from and how it is produced. The programme's focus is on the natural resources of soil and water, farm practices, people and biodiversity which are seen as the key areas of interest for customers, consumers, government, and global health organisations.
The research project carried out by Alpha Foods on behalf of B+LNZ and NZ Winegrowers concludes, based on an in-depth scan of the market and 133 interviews with 'conscious foodies' in the USA, Germany and China, that there is potential for New Zealand producers to make a serious regenerative claim and to capture value as a result. One stand-out conclusion of the research shows it is not so much the consumers who are looking for food or primary products that can satisfy regenerative claims, but the big brands like McDonald's, Danone, PepsiCo and large meat processors JBS and Cargill. These companies must believe they can source sufficient regenerative product, as well as convincing consumers of the benefits to them.
Meat exporters are generally supportive of the research findings, although they sit at different points on the continuum between total buy in and a degree of scepticsm.
Silver Fern Farms and Alliance sit firmly at the positive end of the scale. According to Dan Boulton, the company's General Manager Supply Chain, "this report confirms our view there is a strong market opportunity for regenerative agriculture. Analysis with our own customers has indicated many would be willing to pay more for natural grass-fed red meat from a verified regenerative farming system and we want to make sure that our farmers can access this premium in the future."
Alliance's Shane Kingston says "It aligns with what Alliance is hearing from our customers and consumers in our markets such as North America who increasingly want to know where their food is coming from and how it is being produced. They view the natural and sustainable way we farm as broadly consistent with regenerative agriculture principles. Antibiotic-free grass-fed lamb in North America has never been so popular. The challenge for us as a food company is to now translate that into capturing value for our farmers and New Zealand."
Rick Walker, ANZCO's GM Marketing, and Mark de Lautour in the equivalent role at AFFCO sit at the more sceptical end of the continuum. While they both support the idea of incentivising farmers to adopt regenerative practices where possible, they question how much consumers really care about the detail and whether they will be willing to pay a premium for regeneratively farmed product.
Walker sees regen as essentially an American trend with no sign of it on the radar in China, although by his estimation it may only be a viable branded marketing concept in the USA for possibly less than 1% of the market. In his opinion, we need to tell our customers how we farm, but there is unlikely to be any premium in it for our farmers. To get farmers on side, we must leverage what they are doing already without expecting them to undertake major adaptation of their farming methods, except where they fail to meet accepted standards.
De Lautour is adamant the consumers are not interested in the detail of regenerative farming, but are looking for guilt-free meat, because, assuming it meets the taste and value test, their main interest is in animal welfare. He believes it is more important to test the proposition of New Zealand producing the best food with the lowest carbon footprint. This would be backed by health and safety, animal welfare, environmental performance, and grass-fed farming practices. Neither company sees value in selectively branded programmes, because this 'green halo effect' should cover all New Zealand production, earning an overall premium for trust.
While the companies are not in total agreement, there is no doubt there is a premium to be earned from a trusted reputation for farming to a defined set of environmental standards. Regenerative agriculture could well be the umbrella which encapsulates all these aspects to New Zealand's benefit.
---
Current schedule and saleyard prices are available in the right-hand menu of the Rural section of this website.