Guy Trafford takes a closer look at what the invasion of Ukraine means for food supplies and prices and how that may affect markets for New Zealand's products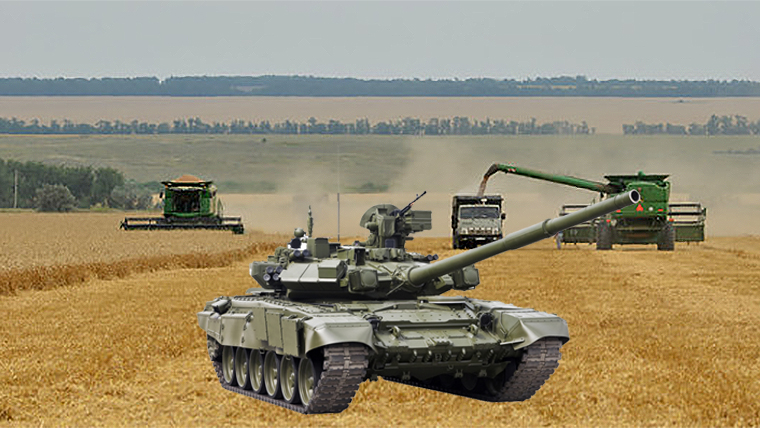 While China has been seen as a potential 'friend' of Russia in the ongoing conflict they appear to be not counting on any winners, at least when it comes to food.
Up until recently China hasn't been a great importer of Russian grains with the largest percentage coming from US and Australia plus more from South America. This was largely due to disease concerns with Russian grain. However, in early February this year China had signed a deal to import record amounts.
Whether any has been able to get to China is uncertain and given the wide-ranging sanctions applied to Russia and pressure being applied to those who continue to trade with them (there are exceptions where pragmatic excuses arise) future trade would at best be questionable.
At the moment food is not on the West's lists of sanctions on Russia, however, it is likely to get caught up in the politics of it. For example, the UK has banned all Russia shipping, whether that would apply to grain ships is unclear. Russia has also attempted to push back with its own export bans and while these don't appear to include grains to the wider markets, they have put a ban on exports up until August to build up their own food security.
The biggest losers in this appear to be their 'allies' in the Eurasia grouping such as Kazakhstan among others. China was set to import wheat on the back of the Xi -Putin agreement in early February and it is unclear whether this will go ahead. Last week President Xi re-emphasised the importance of China becoming more self sufficient in food supplies with no doubt the Russia sanctions a reminder of the potential vulnerability of any country to wide ranging sanctions and the food triggers (or lack of it at a fair price) that led to the Arab spring revolts.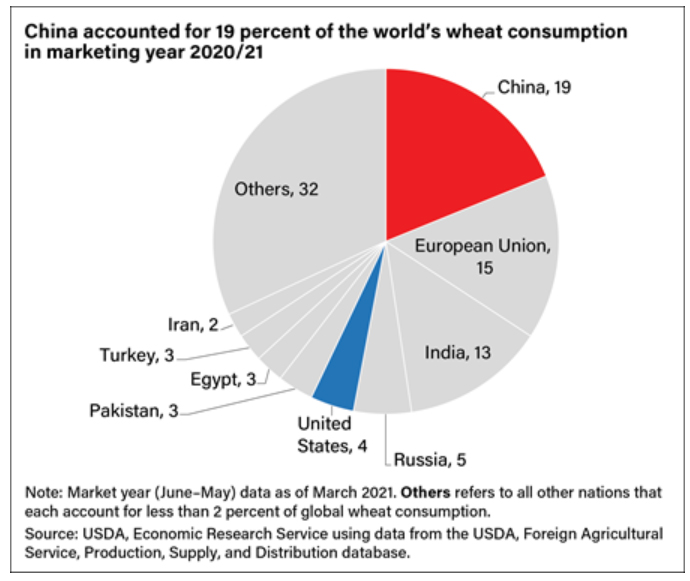 In previous years wheat imports from the United States experienced a resurgence in 2020 after the U.S.-China Phase One trade agreement. China's imports from France, Canada, Australia, and Lithuania also surged that year.
In 2021 China further lifted its wheat imports to record levels and so has good stocks in storage. Analysts believe this has been due to the poor relations China has with both the US and Australia.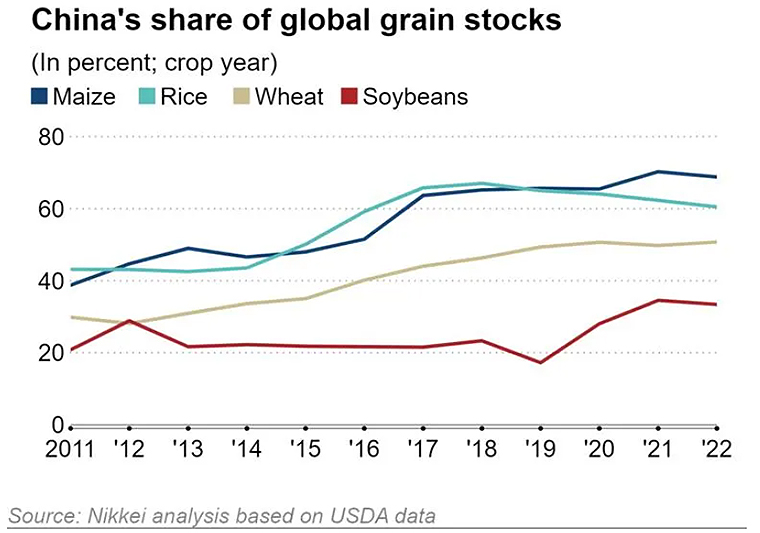 This led to China meeting is tariff rate quota (see below for an explanation) for the first time. From their perspective this was a well-timed move as accessing additional grain this year will be proving an expensive exercise for everyone.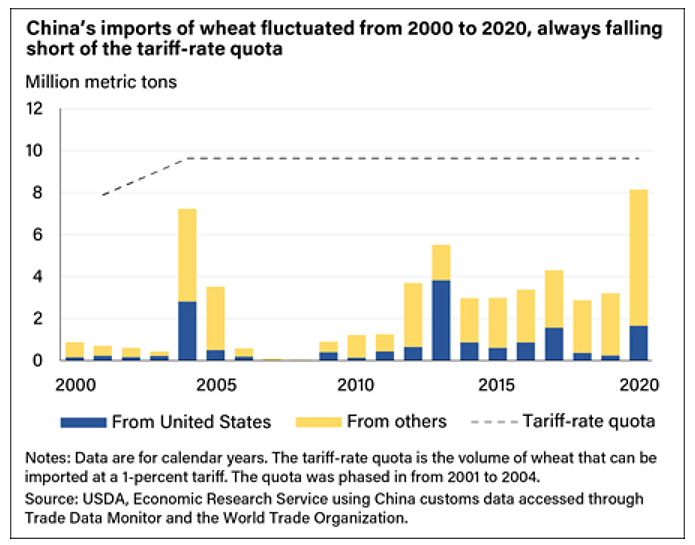 Tariff-Rate Quotas: A Market-Opening Tool
A tariff-rate quota (TRQ) is a two-tiered tariff system introduced by the World Trade Organization (WTO) during the 1990s with the intention of opening tightly controlled agricultural markets. The TRQ concept involves two steps. First, nontariff controls on imports—such as traditional import quotas and managed trade—are converted to a (typically high) tariff that provides equivalent protection. Second, a modest quantity—called a quota—can be imported at a lower tariff. Various approaches exist for distributing the quota to prospective importers including first-come-first-served bases, auctions, and hybrid methods. Dozens of WTO members adopted TRQs after they were introduced in the 1990s. Several WTO members that joined in the 2000s, including China, also adopted TRQs. About a fourth of WTO member countries have now established TRQs, with the total number implemented exceeding 1,100.
While Russian wheat's absence from countries who rely upon it is going impact upon humans food demand it will be the lack of corn from Ukraine is likely to impact greater on livestock systems. While it is early days yet already prices have spiked which is pushing up systems costs. It is this plus the recent rumours that Russia has gone to China to get additional support for its military, (drones and ready to eat meals??) while yet unproven, have heightened the risk of China being sucked into the sanctions war and potentially, from a Western perspective, on the wrong side.
These two scenarios have alternate impacts. Corn price rises should have a positive impact on New Zealand livestock based exports while sanctions upon China the reverse.
Prior to the conflict China was the biggest single country exporting to and importing from Russia. However, as a block the EU's trade is almost double China's in both directions) which means the West's sanctions will have a deep impact upon Russia regardless of how China behaves.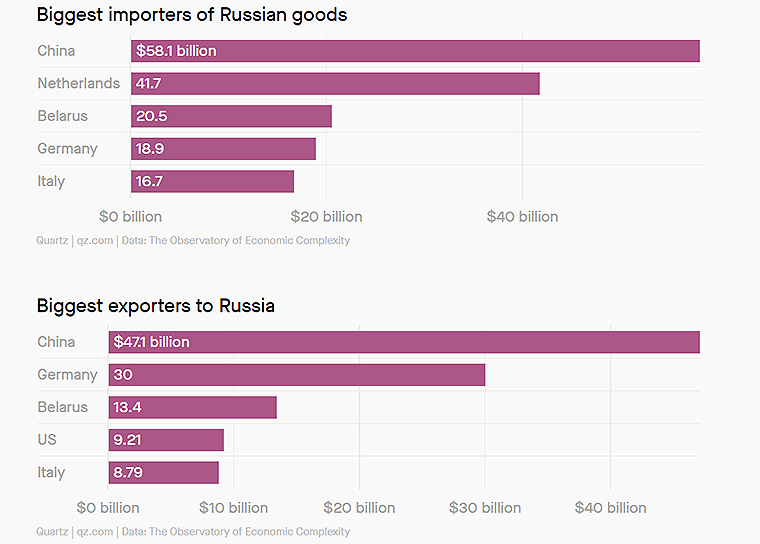 China's state-run shipping company, is continuing to throw the Russian economy a lifeline as it's the only major shipping line still operating in Russia. If China does trade on with Russian and the 'West' then includes them in the sanctions as imposed upon Russia that is potentially New Zealand's biggest risk. With over 30% of dairy trade, plus timber, red meat, fish and horticulture all heavily reliant any sanctions with China would severely hurt, as if Covid- 19 wasn't enough.
Hopefully China's reliance on the West, will drive a wedge between them and Russia, this should also drive Russia to seeing sense (maybe) and New Zealand's status quo continuing.