The Russian invasion of Ukraine is affecting grain markets worldwide. That in turn affects animal feed, and downstream meat production. Angus Kebbell explores how that will affect markets for our pasture-based livestock by looking at the global impacts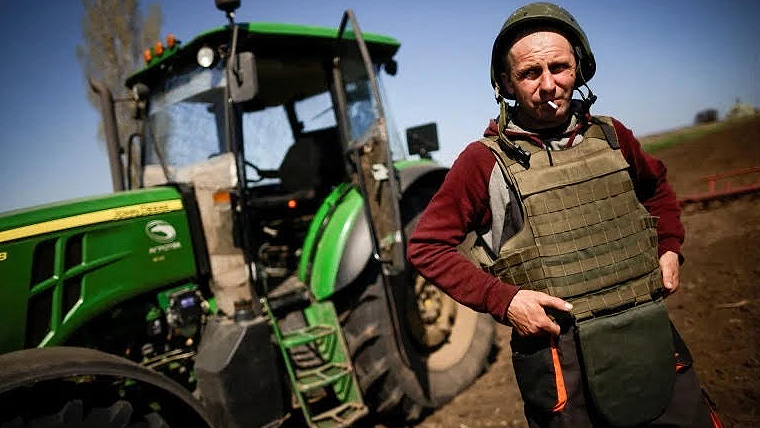 Ukraine is an important country for global agriculture, both for grains and livestock. And this war is certainly having an impact on their ability to grow a crop, let alone process it or export it. Erin Borror is the vice president for economic analysis at the US Meat Export Federation, she talks about the prospects for Ukraine's domestic meat and grain production this year, and how this will impact nations around the world.
"The direct meat impacts are fairly limited. And it's really a story on the feed and input side. Ironically, we were seeing higher prices for these products before Putin invaded. So you know, you just kind of added fuel to the fire. And yes, Ukraine is incredibly important. So the breadbasket of Europe, number two exporter of barley, number three or four of corn, depending on how you look at it, number one in sunflower seed oil. And then number five in wheat with Russia is number one. So really critical on the feed grain side. And again, for me, it was that impact, we already had such tight balance sheets already."
Europe is still a net exporter of feed grains in total when you lump everything together. So they are an important player in the export market, but also for imports that have big reliance on Ukraine.
Borror says there is a ripple effect happening through international markets; "In terms of market resistance there is a kind of tug of war happening. So on the beef side, we have not seen a slowdown internationally, I think, domestically, we're starting to see that a bit. But to be fair, I mean, comparing to last year it is a bit complicated, because when we look at break out prices on a quarterly basis, there was a huge jump in q2 and q3 Last year, kind of above trend. So demand is off the charts. And in my mind, that was just an amazing combination of food service in the US, but also a lot of our international markets coming back and just trying to refill an empty pipeline."
"At the same time, our retail spending kept going at basically COVID levels. And so you had that like double demand for our products, beef and pork, and chicken, through restaurants and food for restaurants and retail at the same time. So that's what drove our cut out values for both beef and pork to highs last year. There was volatility in there as well, of course, because this was just kind of crazy. Again, so this year, we're seeing some smoothing, and we're still above trend on those metrics."
March export data showed that unit export value for beef is still up 33% year on year. And those prices escalated essentially from about April last year, and they started to come off from November and bounce around a bit. So the USA market has most likely peaked more or less, but still really strong.
We have seen a shift to convenience buying globally, this has has also been a big factor in international markets due to COVID and the uptake in online shopping. For the most part in America producers and retailers have been able to still reach consumers in every way. Interestingly the digital aspect gives access to these consumers like never before. We now live in a world where we able to share information, recipe videos, international campaigns where consumers are taken to producers, and working on sustainability messaging.
It is easy to focus on what is in front of us here in New Zealand on a day to day basis without considering the impacts of global issues, have a listen to the podcast above to get the full perspective.
---
Angus Kebbell is the Producer at Tailwind Media. You can contact him here.