Guy Trafford reports on renewed interest in DCD as an effective and benign way to mitigate the impact of excessive nitrogen in farming environments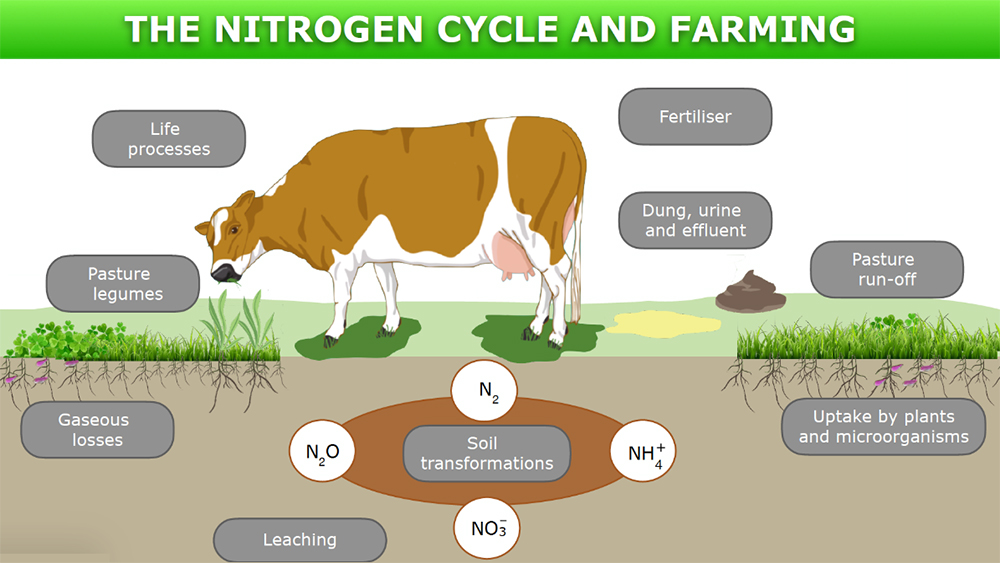 Prior to its removal from the market in 2013 for arguably spurious reasons Dicyandiamide (DCD) sold as econ-N was seen as a valuable addition to, largely dairy, farmers, tool box of tricks to reduce NO3 leaching and N2O emissions.
The lack of a standard being set for DCD residues in food (perhaps a major oversight) by the Codex Alimentarius Commission led to manufacturers of DCD voluntarily suspending sales and ceasing use of the chemical on farmland in New Zealand. Probably the threat of international trade barriers to milk products being detected with DCD's was the straw that resulted in the plug being pulled as to my knowledge it poses no threat to human health.
Having said that nobody wants to see any chemicals in the food system, although now that we hear even rain (everywhere) contains "forever chemicals' that are threat to our health. It's worth mentioning that MPI have said that testing has confirmed that no DCD has been detected in New Zealand milk since 2012. However, I digress.
At the time of withdrawal, use of DCD's was not widespread and within Canterbury was used an estimated of somewhere between 10%-20% of Ravensdown dairy clients well below what they were aiming to have using it. However, this was prior to the whole climate change and environmental impacts debate being ratcheted up and it is highly likely if the technology was still available it would be in far greater use today.
To those not aware of the benefits it can reduce N leaching to water by 48%-69% (soil types impact on results) and from 42%-82% of N2O emissions from soil applied nitrogen (urine and synthetic urea). In addition to the environmental benefits pasture production also lifted by +23% from the more available N over a longer period.
Perhaps of interest is the motivators that drove the limited numbers of farmers to use the relatively new technology at the time.

Source: Dan Smith Dissertation 2011
As can be seen with #3 and #5 economic reasons at the time were major drivers, I suspect #2 would be the standout now.
While there is still work being done to let DCDs be reintroduced, given nearly 10 years have passed since its withdrawal, it has seemingly fallen off the table (for now).
So, to the present. It was therefore pleasing to see a recent Ravensdown press release that in conjunction with Lincoln University "New research harnesses soil fungus for environmental mitigation". This technology promises to fill the gap that was left by the removal of DCD's and being a natural soil occurring fungus
Extracting from the emailed press release it says "major new research programme launched today promises to further reduce the environmental impact of New Zealand agriculture, with naturally occurring soil fungus shaping as a new hero, assisting farmers with more efficient nitrogen use.
N-Vision NZ, led by farmer owned nutrient co-operative Ravensdown and co-funded by the Government's Sustainable Food and Fibres Future (SFFF) initiative, aims to help farmers reduce nitrogen loss. One of the projects in the $22 million seven-year initiative will harness the power of humble natural strains of soil fungi to increase the efficiency of nitrogen use by plants, as Ravensdown General Manager of Innovation and Strategy Mike Manning explains.
"Lincoln University researchers have discovered natural strains of fungi that reduce the activity of specific microbes, which are involved with nitrogen cycling and losses. These nitrogen losses can occur as nitrate leaching through the soil, which has potential detrimental effect on waterways, and as nitrous oxide, a potent greenhouse gas emission.
"Although it occurs naturally in pastoral soils at a relatively low level, the fungi can be applied to soil as either a prill or seed coating. Doing so increases the level of the fungi and therefore alters the nitrogen cycle to reduce nitrogen losses. Research to date indicates this has a strong potential to mitigate both greenhouse gas emissions and reduce nitrogen loss to waterways," he said.
N-Vision NZ includes two other research projects that aim to reduce the environmental impact of New Zealand's grazed pasture systems: one that will develop an accurate gauge of the nitrogen already in the soil and, therefore enabling farmers to apply more precise quantities of nitrogen fertiliser for optimum plant growth; and another that will research nitrification inhibitors, which have the potential to significantly lower nitrous oxide emissions and nitrogen leaching from grazed pasture systems.
N-Vision NZ will apply leading edge science and technology to create tools that farmers can use on farm. Importantly farmers will have options to maintain profitability while minimising the environmental impact of their land use.
The Government's $7.3 million contribution to N-Vision supports Ravensdown's $11 million cash contribution, plus in-kind funding. Lincoln University and Plant & Food Research are research partners for N-Vision".
According to Professor John Hampton of Lincoln University:
"Things are going really well, we're finding that when urea is applied, in the presence of our fungus, we get reductions in ammonia production, reductions in nitrous oxide production, and reductions in nitrate loss down through the soil system – we are getting reductions in losses between about 25 and 40 per cent depending on the site."
As always, good things take time and due to further testing etc and no doubt avoiding the pitfalls that DCD's went through, full commercialisation is not expected until 2026. Also unfortunately, the benefits are at a lower level than DCDs although still significant. Apart from the water benefits, using a 30% reduction of N2O (emissions) if all affected agriculture affected (largely dairying and intensive sheep and beef) and urine N is affected the same as urea then this technology could result in approximately a reduction of 11% of New Zealand's total GHG emissions.
Perhaps not a game changer but, if widely used, a major positive step. Especially given that N2O is one of the major "long lived' gases with 114 years being used as its time in the atmosphere.