Why US farmers are now at the forefront of the right to repair movement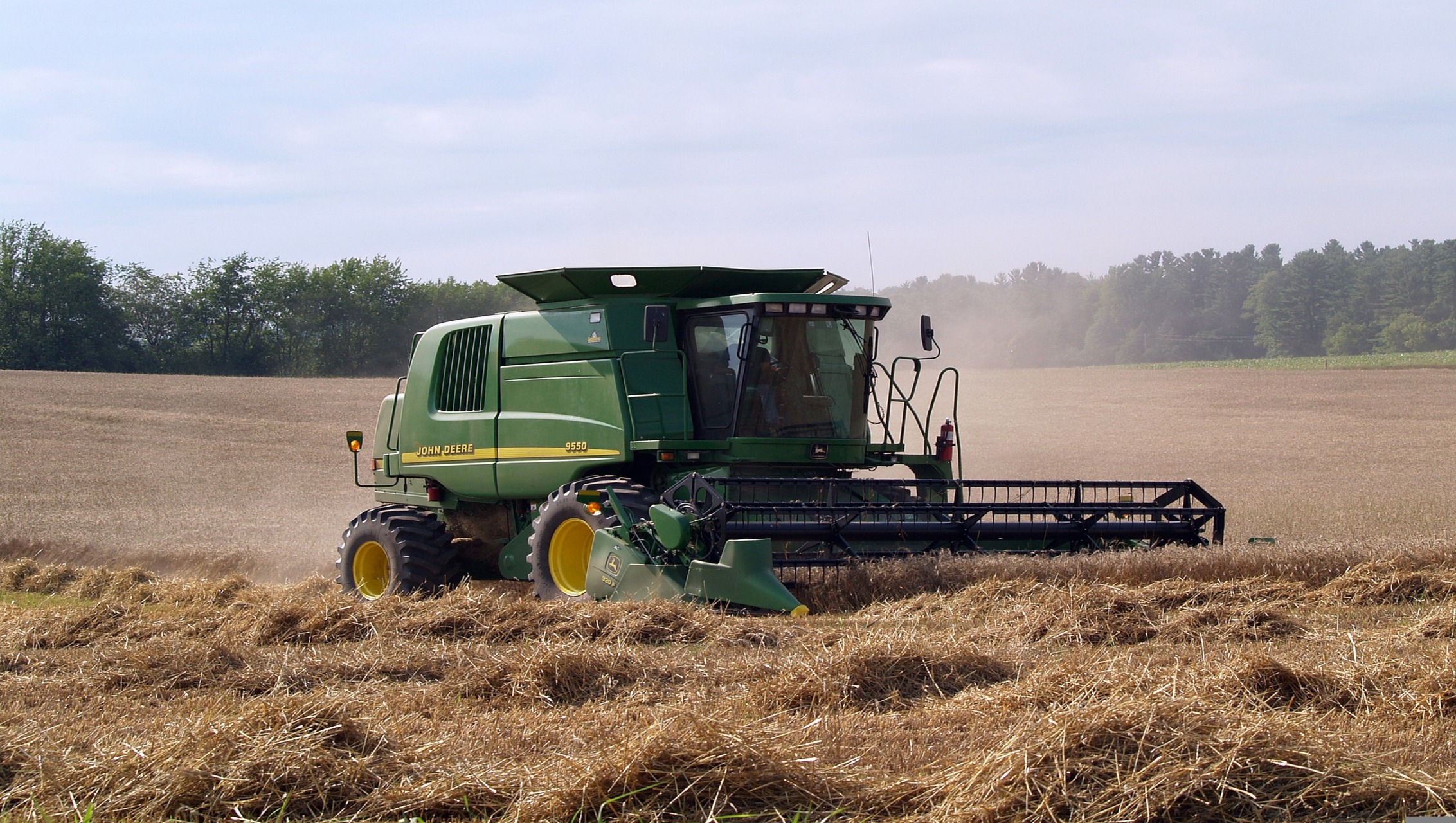 John Deere has become a key figure in the long-running battle for consumers to be able to repair machinery they buy without being locked in to using a solution dictated by the machinery giant.
The agricultural firm is the subject of a complaint to the US Federal Trade Commission (FTC) from farming groups, who argue John Deere unlawfully forces farmers to pay a Deere dealer when their tractors break down.
The 43-page complaint was filed in April, and says the FTC needs to force John Deere to stop "withholding from its customers diagnostic software and other information necessary to repair Deere equipment they own".
"Manufacturers have far too much control over what farmers are allowed to do with their own equipment," National Farmers Union president Rob Larew told media.
"These restrictions are costly in terms of time and money. The Federal Trade Commission should take action to ensure that farmers and independent mechanics have the freedom to fix their equipment in a timely and cost-effective way."
Farmers say not only does John Deere dominate the supply of machinery that they need, it also has used (and abused) its dominant position to lock up the market to repair its machinery too.
The complaint says John Deere refused to provide software or technical data farmers need to repair their machines, which is a violation of the Sherman Act antitrust laws, and statutes covering unfair and deceptive trade practices.
The repair market is expected to be a big earner for John Deere.
A recent Wall Street Journal article with John Deere chief executive John May outlined that the company estimates software fees will account for 10% of its revenue by the end of this decade.
A little bit like the automotive maker BMW's move to charge car-owners for seat warmers, John Deere wants to sell software subscriptions for operating its vehicles.
The Wall Street Journal story detailed that John Deere had poured billions into developing self-driving tractors and crop sprayers that can tell the difference between weeds and produce.
And it has many machines with auto-pilot modes - if you play nicely and pay.
The company says it plans to have 1.5 million machines and half a billion acres of land connected to the John Deere Operations Center within a matter of years. 
This cloud service "will collect and store crop data, including millions of images of weeds that can be targeted by herbicide".
None of this would be pleasing news to farmers, who have been raising the issue of John Deere making its gear a closed-shop for repairs since 2016.
In October of that year, John Deere kicked off the outrage when it asked farmers to sign a licence agreement which prohibited nearly all repair or modifications to farming equipment, and stopped farmers from suing John Deere for "crop loss, lost profits, loss of goodwill, loss of use of equipment … arising from the performance or non-performance of any aspect of the software". 
Since then there have been high-profile hacks of John Deere equipment as people try to get around John Deere's measures to stop anyone but approved parties working on its gear.
It appears the first hacks originated out of Ukraine, where firmware was created that was then on-sold to farmers to use to access their tractor's software without going through an authorised repair outlet, and is still being openly traded online.
If you poke around the internet, a motivated farmer could find hacked versions of the John Deere Service Advisor diagnostic-calibration tool; John Deere files required for programming and configuration of some machine parts; drivers that allow the computer to "communicate" with the tractor and you can find licensed key generators, speed limit modifiers and even special cables for connecting to tractors.
Farmers say they have to hack their own tractors, just to keep their gear running when they need it running and to not pay an arm and a leg for it.
They say equipment that's in constant use requires constant maintenance, and relying on dealer-approved technicians to diagnose issues that could be handled on the farm wastes valuable time, and of course, costs farmers cash.
Now, hacking John Deere tractors has become something of a sport to people with tech skills and there is even a "Tractor Hacking team site" where the tech-savvy can pitch in.
John Deere's control issues culminated with a hack at tech conference DEF CON held in Las Vegas in August, which saw Aussie hacker Sick Codes break into a John Deere's controls to make it play the old-school game, DOOM.
Sick Codes is known as a "white hat" hacker or security researcher. Unlike other less friendly hackers, Sick Codes helps firms identify issues with their security, and doesn't ask for money like a nefarious hacker might.
Sick Codes says he was able to get the software off the John Deere tractor display and then modify it.
He installed a modified version of DOOM on the tractor computer, to show that he had taken control of it.
"Farmers prefer the older equipment simply because they want reliability. They don't want stuff to go wrong at the most important part of the year when they have to pull stuff out of the ground," Sick Codes said. 
"So that's what we should all want too. We want farmers to be able to repair their stuff for when things go wrong, and now that means being able to repair or make decisions about the software in their tractors."
Canadian blogger and journalist Cory Doctorow was in the audience for DEF CON and made these observations.
He says John Deere – along with Apple – are the vanguard of the war on repair.
Doctorow says John Deere's insistence that they are guardians of farmers and the agricultural sector is a "paper-thin cover for monopolistic practices and rent-seeking". 
As well as controlling the tractors, he says monopolising the repair and reconfiguration of Deere products gives the company "all kinds of little gifts" – for example, it could refuse to fix the tractors of dissatisfied customers unless they agree to gag-orders.
Now, John Deere has somewhat softened its stance (perhaps US President Joe Biden's executive order last July, directing federal agencies to encourage competition had something to do with it) announcing that in May  farmers and independent repair shops would be able to buy through its online store a version of its Customer Service ADVISOR diagnostic service tool. 
It said it would follow up in 2023 with "an enhanced customer solution" allowing owners and independent mechanics to download software updates to the machines from a Deere data network.
"We recognize our customers' desire for more autonomy in managing their equipment," Deere senior vice president of aftermarket & customer support Luke Gakstatter said in a statement.
"Quality and uptime are essential to their operations."
It also had a nice PR hit when it was able to stop the use of Ukrainian John Deere tractors that were stolen, but as Doctorow says, it is not a feel good story. He says this move to kill the tractors shows John Deere can not only thwart thieves, it can thwart farmers from user their own gear too.
John Deere is an massive firm, with an estimated 75,000 employees and a long history, including in New Zealand. The first "John Deere" tractor was sold in New Zealand in the early 1920s.
Being a John Deere distributor is big business.
In 2020 NZ rural media reported that John Deere Construction and Forestry Equipment would now be available from a dealer called AGrowQuip in the North Island, and Drummond & Etheridge (D&E) in the South Island.
AGrowQuip has four depots and 120 staff and a history dating back more than 50 years. 
And D&E, with 10 locations and over 200 staff, is an established John Deere Ag & Turf dealer. 
John Deere Construction & Forestry Division managing director for Asia Pacific and Africa, Jeff Kraft, says both dealers will offer world-class after-sales support. 
"They already have a proven track record of doing so across their existing John Deere customers."