Beef farmers are looking for efficiencies to deal with both the cost and climate change pressures. Pat Crawshaw discusses how the INZB program is helping that search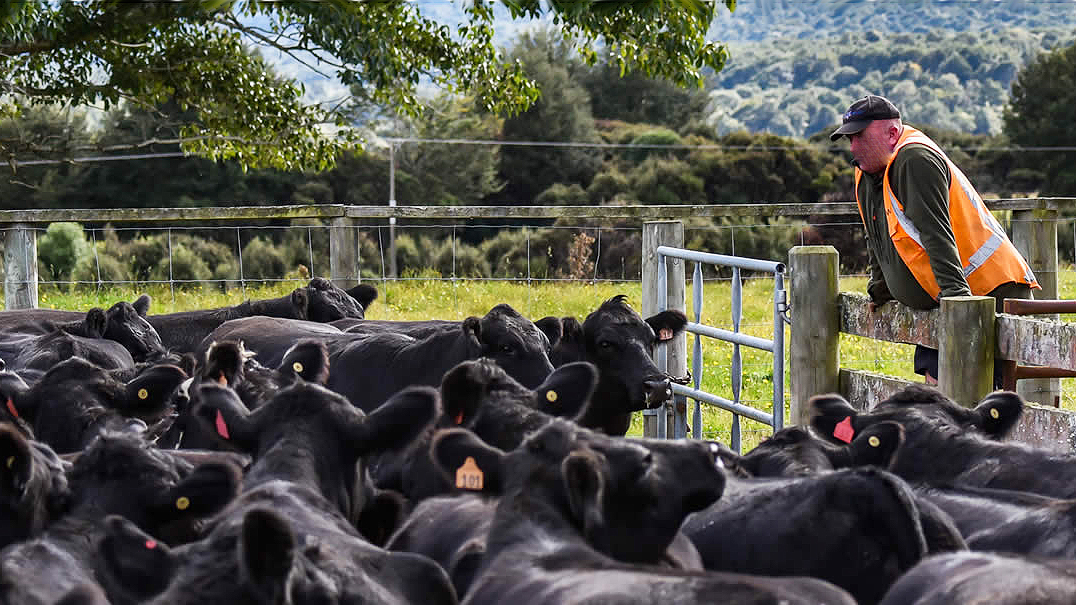 This week farmer Pat Crawshaw discusses the Informing New Zealand Beef program. This program focuses on breeding objectives and traits, important to New Zealand farmers. It will also develop a New Zealand-based genetic evaluation for comparing bulls of different breeds, which will ultimately result in more efficient beef animals, that aim to generate less greenhouse gases and to return higher profits.
So what are the areas of focus for the program? Genetics would have to be a significant part in this program so asked Crawshaw about the genetic objectives and targeted outcomes.
Informing New Zealand Beef is a seven year program to provide local beef farmers with the ability to breed animals better suited to this country. It will develop tools for our unique farm systems, in particular a NZ-specific genetic evaluation. "The real opportunity for the New Zealand sheep and beef industry is a crossbreed analysis, and so the fact that we can compare an Angus bull with a Charolais bull on a standardised set of traits would hugely benefit the industry to be able to cherry pick ultimately, the best of both breeds and be able to blend them together. "they're going to host the database and so it'll be the equivalent of SIL (Sheep Improvement Limited) a New Zealand database, and you'll be able to drive some really good outcomes out of that in terms of creating a strong population that's relevant to the New Zealand conditions."
"I think, nProve will be a really key piece to it, and that's basically a data capture platform where we can record different traits across animals, and then also just on farm measurement. So I mean, we do take undertake a lot of management practices on farm and this is an opportunity to be capturing that data and using individual animal identification, RF IDs and then Nait tags to be able to allocate that accurately back to animals. And similarly using that linkage with the physical animal and its tag and also it's taking genomics, and building an as complete and strong picture as we can."
nProve is a user-friendly online tool designed to help commercial farmers find the rams that are the best fit for their particular needs. It presents the data in a user-friendly, transparent format to allow farmers to objectively compare genetics, and of course there is potential to use the platform in beef animals in the same way.
So what are farmers looking to achieve, is it a beef animal that produces less greenhouse gases with improved carcass weights? I put the question to Crawshaw.
"Yeah, I mean there's plenty of efficiencies to be made in the industry and some of the low hanging fruit would also be maternal efficiency and fertility rates, But yeah without a doubt the pressures that we're sort of under as an industry is certainly leading towards greater efficiency. And I mean we see that in the sheep industry where they've reduced their ewe flock but being able to produce the similar volume of sheep meat, and I think that crossbreed analysis in the ability to compare animals across breeds and using crossbreed sires as they have with a Suftex  type animal as terminal sire. So I think that's been a real win there and some of those learnings we should be able to take out of the sheep industry and pull them across to the beef and be able to do that because it is that efficiency that we that we really want, but also their efficiency is profitable right? Like it gives us the strength of a system and more resilience when we've got those efficiencies working it to the optimum."
I am looking forward to following this program. It is a JV with industry and the government, programs like this will make a significant impact on improving efficiencies on farm and importantly improve farmer returns and the gate.
Listen to the podcast to hear the full story
---
Angus Kebbell is the Producer at Tailwind Media. You can contact him here.