Ardern and O'Connor promise low initial methane price, cheap nitrogen price and inclusion of riparian planting in ETS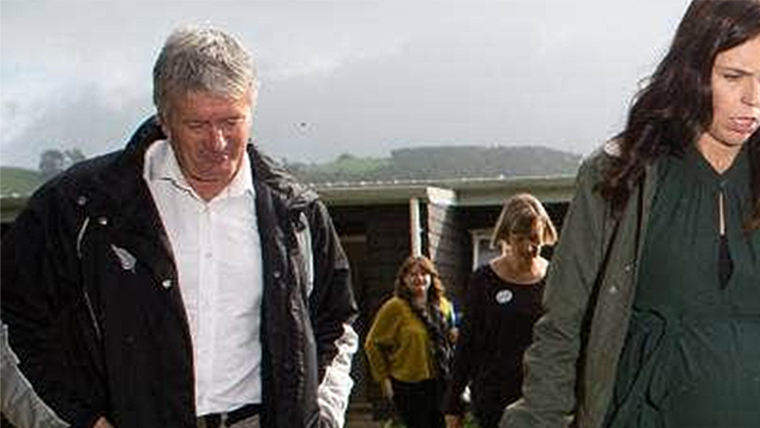 The Labour Government has softened a plan to levy farmers for their methane and nitrous oxide emissions after a farmer revolt, promising "relatively low" prices for at least five years, ample handouts to farmers to offset the levies and the inclusion of 'riparian planting' trees next to waterways in the Emissions Trading Scheme (ETS). 
The concessions follow a rejection by farmers of a set of 'He waka eke noa' proposals from the Government in early October that were forecast to substantially reduce sheep and beef farm numbers and that excluded riparian planting from the ETS. The schism between farmers and the Government came after a two-year collaborative process designed to bring farmers 'into the tent' to price climate emissions that make up more than half of New Zealand's overall emissions.
The Government has also put off the hardest decisions about actual price levels until early next year and it now appears unlikely legislation to enforce the prices will be passed before the election. The Opposition has previously pledged to repeal the levies if elected.
On the eve of a Carbon Zero Act deadline to report back on its plans and now well behind the National/ACT Opposition in opinion polls ahead of next year's election, the Government has announced a final plan for:
a "relatively low" initial methane price and a pathway of pricing for five years, to be reviewed after three years;
a low nitrous oxide price that would mean farmers were no worse off than before the scheme;
significant payment schemes to offset the costs for farmers; and,
the inclusion of riparian planting in the ETS, which had originally been recommended by the He Waka Eke Noa colloboration, but was removed by the Government in the initial proposals in October.
Prime Minister Jacinda Ardern, Agriculture Minister Damien O'Connor and Climate Change Minister James Shaw announced the final plan in an Auckland CBD Government Policy Office at the last possible minute before the expiry of a December 31 deadline under the Carbon Zero Act. The Act includes a requirement for a 24-47% reduction in biogenic methane emissions below 2017 levels by 2050, including a 10% reduction below 2017 levels by 2030. 
Ardern said the changes announced today would "give greater certainty for farmers and better recognise on-farm sequestration."
"After listening to farmers and growers through our recent consultation, and engaging over recent months with industry leaders, today we have taken the next steps in establishing a proposed farm-level emissions reduction system as an alternative to the ETS backstop," Ardern said.
"We are working hard alongside the agriculture sector to strike the balance between building good levels of sector buy-in, while also ensuring the system is robust and meets our emissions reductions goals," she said.
"With or without the Government's proposals the world is changing and New Zealand needs to be at the front of the queue to stay competitive in a market that is increasingly demanding sustainably produced products. Tesco, the biggest buyer of New Zealand products in Britain, wants all their products to be environmentally accredited and reach net zero across their entire supply chain by 2050, and Fonterra has warned farmers it risks losing customers and facing trade barriers if it doesn't meet sustainability expectations, prompting the co-operative to look at setting a target for reducing emissions across its supply chain.
"If we don't establish a credible plan to reduce agriculture emissions the future of our exports are at stake. I've always said we're open to changes if they build greater levels of buy in. Today we move forward by moving closer together on a workable system."
O'Connor said the Government had committed to a five-year price path to provide certainty for farmers, however he confirmed the final decisions would be made by ministers, rather than the industry-led bodies.
"The Government is also urgently working with the sector to develop a process to recognise on-farm carbon sequestration, which is a top priority for farmers," he said after more than two years of discussions and three years after the Act was passed in Parliament.
"We're committed to working with He Waka Eke Noa's partners to investigate options for targeted transitional support for farmers and officials will do further work on the use of collectives to simplify reporting and payment obligations," O'Connor said.
"We will continue to support farmers and growers to lower agricultural emissions," he said, pointing to $380m of support for farmers announced in Budget 2022.
Details on pricing and compensation scarce
The full report included the following details on pricing:
A farm-level split-gas levy for agricultural emissions would price emissions from biogenic methane and nitrous oxide (including from fertiliser) separately
Te legal point of responsibility for reporting and paying for emissions would be GST- registered business owners who meet the emissions thresholds (equivalent to ~200 tonnes CO2-e per year)
Reporting could be done at either the individual farm level or via a collective.
relatively low, unique prices could be set initially for both biogenic methane and nitrous oxide for five years based on set criteria
a price pathway for both biogenic methane and nitrous oxide would be set for five years, with a review after three years
the price of nitrous oxide would be capped for the first five years at a level that the sector would be no worse off than if the sector had entered the NZ ETS at this point.
payments would be available to reward the uptake of incentives and eligible sequestration (removals)
an interim approach would be taken for rewarding sequestration through a declaration-based system from 2025, followed by a transition to the NZ ETS, with sequestration from riparian plantings and from increases in carbon from indigenous forest linked to specific management interventions included from 2025; and,
an interim, processor-level levy would be proposed only as a transitional step if the farm- level pricing system could not be operationalised by 2025.
The statement said Cabinet would make final policy decisions on the agricultural emissions pricing system in early 2023, followed by legislation to give effect to those decisions.
"Rather than using the Commission's recommendations for a high price to drive behaviour change, with output-based assistance to moderate impacts, the Government is proposing to accept the Partnership's recommendations for a low-price to raise revenue, which would then be used to fund incentives to drive behaviour change," officials said deep in the report.
The proposed farm-level pricing system would capture about 23,000 farmers and growers, which is around 96% of the sector's emissions.
The 200 tonne threshold is expected to cover farms with more than 550 stock units (inclusive of sheep, cattle and deer, calculated on a weighted annual average basis), or 50 dairy cattle, or farms applying over 40 tonnes of nitrogen through fertiliser.
It is proposed to exclude minor-emitting sectors (including swine, poultry, goats, horses, alpacas, llamas, mules and asses) from the pricing system in 2025.
Reaction
Federated Farmers said it remained opposed to the Government's plans, even though they moved some way back towards He Waka eke Noa's original plan,
Federated Farmers national president and climate change spokesperson Andrew Hoggard said farmers wanted a scheme that did not warm the atmosphere and wanted the original 24-47% cut in emissions in the Act changed.
"Feds stick by the position we took in our submission, that without a review of the methane targets based on what is required for warming neutrality and for methane to contribute no additional warming, we will not be giving our support to any pricing mechanism," Hoggard said.
"Considering what is at stake, vague promises of an obscure future review with unknown terms of reference are simply not good enough," he said.
Here is the link to the full report.,