MAF to investigate complaints of bullying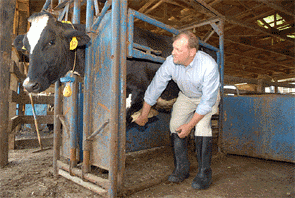 As farmers push the boundaries of production, issues such as animal welfare must not be forgotten about.
This site broke the story of Crafar farms issues of animal welfare, and were overwhelmed by readers responses about animal cruelty.
Customers perceptions on how their food is grown is important if long term demand for the product is to be maintained. The sow crate expose was another example of that.
Cow lameness is an issue on many intensive dairy farms, and must be addressed speedily and with care, and the MAF are watching to police the tardy.
Allegations of bullying and intimidating behaviour by animal welfare inspectors during unannounced visits to Southland farms last month will be investigated by a senior MAF official.

Federated Farmers representatives broadsided Agriculture Minister David Carter at the organisation's annual conference in Invercargill yesterday in what was a noticeable breach of protocol reports The Southland Times.

Mr Carter was preparing his speech when the federation's dairy section chairman Lachlan McKenzie used the pause to question him over the visits and the intimidating tactics allegedly used by inspectors, which included farmhands being ordered out of working milking sheds.

About 31 Southland farms were inspected by MAF staff last month, following a complaint about lame cattle on a Lochiel farm that led to 12 dairy cows being killed after an investigation.

At the time, Federated Farmers acting president Peter Phiskie expressed concern about the lack of consultation or communication from MAF, which was a significant change in policy. The organisation was usually involved in any animal welfare-related visits.