Farmer shareholders vote 89.9% in favour of Fonterra share trading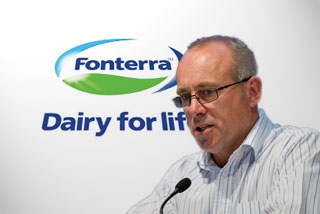 Fonterra's farmer shareholders have voted over-whelmingly in favour of a proposal allowing them to trade Fonterra shares between each other. The proposal also allows outside investors to buy into a fund that benefits from Fonterra dividends and share price moves.
The historic vote changes the capital structure of Fonterra and ends years of debate about whether outside investors should be able to buy into Fonterra. A simpler proposal in 2008 to list Fonterra on the NZX was rejected by farmers who did not want to risk giving up control of the cooperative, which is New Zealand's largest exporter.
Fonterra said votes representing 77.8% of Fonterra's milk solids were lodged and 89.9% of those were in favour of the proposal, surpassing the 75% threshold needed for the proposal to be adopted.
"It is great to see farmers taking part and having their say," said Fonterra Chairman Henry van der Heyden. "Their participation is the strongest since Fonterra was formed. It signals a clear mandate and shows that the unity and spirit of our Co-op is alive and well," he said.
 "Effectively our vote today for Trading Among Farmers will, together with the Co-op's new retention policy, take capital structure off the table for the foreseeable future."
Van der Heyden said the proposal removes 'redemption risk' from Fonterra, where farmers can sell shares back to the cooperative whenever they want to leave the industry or set up a rival.
"This will stop money washing in and out of Fonterra's balance sheet from season to season and provide permanent capital to grow returns," he said.
"As farmers we'll also know exactly what a Fonterra share is worth at any time. We'll have the flexibility to buy and sell shares when it suits our cash flows. And we'll have the choice to free-up some of our share capital through the Fonterra Shareholders' Fund. Trading Among Farmers will ensure Fonterra remains farmer controlled and owned, and that our loyal shareholders have an incentive to hold Fonterra shares and put more equity into our Co-op."
"This is a great outcome for our co-operative," said Blue Read, chairman of the Council.
"Successful implementation of Trading Among Farmers will give Fonterra a stable platform while making sure the business remains owned and controlled by farmers. "Shareholders have delivered a strong and decisive mandate that will give the business certainty," Read said.
"There is now a raft of design detail to be developed. The mechanisms yet to be put in place for the operation and governance of the Shareholders Fund and the formation of an efficient and effective market for Fonterra shares will be defining."
Your view?