Landcorp confirms bid, Chinese lodged with OIO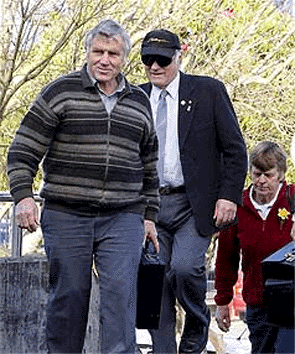 The Crafar dairy empire is quickly coming to and end, with Landcorp confirming it's bid for the 16 farms under recievership, and the Chinese Company UBNZ announcing it has lodged its second bid, with the Overseas Investment Office.
This failed business venture has highlighted many issues in the dairy industry from excessive dairy debt, to animal welfare and effluent disposal, and now to overseas ownership of farmland.
 The PM spoke of his concern of NZ'ers being tenants in their own land, but he has failed to comment on the Harvard Investments Funds application to by Blue Skys dairy in Maniototo, or the Germans purchase of two large dairy farms in Southland.
With the Chinese being such big trading partners with NZ and probably the prime reason we have handled the world economic recession with less pain than some, how is he going to argue free trade with that country.
State-owned Landcorp Farming has thrown its hat into the ring to buy 16 farms from the receivers of the Crafar empire reports The NZ Herald. Landcorp chief executive Chris Kelly said the board supported a recommendation by management to place a bid for the farms. "It's fair to say that the decision was unanimous, the business case made a reasonably compelling commercial argument."

Interested parties have until 4pm tomorrow to place a bid for the properties, which include 13 dairy farms and three drystock properties, with projected production for the 2010/11 season of 4.9 million kilograms of milksolids.

Receivers Michael Stiassny and Brendon Gibson in May said a sale and purchase agreement for the portfolio of 16 farms had been signed with UBNZ Funds Management conditional on Overseas Investment Office (OIO) consent and structured so the receivers could accept any better or more favourable offer.

The Chinese backed bid to buy up 16 Crafar family farms in receivership has been lodged with the Overseas Investment Office.The move by Chinese-owned Natural Dairy NZ (NDNZ) comes only 24 hours after state owned Landcorp threw its hat in the ring. The state-owned enterprise confirmed it would be lodging a bid for the 13 dairy farms and three drystock properties before tomorrow's 4pm deadline.

NDNZ chairman Graham Chin said in a statement that he is confident his company's offer will give the best return to creditors. NDNZ has signed a sale and purchase agreement which is conditional on it gaining approval from the Overseas Investment Office.