Reserve Bank sees further farm price falls; warns of dairy farmers facing negative equity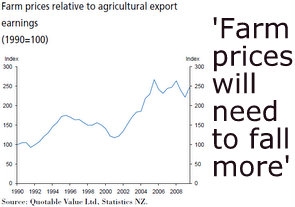 By Gareth Vaughan
The Reserve Bank says farm prices may need to continue falling to see "substantial" buying interest reemerge and is warning further falls could see dairy farmers who took on debt to expand during the boom times ending up in negative equity.
In its November 2010 Financial Stability Report out yesterday, the Reserve Bank notes that farm prices had fallen by about 15% from their mid-2008 peak by the end of 2009. It says prices appear to have fallen even further throughout this year, but given the extremely low volume of farms being sold, the current level of farm prices is "highly uncertain."
The most recent farm sales figures from the Real Estate Institute of New Zealand (REINZ), covering the three months to September 30, show just 53 farms sold in the month of September, down from 75 in September 2009 and 130 in September 2008. Of the 53 sales during September, just one was a dairy farm, with 12 dairy farms sold in the quarter, down from 55 in the same period of 2008.
And although the REINZ said the median farm price for the three months to September was NZ$1,012,500, 15% up on NZ$877,500 in the same period last year, it remains 39% down on the median price of NZ$1,672,500 in the September quarter of 2008.
Meanwhile, the Reserve Bank says farm prices remain elevated relative to earnings meaning; "It is likely that farm prices will need to fall further to see substantial buying interest rekindled."
An "ongoing overhang" of delinquent farm loans tends to reinforce this view, the Reserve Bank adds, but notes that banks appear to be working with their customers and looking for ways to put indebted farm enterprises on a more secure footing.
Nonetheless, further falls in farm prices would be bad news for dairy farmers who took on debt to expand near the land price peaks, pushing them into a position of negative equity where the value of the farm is less than what the farmer owes his bank.
The Reserve Bank does note, however, that most dairy farms are currently profitable. Fonterra recently announced a payout of NZ$6.10 per kilogram of milk solids for the 2009/10 year, with the payout for the 2010/11 dairy season forecast to rise to NZ$6.60.
"The current payout is comfortably above the Ministry of Agriculture and Forestry's estimated median farm break-even payout of NZ$5.13," the central bank says.