Controlling stake in Fonterra's biggest supplier Dairy Holdings on the block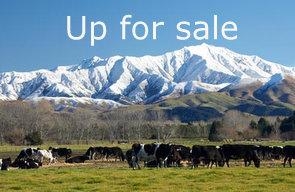 A 62.5% stake in Dairy Holdings, the country's biggest dairy farming group, is going on the block.
South Canterbury Finance (SCF) receiver Kerryn Downey confirmed today he had reached an agreement with four other Dairy Holdings shareholders to jointly market their combined stakes for sale.
Confirmation comes after Downey told interest.co.nz last week that he was in talks with an investment bank about working with Murray & Company, which has been trying to sell a combined 28.8% stake in the dairy farming group on behalf of three US shareholders and Christchurch businessman Humphry Rolleston.
The 62.5% stake is comprised of the 33.6% shareholding owned by the in receivership SCF, the 24.99% shareholding owned by the US investors, and Rolleston's 3.9% shareholding.
Downey said the sales process would kick off before Christmas and build on the process undertaken over the past two months by Murray & Company on behalf of the US and Rolleston interests for their combined shareholding. Downey, managing partner of McGrathNicol, has appointed First NZ Capital to act with Murray & Company as joint sale advisers for the sale.
Rolleston said the opportunity to sell a majority stake in Dairy Holdings was likely to be more attractive to potential buyers. And Downey said it was possible a shareholding in excess of 62.5% could ultimately be sold depending upon whether the other shareholders of Dairy Holdings also decide to sell.
"There is the opportunity for them to join the sale process we are undertaking at any stage," said Downey.
Dairy Holdings owns 72 farms in Canterbury, Southland and Otago with 43,439 cows, making it the single largest privately owned supplier to Fonterra. Its website shows it is forecast to produce 15.1 million kilograms of milk solids in the current season.
Super Fund interest?
One potential buyer could be the New Zealand Superannuation Fund. The Super Fund has a rural land strategy and a spokesman says it's "generally interested in quality local investment opportunities."  The spokesman said, however, the Super Fund doesn't comment on "speculation about specific potential opportunities."
See Double Shot interview with NZ Super Fund CEO Adrian Orr who talked about potentially partnering in the buy up of clusters of farms.
SCF bought the Dairy Holdings stake from its majority owner Allan Hubbard last year for NZ$75.7 million. In a swathe of correspondence recently released by the Reserve Bank relating to SCF, the central bank suggested SCF had paid almost twice fair value for the stake.
A Reserve Bank email from September last year also noted Dairy Holdings had NZ$340 million of bank debt. However, Downey said last week there was no pressure from the banks to sell the business.
The attempt to sell a major stake in Dairy Holdings comes as Graeme Hart's Carter Holt Harvey struggles to sell 29 North Island dairy farms and as the Serious Fraud Office probes UBNZ Funds Management and Hong Kong-based Natural Dairy Holdings, who have made an offer - conditional on Overseas Investment Office approval - to buy 16 central North Island Crafar dairy farms.
(Update adds Super Fund comments, link to Adrian Orr interview).