NZ Super Fund 'doesn't want to be New Zealand's biggest farmer'; Set to appoint overseas investment managers to buy farms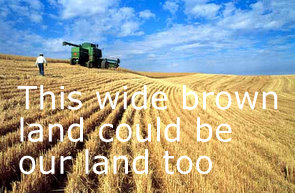 By Gareth Vaughan
Fresh from buying its first local dairy farm, the New Zealand Superannuation Fund is looking to appoint some managers to lead a push into investment in crop farms overseas.
Matt Whineray, the Super Fund's general manager for investments, told interest.co.nz the fund was likely to appoint more than one international manager as it eyed investing more than NZ$250 million in opportunities in "cropping strategies" in developed, as opposed to developing, countries over three to five years.
The Super Fund's rural land strategy (see more here in this Double Shot interview with Super Fund CEO Adrian Orr) sets out that it can invest up to 3% of the fund in rural land. The fund, established by the previous Labour-led government to help cover future retirement costs, stood at NZ$17.43 billion at November 30 last year, meaning 3% is about NZ$523 million. Whinerary said more than half the NZ$500 million or so earmarked for farm investment over three to five years would be invested overseas with the majority of the domestic investment likely to be ploughed into dairy farms.
"It's not a bucket that we have to fill, it's a limit," Whineray said of the planned farm land investment.
"So if we can find the opportunities to improve the portfolio then we'll add them in but we don't have to have 3% of the fund in farms by a particular time."
"Domestically the majority will be dairy, offshore other cropping strategies we'll look at. The obvious potential places for those are North America, South America and Australia and potentially in Europe. It's more of a developed market strategy than an emerging market strategy," he added.
Whineray said the Super Fund was searching for an international manager to oversee its global farm buying push and was likely to appoint more than one. However, an appointment would "take a little time."
"It depends on the capabilities of the manager(s) we find and the opportunities that we see in the different countries," he said.
FarmRight appointed to buy and manage New Zealand farms
Whineray was speaking after the Super Fund revealed the appointment of South Island-based dairy farming management and consultancy company FarmRight as an investment manager and announced the purchase of its first farm, a dairy farm in West Otago. FarmRight's CEO Jim Lee, whose company has about NZ$500 million of assets under management, told interest.co.nz that his company had made offers on two further properties on behalf of the Super Fund and was looking "pretty seriously" at another three.
FarmRight had a mandate to search for farms across New Zealand, Whineray said, as the Super Fund wanted diversification across different regions to avoid "loading up" on particular climate risks.
Asked how many dairy farms the Super Fund could ultimately buy Whineray said it didn't necessarily plan to buy 20, 30 or 40. There was no objective to get to any particular scale.
"It's a small but useful addition to our portfolio in terms of the diversification of the risks," said Whineray. "But our objective is not to be New Zealand's largest farmer and there are guys out there with bigger ambitions than us probably."
Asked specifically about big groups of farms on the block such as the Crafar farms, Carter Holt Harvey's farms and Dairy Holdings, Whineray said the Super Fund's "base case" was to develop a portfolio over time with FarmRight.
"If other things turn up and potentially accelerate that process then we'll have a look at them. But we haven't got anything specific to say about any of those particular ones (groups of farms for sale)," said Whineray.
He noted that the Super Fund isn't mandated to control any entity or company it invests in so could potentially invest in a group of farms via a partnership. It does this in forestry where it owns the Kaingaroa Forest estate in partnership with the Harvard Management Company, and bought Shell's New Zealand downstream businesses in partnership with Infratil last year.
The Super Fund would buy dairy farms on reasonable assumptions, said Whineray. It wasn't assuming, for example, that record Fonterra payouts would continue into perpetuity. Furthermore, it wouldn't be using debt to help fund any farm buys as the Super Fund's view is that leverage doesn't enhance risk adjusted returns. Rather it increases the risk profile.
Exposure to productivity improvements and commodity prices
One of the attractions of buying farms, Whineray added, was that it offered returns from productivity improvements, rather than just from exposure to volatile commodity prices.
"One of the things you get when you have commodities is you only get half the story which is just the commodity price trend and you don't get the productivity improvements that you've seen on farms over the (investment) time period you choose to pick."
The Super Fund's domestic farm buying would be a three to five year process, so long as those opportunities were there.
"If the market races away from us then we won't (keep buying)," said Whineray. "But if the market stays in a place where we think we can get value and improve the portfolio, then we'll add some assets. But just how many that'll be, I wouldn't like to try and guess."
The Super Fund's long-term target is to exceed the rate of return on Treasury bills by 2.5% over rolling 20-year periods. As of November 30 last year it was returning 1.03% above the Treasury bill rate since its September 2003 inception.
* This article was first published in our email for paid subscribers earlier today.  See here for more details and to subscribe.