Milk powder prices fall 8.2% in Fonterra's fortnightly online auction; whole milk powder down 11.1%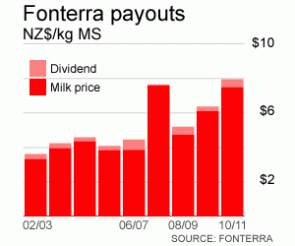 Milk powder prices fell 8.2% in a fortnightly internet auction overnight on Fonterra's globalDairyTrade platform.
This ended an unbroken period of rising milk powder prices that stretched back through 7 auctions to November 16 last year and saw prices rise 33% in 4 months.
Prices had surged a total of 42% in the last year before the overnight auction and are still 30% above where they were a year ago ago.
Milk powder prices had risen 5.9% in the auction two weeks earlier. See our earlier article on that auction.
Wholemilk powder prices in the auction fell 11.1%.
The New Zealand dollar fell around half a cent overnight, although heavy selling on global stock markets after the Japanese nuclear concerns were also a factor.
The globalDairyTrade Trade Weighted Index of prices across various types of milk powders and prices had been at record highs before auction. The index fell 8.2% to 1,302 overnight. The auctions started in July 2008. A reconstructed version of the index going back beyond the start of auctions put the record high for the index at 1,613 in October 2007.
See our interactive chart here of all dairy prices, including sales prices monitored fortnightly by the US Department of Agriculture of sales in Oceania offline. It is also available below.
The index fell to a record low 596 in February 2009, meaning prices are still 118% above their lows.
Fonterra is forecasting a record payout for the current season of up to NZ$7.80/kg after retentions of cash to build Fonterra's shareholder capital. The cooperative increased the forecast last month by 60c/kg. See the full article here.
(Updated with NZ dollar move)