Annual water reports find 72,000 New Zealanders are drinking faecally contaminated water; Green Party calls for improved water treatment plants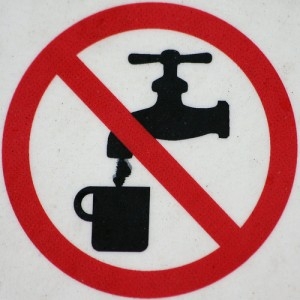 By Hannah Lynch
As many as 72,000 New Zealanders are drinking faecally contaminated water, a problem particularly rife in rural communities where subsidies to help safeguard quality have been clawed back.
The situation, highlighted in an Ministry of Health annual review of New Zealand's drinking water, prompted criticism from New Zealand's Green Party which blamed the problem on Government's reduced funding to help tackle the problem
Following a two year suspension of its Capital Assistance Programme to help small communities with populations under 5,000 address water quality issues, Government reinstated funding worth NZ$10 million a year. However, eligibility criteria was made stricter and the amounts reduced to save Government NZ$18 million over five years.
Green Party co-leader Russel Normal  (Norman) said funding was clearly inadequate to deal with the problem and rural New Zealanders were paying the price. (See Green Party press release here).
"New Zealanders have a right to clean, safe drinking water and this is just an example of how contaminated water remains a problem for communities who rely on agricultural production. The decrease in water quality is a reflection of the government's decision to cut funding to the Capital Assistance Programme."
Norman said, it is hard for local community members to speak out because the livelihood of those around them would be directly affected. The Green Party is advocating for improvements to be made to water treatment plants.
According to information obtained by the Green Party under the Official Information Act while some District Health Boards have managed improvements since 2010 with water quality, 30% of DHBs said the freeze on funding had been a "limiting factor" to improving  drinking water and monitoring regimes.
"At a time when nearly half of our lakes and most of our lowland rivers are classed as polluted, and these are the source of drinking water for many communities, the Government needs to be investing more money into helping communities supply clean, safe drinking water, not less," said Norman.
Health Minister Tony Ryall has said previously that local authorities are responsible for their own water quality.
Dirty water, bad health
Water polluted with faecal material has been strongly linked to a single-celled celled protozoan parasite called cryptosporidium, which can cause acute gastrointestinal infection in humans.
New Zealand is known to have one of the highest rates of cryptosporidium in the world. Between 26.1 and 32.3 new cases  per 100,000 population are reported each year. Incidents are particularly high in autumn and spring.
(For more see this medical journal report from Epidemiology and Infection.)
1.0 Key Issues
A number of issues have emerged from this review.

Overall microbiological compliance has increased by 4% in population terms during 2009–2010. Approximately 94% of people on registered supplies have bacteriologically-compliant drinking-water and protozoal-compliance was achieved in supplies serving 75% of the population.
Of the 72 large supplies (ie, serving 10,000 or more people), two did not achieve bacteriological compliance and 15 did not achieve protozoal compliance in the survey year.
Seven of the eight hospitals with their own water supplies were bacteriologically
compliant during 2009–2010, with the monitoring programme of the Ashburton Hospital supply requiring improvement. However, protozoal compliance was only achieved by four of the hospitals. Protozoal treatment is presently inadequate for the Ashburton, Kaeo and Princess Margaret hospitals and the Te Puia Springs Hospital and Village supply.
The improvement in compliance of school supplies has continued, with 26% of schools complying during 2009–2010.
Monitoring for E. coli ceased in 38 community and school supplies during the 2009–2010 period.
During 2009–2010, 30 LA-run zones did not follow up bacteriological transgressions with adequate corrective action
125 community- and school- supplies, (including 54 LA-run zones) that achieved bacteriological compliance in 2008–2009, did not achieve compliance in 2009–2010.
One zone showed discrepancies between the results of bacteriological monitoring by the water supplier and bacteriological surveillance by the DWA during 2009–2010.
Plumbosolvency warnings were not given to 156,000 people in 40 zones during 2009–2010. Water suppliers should give plumbosolvency warnings to consumers in supplies serving 500 or more people unless the absence of plumbosolvency can be demonstrated.