Federated Farmers says snow unlikely to cause major stock losses given plenty of warning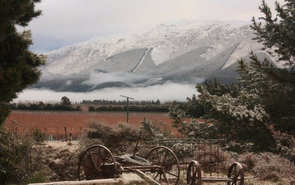 The Antarctic blast hitting most of New Zealand this week is not expected to cause major livestock losses because it was too early in the year for the most vulnerable areas and there had been plenty of warning for farmers to move stock to shelter, Federated Farmers has said.
"You know it's a cold front out of the box when our staff in Wellington can compare snowfall with you in Invercargill," said David Rose, Federated Farmers Adverse Events spokesperson.
"As with the front several weeks ago, the MetService gave us plenty of warning to shift vulnerable stock into sheltered paddocks and into yards. This was accurate and timely and Federated Farmers appreciates the MetService's work.
"The MetService is also forecasting a number of good weather days towards week's end, so the light is appearing at the end of the tunnel," Rose said.
"The only note of concern is from areas where snow is a complete rarity, like the Waikato. Dairy farmers couldn't believe their eyes this morning that they were milking in snowfall. Being in a 'warmer' part of New Zealand, lambing is underway there," he said.
"That said, in the Bay of Plenty, farmers are mostly reporting a light dusting of snow and lambing is really just beginning up there. Certainly, there are no real issues for livestock and it's a similar picture in Auckland and Northland. While there are pockets of lambing underway in Canterbury, for the cooler regions of New Zealand or those at elevation, full scale lambing is still several weeks away. "
"Lambing in Southland doesn't start until September while in the High Country, it's still a long way off in October. Lambs and calves are incredibly robust. Even if it's cold for us humans, it takes just a few days of settled weather for them to find their feet.
"Farmers also entered winter after a great autumnal period and generally remain well prepared for whatever winter may throw at us."