Rural wrap: Kiwifruit vine disease clouds export outlook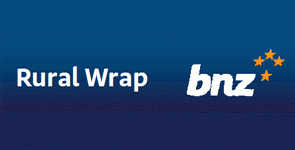 By Doug Steele*
The ongoing European debt saga continues to dominate financial market headlines and movements. Uncertainty is high.
For New Zealand agriculture, any impact will partly depend on how the European issues affect growth in China, Asia, and wider emerging markets as important factors in determining what price we can achieve for our exports.
While prices are obviously very important, so too is how much produce we have to sell.
Although the economic textbook suggests world demand is an important factor in determining export volumes, the reality in New Zealand is that nature has considerable influence given our strong primary product base.
After all, primary produce accounts for around two thirds of our merchandise exports and well over half of total exports (merchandise plus services including tourism).
Of course, quarter-to-quarter movements in export volumes relate as much to changes in inventory as it does to primary production itself.
But to assess the broad export volume outlook for 2012, we need to consider the outlook for primary production – even if it is fraught with uncertainty being highly vulnerable to the vagaries of the climate and other factors.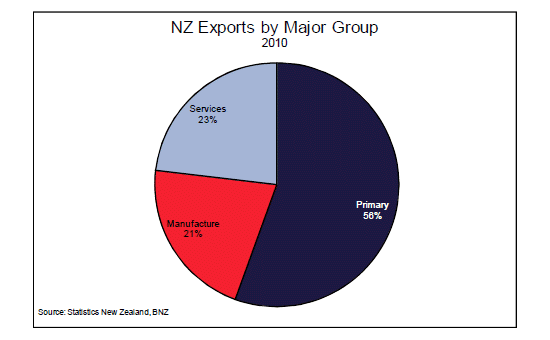 Overall, we anticipate a modest 2% increase in primary production that will support growth in export volumes over the coming year or so.
Our feeling is that the underlying situation is a bit weaker than this and will be reflected in 2013, weather dependent of course!
Current season primary production growth will be supported by a bounce back in pastoral production, especially sheep, from last season's weather-induced troubles.
The outlook, as usual, varies by sector.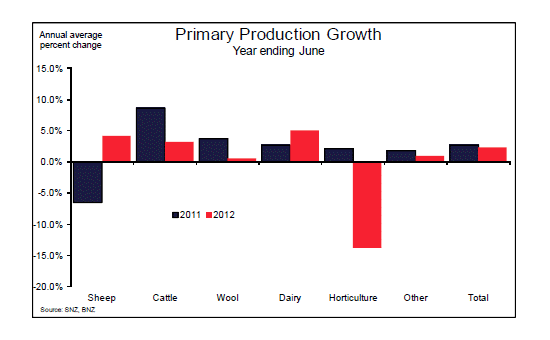 Anticipated lower horticulture production is largely driven by an expected sharp drop in kiwifruit as a result of the Psa disease.
There is also downward pressure on production given last year's very high yields, on average, across kiwifruit, apples and grapes.
For example, a return to average grape yields following last season's bumper crop would see grape tonnage pullback around 12%.
But it is the outlook for kiwifruit that is most concerning. 'There is no greater issue for the NZ kiwifruit industry today than the risk of Psa-V.' This is as true today as it was when it was printed in Zespri's July 2011 Psa Status Update or indeed since the disease was first discovered in NZ a year ago.
The outlook for kiwifruit production is negative, as the disease continues to destroy vines.
To us, the severity of the situation cannot be overstated. Meanwhile, the intense search for solutions continues. Previous fears that spring was going to reveal a marked rise in Psa positive results are being realised. As of early November, Kiwifruit Vine Health (KVH) noted 689 orchards have returned positive Psa-V results.
This is about 21% of all orchards, a figure that continues to climb.
These orchards account for 28% of the nation's kiwifruit hectares, but not all vines on these orchards have been affected. Gold (Hort16A) kiwifruit is more affected than green.
The magnitude of the impact on the 2012 harvest is impossible to know with any certainty, but it will be a substantial drop, especially compared to last season's bumper crop when a very high yield contributed to around 115 million trays exported.
In early October, Zespri, while noting that it was very early on in the season, were reported as expecting around 95 million trays in 2012; a drop in the vicinity of 17%. We'll stick with that, although the crop is obviously a moving target.
In terms of exports, this will show up as a marked drop in the year to March 2013.
Whether this is even remotely close to the eventual outcome remains to be seen. In the words of KVH, we will have to 'wait and see'.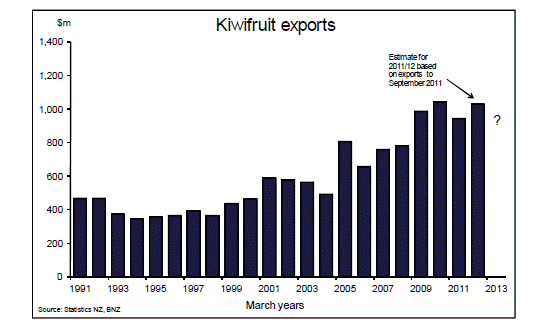 This season's pastoral prospects are looking good, with a reasonable winter and good grass growth.
Dairy
Dairy is positive. The new season is already off to a flyer, with 13% year-on-year growth rates on a daily basis being recorded early-on.
The milk flow has been so strong it bought a temporary increase (through to the end of the year) in tanker loading limits to help deal with the extra milk. Amazing what some decent grass growth can do!
But the initial very high year-on-year growth rates also reflect the shocker start to last season as a result of the wicked September storms back then.
This being so, we do not expect the very high annual growth rates to apply across the season as a whole.
Indeed, we anticipate annual comparisons to turn negative around March, given last autumn's very strong production.
Overall, we anticipate milk production in 2011/12 to be up around 5% on the previous season, fundamentally driven by more cows through ongoing land conversions and recovery from previous drought helping productivity.
Whatever the final amount of milk that is actually processed for the season, it will have a sense of it could have been a bit more if it wasn't for the losses incurred due to the gas pipeline rupture.
Sheep and beef
The outlook for sheep and beef is better than last year. Not difficult, given the significant stock losses experienced during last spring's storms.
As lambs are currently getting tallied up, we anticipate some lift from last year's awful result. A decent bounce back in lambing percentage should result in more lambs, despite a 2.5% reduction in the ewe breeding flock as measured by Beef+Lamb NZ.
We expect around 26 million lambs this season (20 million slaughtered). Beef+Lamb NZ's annual survey results are due in late November. Such an outcome would be around 5% higher than last year's tally of just under 25 million (19 million slaughtered).
But in context, although this would be an improvement on last year, it would still be the second lowest lamb crop since the 1950s.
Carcase weights should be above average given decent grass growth, but likely lower than last year's low-stocking-rateinduced record high. Overall growth in meat production will not quite match the rise in lamb slaughter numbers.
Wool production is seen little changed as extra production induced by the best prices farmers have seen in a while will be largely offset by fewer sheep.
On the beef side of things, production in 2011/12 is expected to be up around 3% on the previous season. This partly reflects ongoing recovery from previous droughts.
We anticipate small increases in both calving percentage and carcase weights.
Weather
In terms of forecast risks, the impact of Psa on kiwifruit production provides the greatest uncertainty.
We are also monitoring the developing La Nina weather pattern as a risk to pastoral production. NIWA forecast weak-to-moderate La Nina conditions are likely to continue through summer. Keep an eye on the Southern Oscillation Index as one indicator. It has been lurking around the La Nina threshold of 8-to-10 for the past couple of months. This is significantly lower than last year's readings of 20 or higher that negatively affected production. At this point, the general risk to national pastoral production appears mild.
Indeed, the weather might even turn out to be positive with NIWA forecasting seasonal rainfalls, soil moisture levels and river flows all near normal in all regions with near average temperatures for all of the North Island and average or above-average in the South Island.
------------------
Doug Steele is a senior BNZ economist and can be contacted at doug_steel@bnz.co.nz