BusinessDesk: $100 million infant milk formula plant opens at Dunsandel focussed on supplying China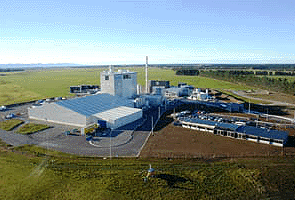 By Pattrick Smellie
A $100 million infant milk formula plant at Dunsandel, south of Christchurch, opened today with the fast-growing Chinese market in its sights, and endorsement from the highest levels of the National Party.
The opening of the Synlait plant, where former Finance Minister and local MP Ruth Richardson is a board member, plays both to job creation stories during an election campaign and to the government's need to be seen by China to value the exploding trade relationship between the two countries.
The Minister of Trade, Tim Groser, presided over the opening, which will see Synlait, which is partly Chinese-owned, launch its "Pure Canterbury" brand, covering infant and adult nutritional formulations, functional food ingredients, and specialised milk powder products for human health and wellbeing.
While Prime Minister John Key was touring between Dunedin and Christchurch today, the event did not feature on his campaign diary.
"Growing world-wide demand for high-value formulated milk powders designed to improve families' normal diets and protect against health concerns drove the development," said Synlait Milk CEO John Penno in a statement.
Chinese dairy investor Bright Dairy paid $82 million a year ago to take a 51 percent controlling interest in Synlait, which tried and failed to find New Zealand investors through an initial public offering on the NZX.
Penno said Synlait was rebranding "as a global nutrition business, and differentiating it from its New Zealand and international competitors."
Chinese demand for high integrity dairy products is strong because consumers lost faith in locally produced milk when widespread poisoning with a bulking agent, melamine, was traced as the cause of an outbreak of illness and deaths among Chinese infants just before the 2008 Beijing Olympics.
The opening coincided with news that a woollen mill that has operated at Milton, south of Dunedin, since 1897 is to close. The Bruce Woollen employs 28 people, who were handed redundancy notices last Friday, the Otago Daily Times reported.
The mill, where Swanndri products were first made, had closed once before, in 1999.
Groser painted a grim picture of multilateral trade negotiations momentum and the European and American economies, but identified "unmistakable momentum to move forward within the Asia Pacific on a regional front" on new trade agreements.
Growth in the emerging economies of Asia, even if it stalled, was strong by any standard, he argued.
"The political take-away is obvious: if you want your economy to move forward and you want higher exports and more secure jobs, you want to be part of this growth picture, or you need to re-examine some fundamental policies," Groser said.
(BusinessDesk)